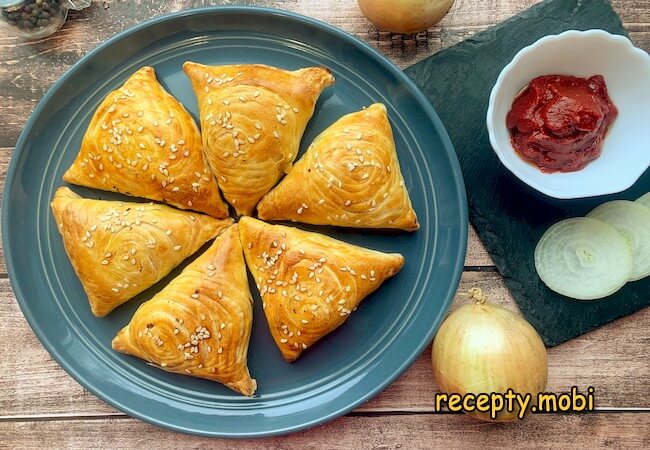 Samsa from puff pastry with minced meat
Puff pastry can be an excellent base for baking, and as an example, puff pastry samsa with minced meat is a famous Uzbek dish. Making the right puff pastry is not easy, but today you will learn all the subtleties and secrets from the best chefs. The filling for samsa can be anything, but we will focus on the meat version. Samsa from puff pastry with minced meat does not like to rush, so try to free up a few hours and treat yourself to excellent pastries.
Cooking time: 160 minutes.
Servings: 12.
Calories: 211.
Cuisine: Uzbek.
Ingredients
For puff pastry:
500 g flour;
250 ml of water;
1 tsp salt;
1 tsp vegetable oil;
30 g of ghee.
For filling:
300 g minced meat (meat);
300 g of onion;
2 tsp salt;
1 tsp pepper or other seasonings.
For decoration:
1 raw yolk;
15 g sesame seeds.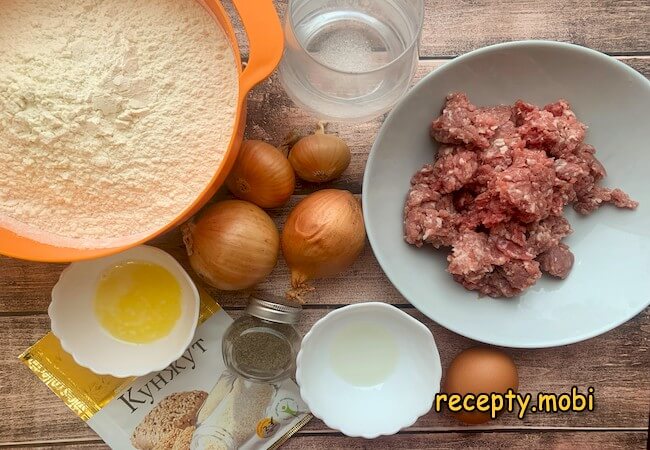 Cooking
1. We start with the dough: dissolve the salt in slightly warm water, then make a hole in the flour and pour water into it. We begin to knead the dough with our hands, and if you have a food processor, then of course making the dough with it is much easier.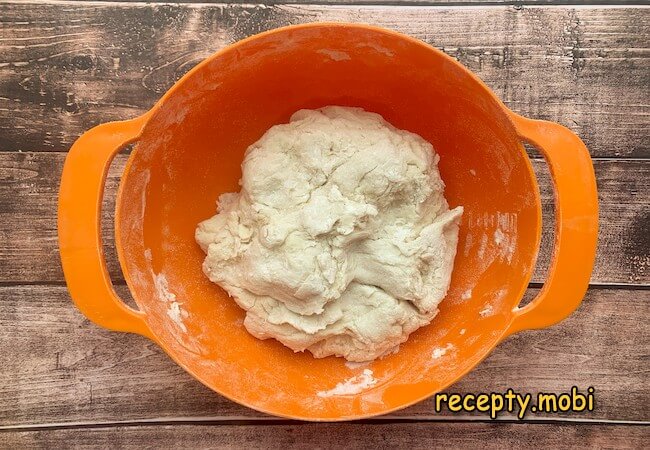 2. Add a little vegetable oil to the dough to make it more pliable. We continue to knead the dough for 7-10 minutes on a table or a special rug. After we cover it with cling film for 20 minutes, this time is enough for the gluten to disperse and it is more comfortable to work with it.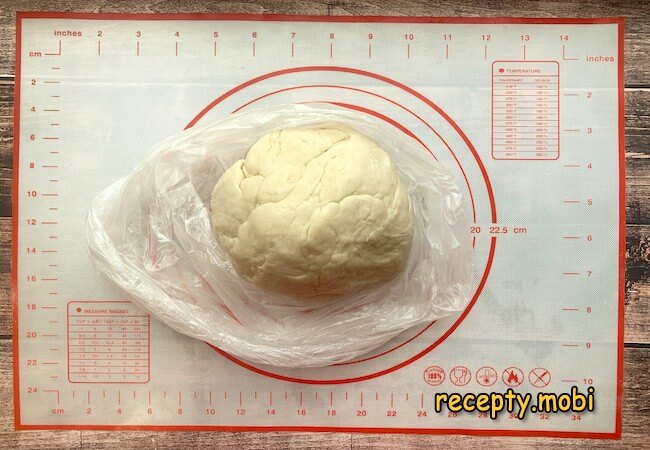 3. As soon as the dough has stood, then knead it for another 5 minutes. Now you will definitely notice the difference in consistency, because it has become more elastic. Again we put it in cellophane for 15 minutes. Then knead again and proceed to rolling. To make it easier to achieve a thin layer, grease the ball of dough with a small drop of vegetable oil. The thinner you roll it out, the better the finished samsa will turn out.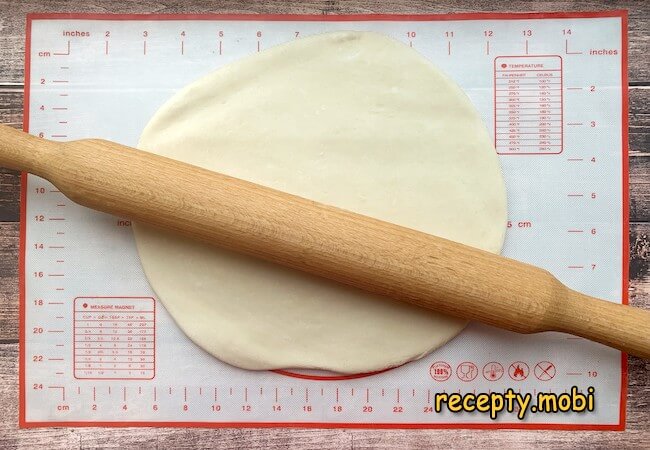 4. Distribute melted butter evenly over the entire surface of the rolled out dough. If necessary, you can replace it with another one. We twist the dough into a tight roll, avoiding air spaces. This must be done carefully so as not to tear the dough. The resulting "sausage" can be slightly twisted into a tourniquet. Leave the dough in the refrigerator for 2-3 hours, if in a hurry - for 20 minutes in the freezer.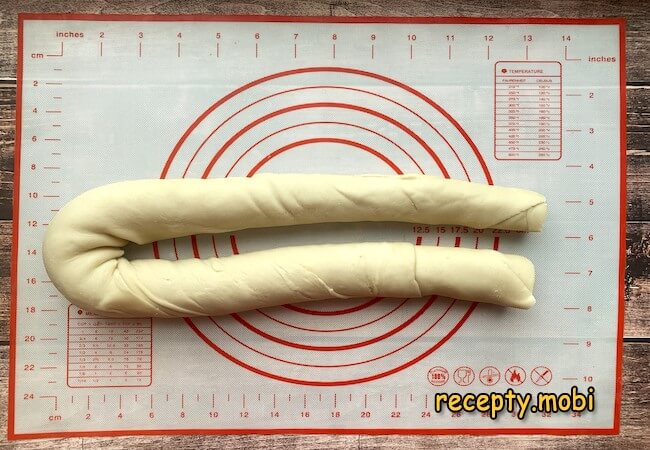 5. Chilled dough must be divided into pieces. In order for the samsa to turn out delicious and you can feel the layers, you do not need to do further rolling with too thin a layer. You need to roll out the dough thinly initially, before we rolled it into a roll. So now we need to divide it into weighty pieces, so that there is enough dough in baking. It is optimal to make 12 pieces from the entire dough volume.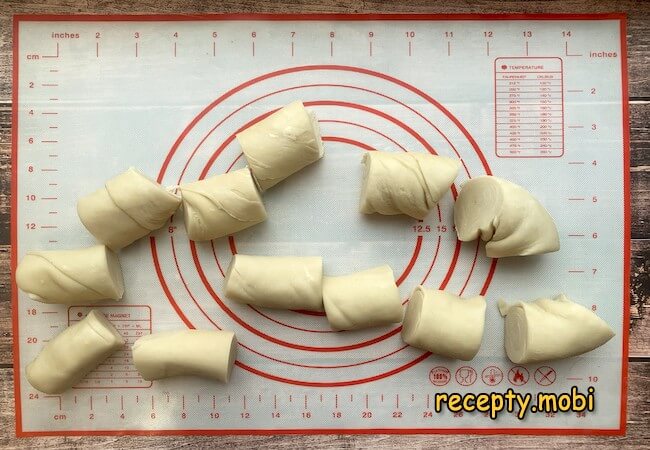 6. We proceed to work with the filling. In minced meat, add any spices, salt and onion, cut into small cubes. Mix. If the minced meat is very dry, add a little vegetable oil or other fat to it. However, traditionally samsa are stuffed with minced meat. Meat can be absolutely anything, but it is better to choose fatty varieties. If there is not enough fat, add oil. The meat is cut into small cubes. Then we proceed in the same way as in the case of minced meat - add chopped onions, spices and salt.
7. We press each piece of dough with the palm of our hand, and then roll it out 3-4 mm thick. Place a tablespoon of filling in the center. There are many ways to form samsa, but I propose to make the simplest and most familiar option in the form of a triangular shape. First, we bend one side to the center, then the second and third. Slightly twist the sharp edges of the resulting triangles. We lay the finished samsa seam down.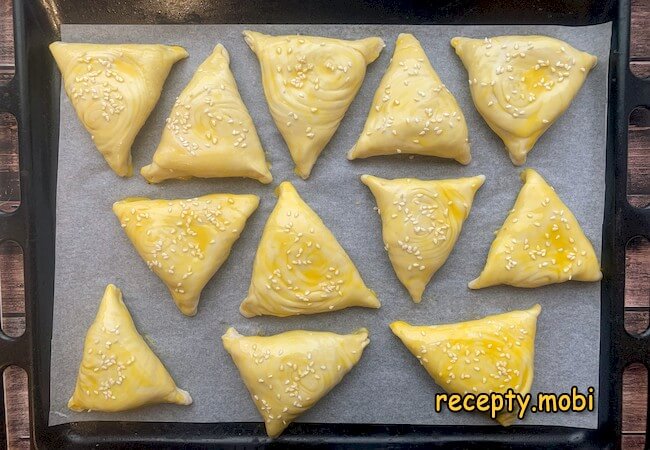 8. We transfer all blanks to parchment, after which we grease the edges with whipped yolk. You can sprinkle sesame seeds on top of samsa, by the way, this moment is also used in the traditional recipe. We put samsa on a baking sheet in preheated to 180 degrees oven. You need to cook it for 45-60 minutes, depending on the power of the equipment.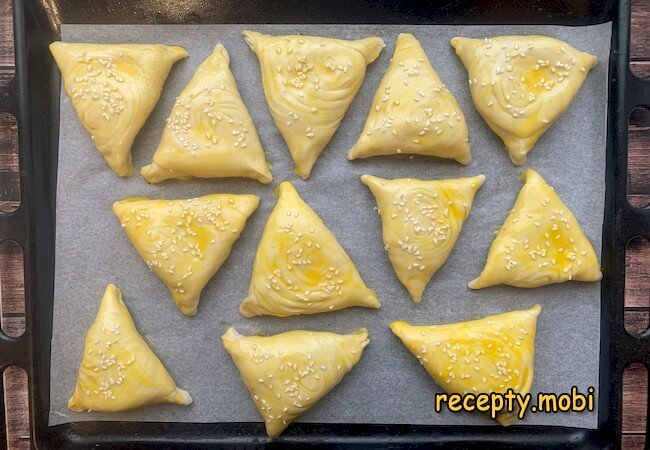 9. Samsa from puff pastry with minced meat is ready, look how beautiful it turned out! And the beautiful and crispy puff pastry is fantastic. Be sure to try!