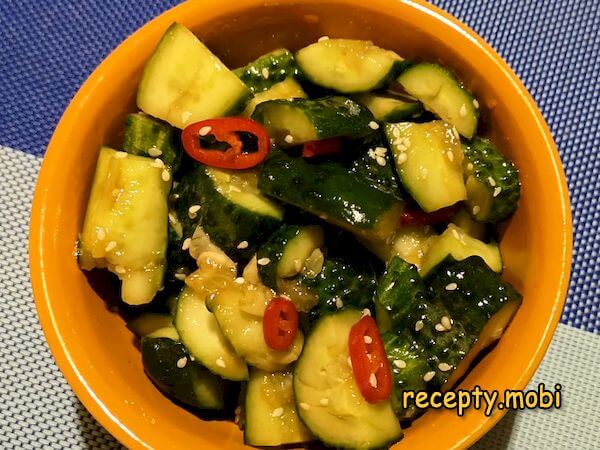 Chinese Smashed Cucumber Salad
Chinese smashed cucumber salad will appeal to lovers of spicy Chinese cuisine. Such an interesting name arose because of the method of preparation of this dish. It is prepared quickly and is characterized by minimalism, but in order for the appetizer to be successful, it is important to choose the right cucumbers. They should be dense with a thin skin. Even greenhouse vegetables will do, as long as they are not too juicy, otherwise the dish will turn out watery. Otherwise, everything is very simple.
Cooking time: 30 minutes.
Servings: 3.
Calories: 55.
Cuisine: Chinese.
Ingredients
cucumbers - 500 g;
chili pepper - 1/2 pc;
soy sauce - 2 tbsp;
garlic - 2 cloves;
vegetable oil - 1 tbsp;
apple vinegar - 1/2 tbsp;
sesame oil - 1 tsp;
sesame seeds - 1-2 tsp
Cooking
1. We prepare the ingredients for cooking Chinese smashed cucumber salad. Cucumbers choose dense and not damaged. Remove the husk from two cloves of garlic.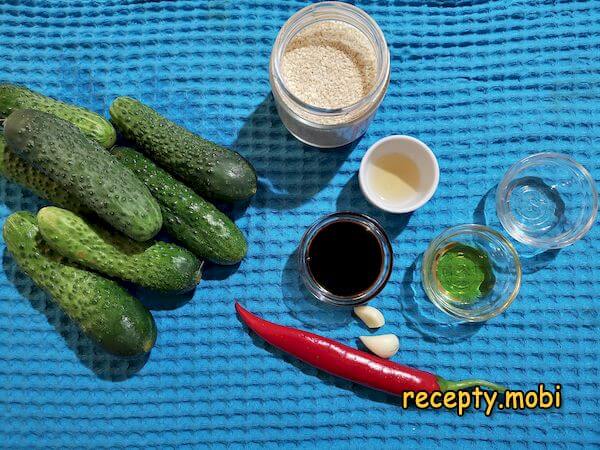 2. Cut the cucumbers into halves and cut off their tips.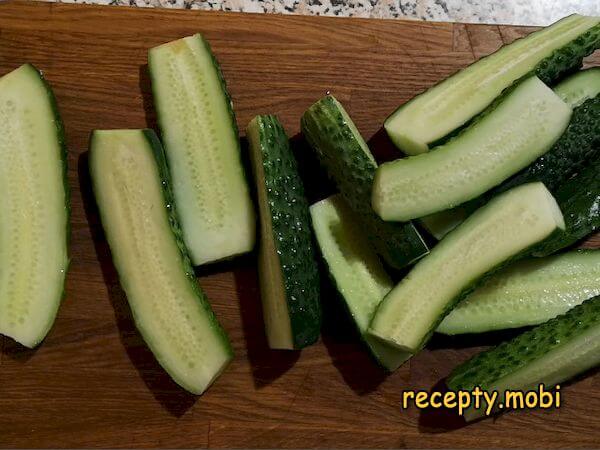 3. In any convenient way, lightly beat off the cucumbers.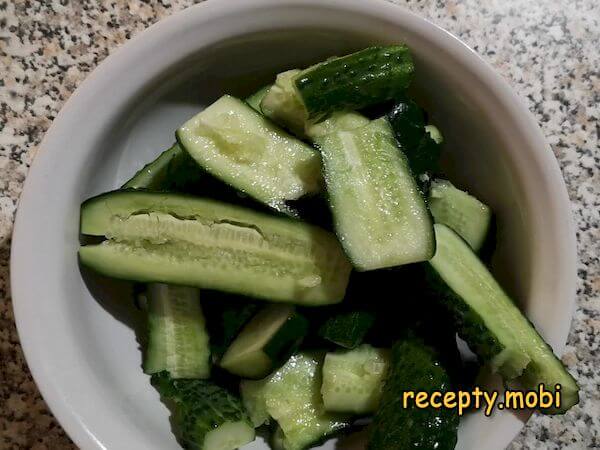 4. Cut the smashed cucumbers into small pieces.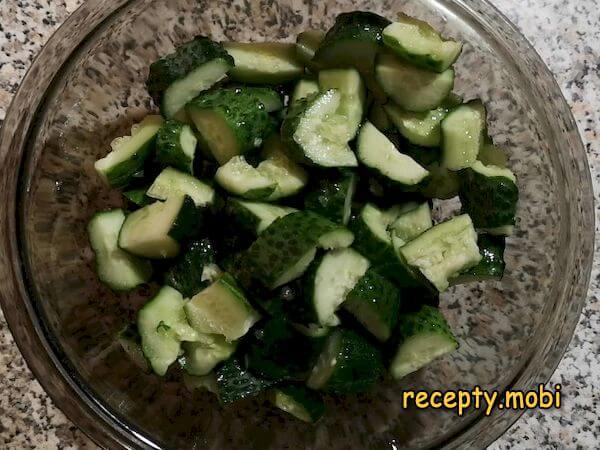 5. Cut two cloves of garlic into slices.
6. We clean half of the chili pepper from seeds and cut into rings.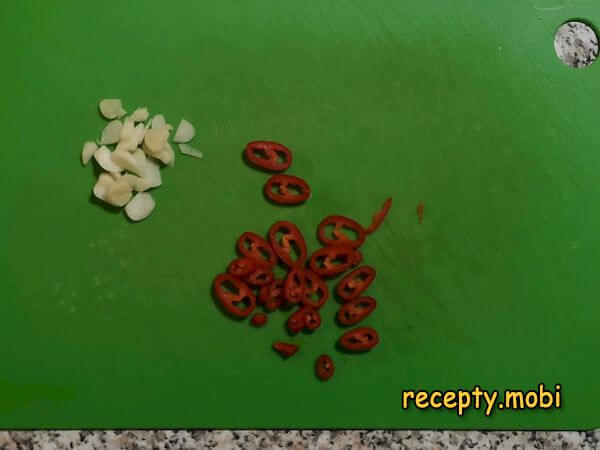 7. Add diced garlic, chili pepper rings and a teaspoon of sesame seeds to the cucumbers.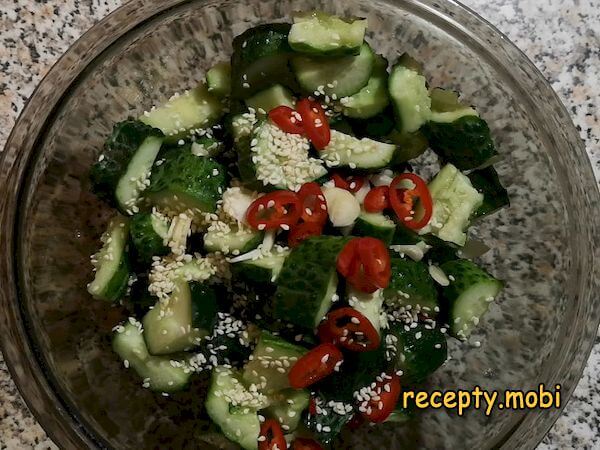 8. Next, pour in sesame oil, vegetable oil, apple cider vinegar and soy sauce. We mix everything. We send the salad in the refrigerator for about 20-30 minutes.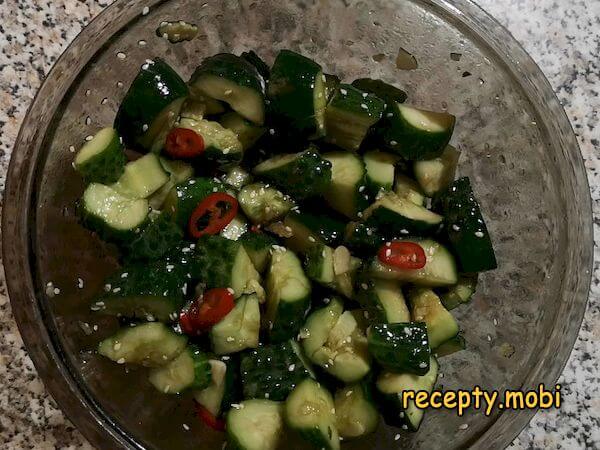 Chinese Smashed Cucumber Salad is ready. Eat with pleasure.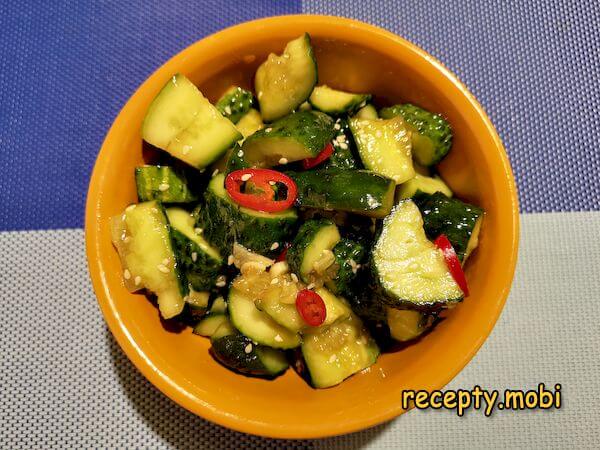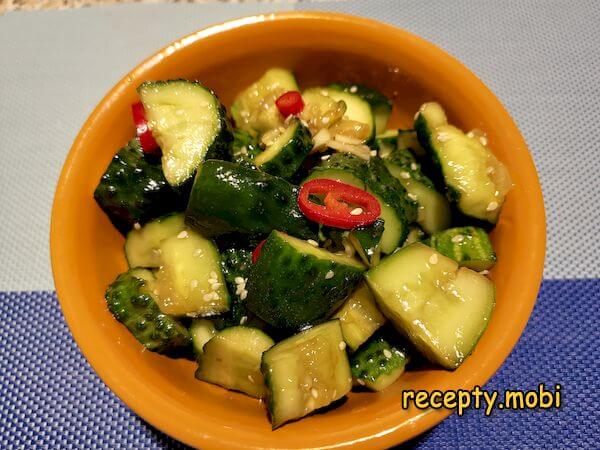 Cooking video