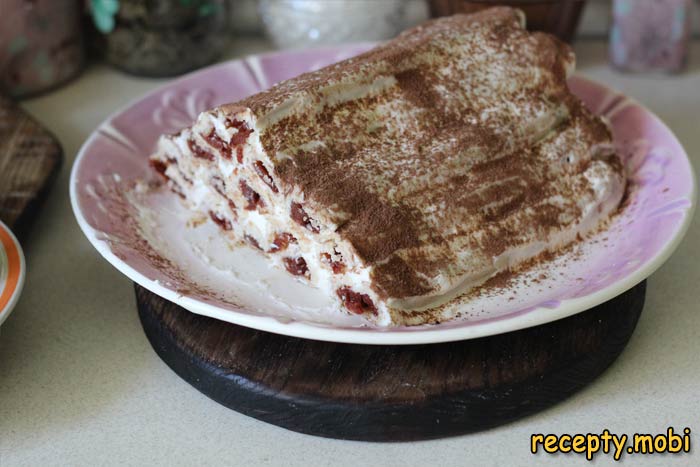 Cake Monastic hut with cherries
Cake "Monastic hut" with cherries is a delicious cake from childhood, which will undoubtedly complement and decorate your holiday feast. Even a novice cook can cope with the preparation of this cake! As a filling for a cake, you can use absolutely any berries, nuts and even dried fruits. Cake "Monastic hut" with cherries is a classic version, where the stuffing for tubes is exclusively cherry, without the addition of other berries or spices.
Cooking time: 120 minutes.
Servings: 8.
Calories: 254.
Ingredients
To prepare the dough, you will need the following ingredients:
flour - 340 g;
butter - 125 g;
salt - a pinch;
low-fat sour cream - 125 g;
sugar - 110 g;
baking powder - 1 tsp.
For the filling
frozen or canned cherries - 500 g;
nuts or spices to taste.
For cream:
cream thickener - as needed;
sour cream (20-30%) - 450 g;
powdered sugar - 100 g;
vanilla extract - a few drops.
Cooking
1. First you need to prepare the dough for baking tubes stuffed with cherries. In a deep container, mix soft butter or margarine with sugar, baking powder, salt and sour cream. Sift the required amount of flour. Thoroughly mix the ingredients until the dough comes together into a tight ball. Cover the container with the dough with cling film and send the workpiece in the cold for half an hour.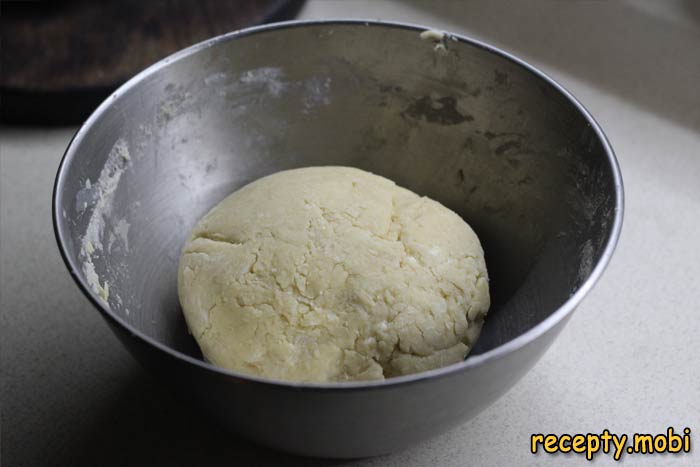 2. Divide the dough into fifteen identical balls. It is best to use a kitchen scale.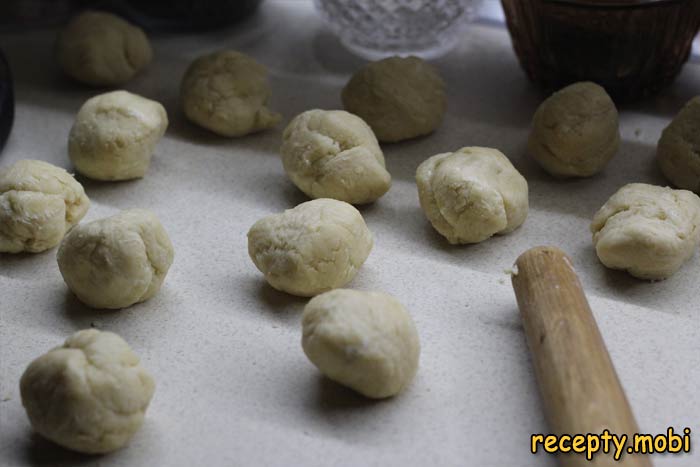 3. Roll each ball into a thin strip. Put the cherry and carefully pinch the tube. Cherries should first be thrown into a colander if it is canned or frozen in order to get rid of excess syrup or juice.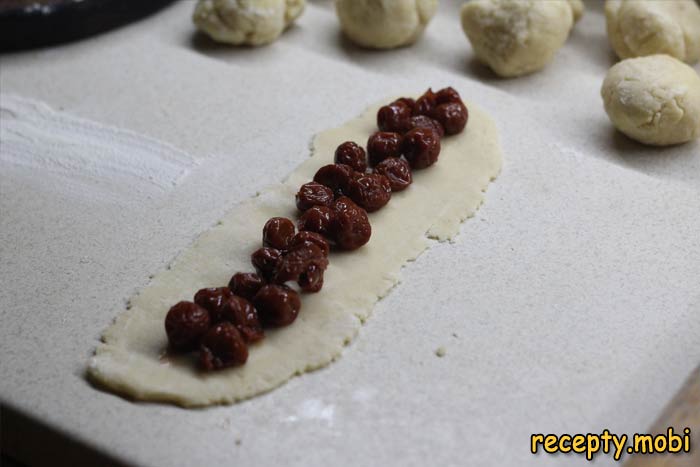 4. Put the finished tubes with cherries on a baking sheet. Bake products at a temperature of 180 degrees until golden brown.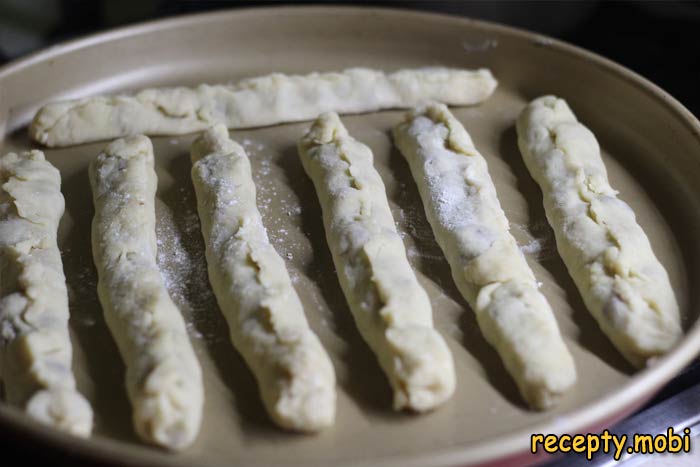 5. While the tubes are baking, you can make buttercream. To do this, beat sour cream with vanilla extract and powdered sugar until fluffy. If the cream is not thick enough, you can add a little cream thickener to the mixture.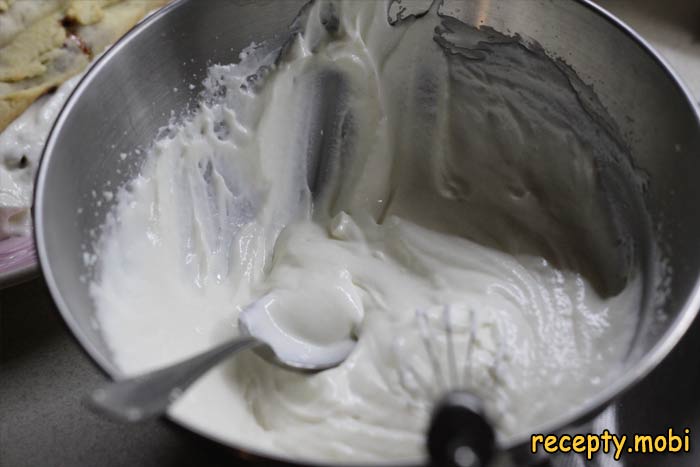 6. Lubricate the cooled cherry tubes with sour cream, laying out the products in tiers: five tubes, cream, four tubes, cream, three tubes, cream, two tubes, cream, last tube, cream.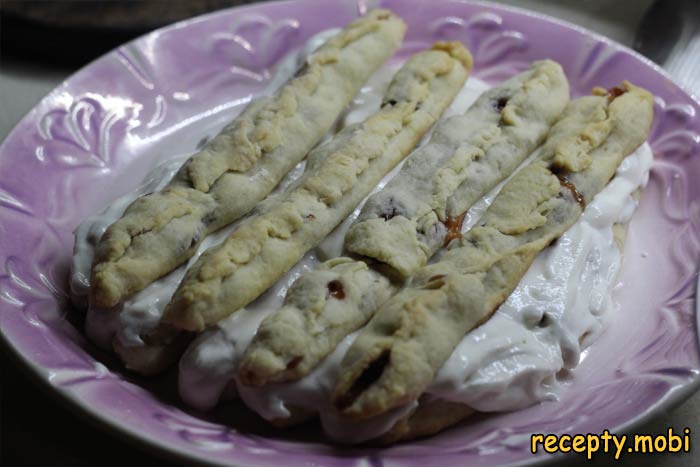 7. Align the cake with the rest of the cream, carefully brushing the edges of the dessert. Cake "Monastic hut" must be sent to the refrigerator for at least twelve hours.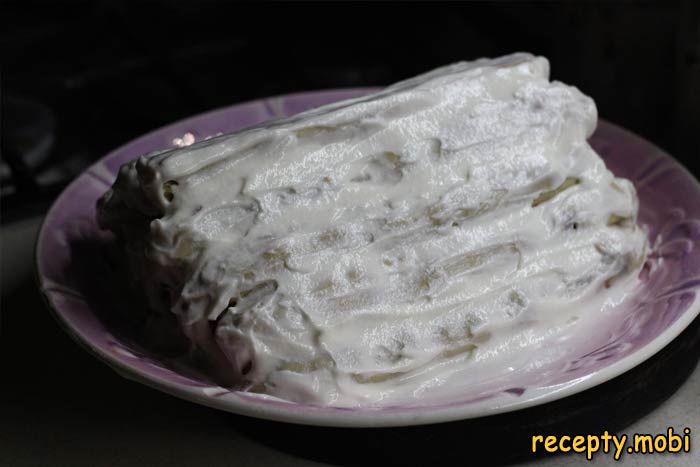 8. Decorate the finished dessert with chocolate chips or cocoa. Bon appetit!