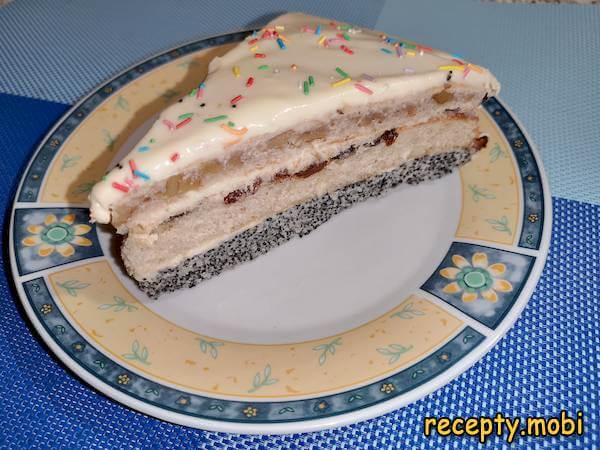 Cake «Natasha»
The classic recipe for the «Natasha» cake has been known since Soviet times. The Natalia cake can be served to a home tea party, or to any festive table.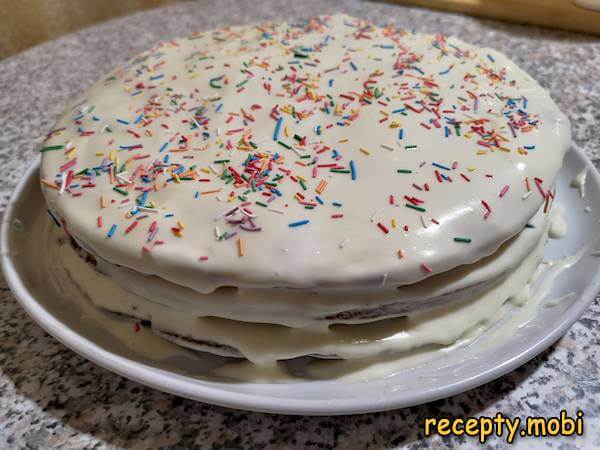 Cooking time: 70 minutes.
Servings: 11.
Calories: 371.
Ingredients
For prepare 1 cake (3 cakes in total):
flour – 100 g;
egg – 1 pcs;
sour cream – 100 g;
sugar – 100 g;
baking soda – 1/2 tsp.
For the filling of the cakes:
walnuts - 50 g. (1st cake);
confectionery poppy - 100 g. (2nd cake);
raisins - 50 g. (3rd cake).
For cream:
condensed milk - 1 can;
butter - 200 g.
Other:
vegetable oil for greasing the baking dish;
confectionery topping.
Cooking
1. To prepare the cake, pour 100 grams of sugar into a deep bowl.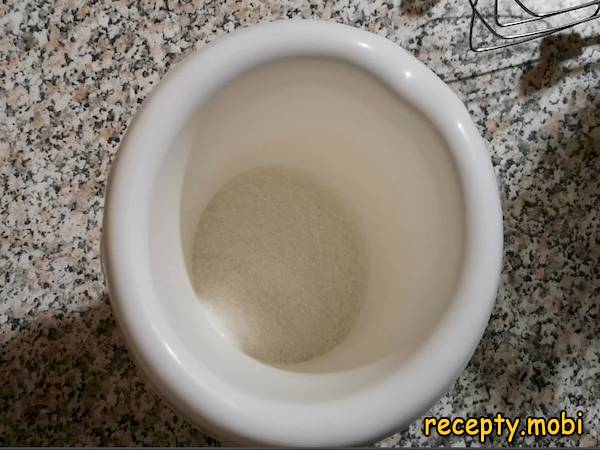 2. Drive in one chicken egg.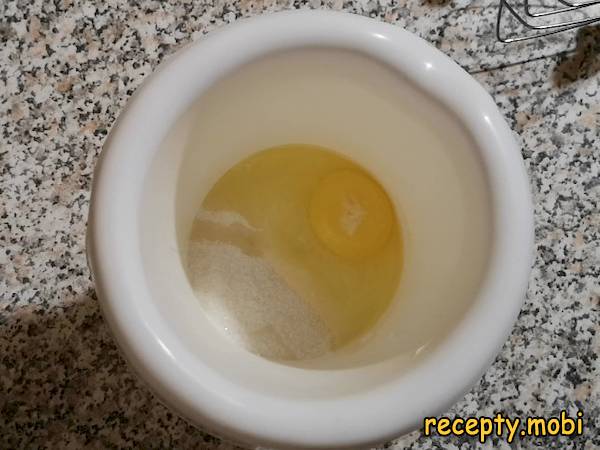 3. Using a mixer, beat the sugar with the egg well.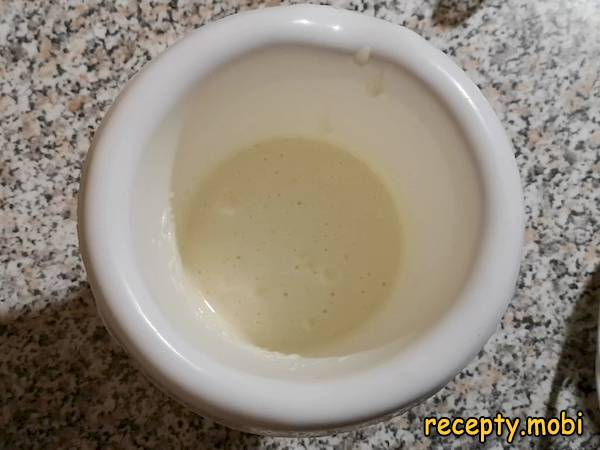 4. Add 100 grams of sour cream.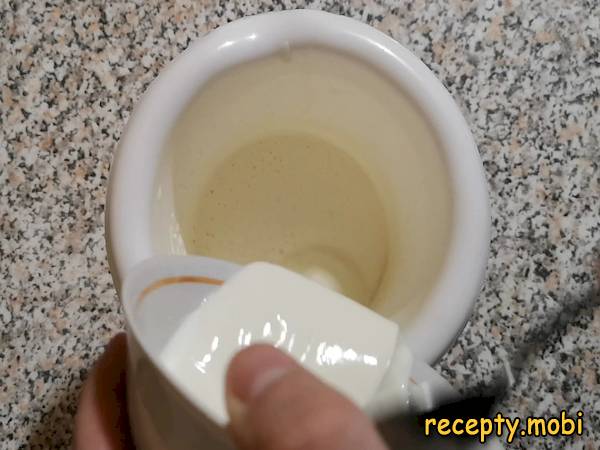 5. Add slaked soda. We extinguish the soda as follows: mix half a teaspoon of soda with 1/2 tablespoon of vinegar.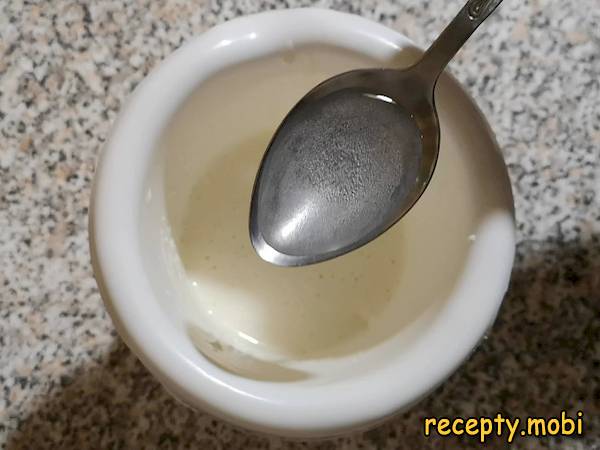 6. Pour 100 grams of sifted flour.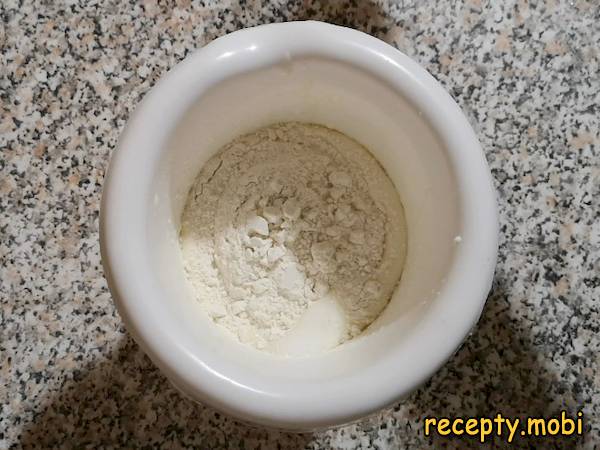 7. Grind walnuts in any convenient way.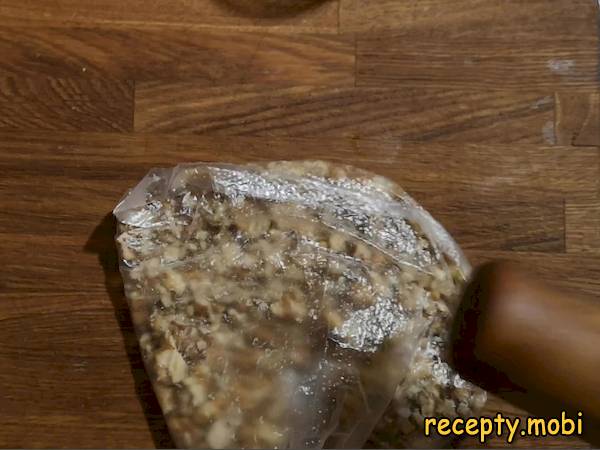 8. Add 50 grams of walnuts to the rest of the ingredients and mix everything well with a mixer. По такому-же принципу готовим все коржи, только изменяем начинку для каждого из них.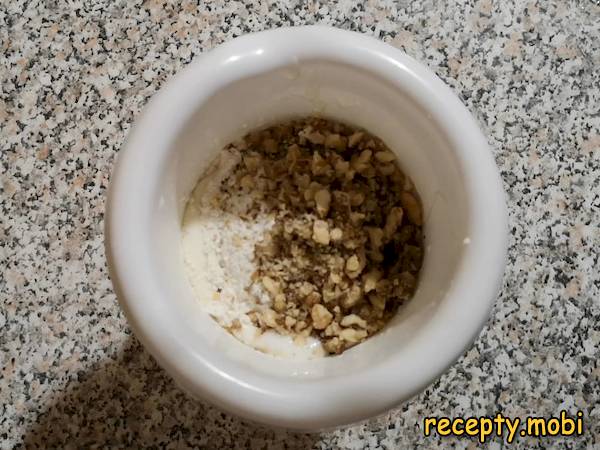 9. Lubricate the baking dish with vegetable oil.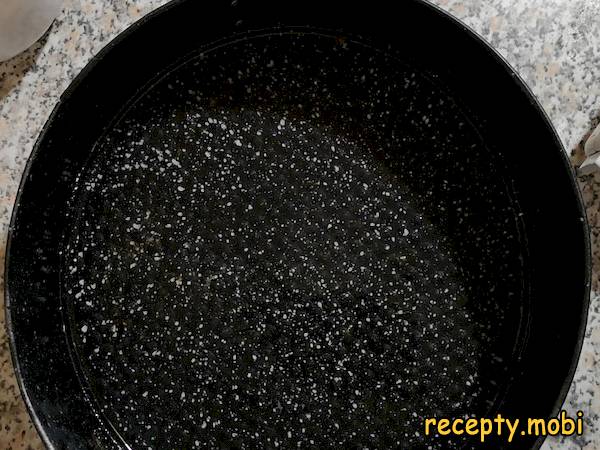 10. Put the prepared dough in a baking dish.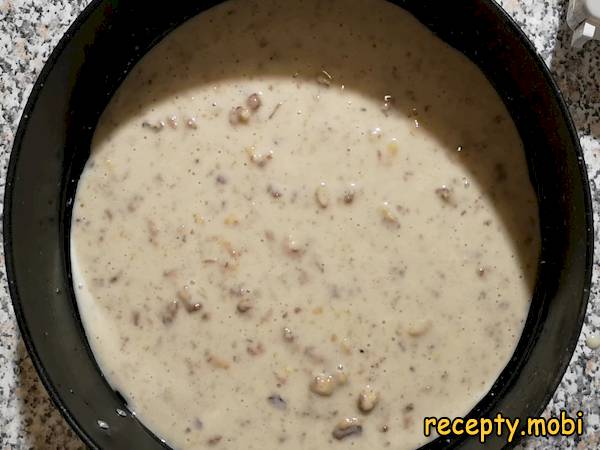 11. Put in a preheated oven. Bake at 180 degrees for about 10-15 minutes until done. Readiness is checked by piercing with a toothpick. If the toothpick is dry, then the cake is ready.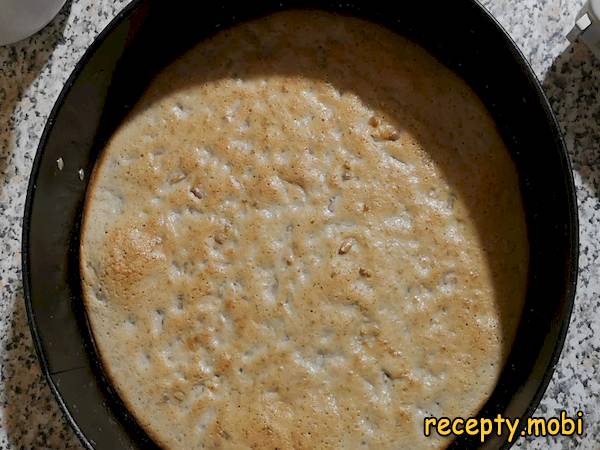 12. According to this principle, we prepare the remaining two cakes. As a result, you get three cakes - one with walnuts, the second with raisins, and the third with poppy seeds.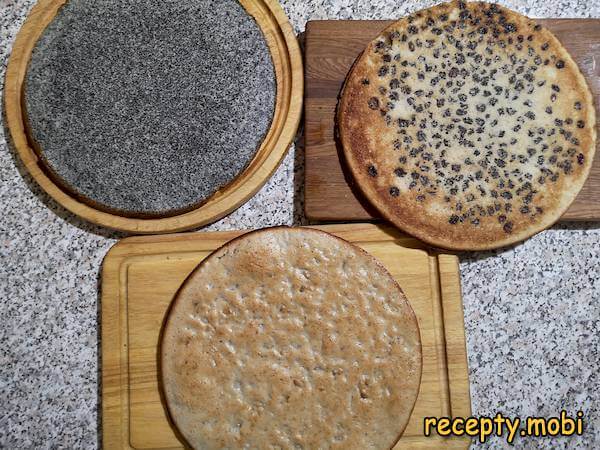 13. Let's prepare the cream for the cake. To do this, mix 1 can of condensed milk with softened butter.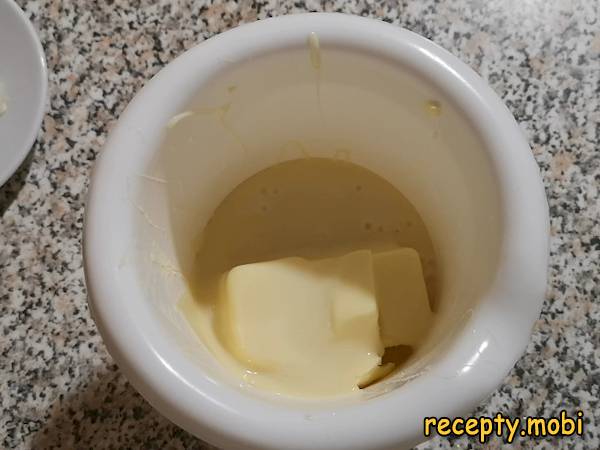 14. Beat the cream with a mixer until smooth. Cream for the cake is ready.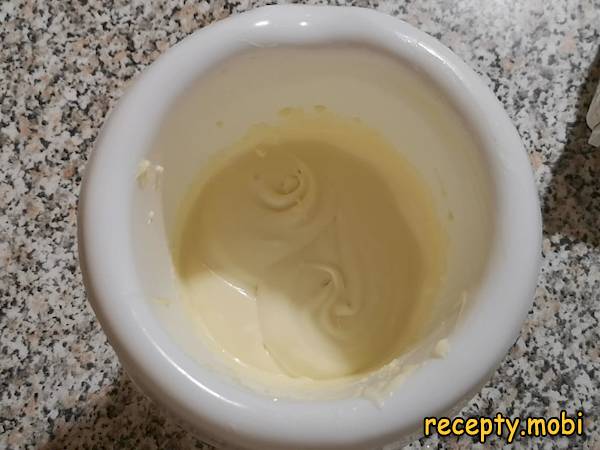 15. When the cakes have cooled, we proceed to assemble the cake. The order of the cakes is up to you. We spread the first layer and grease it with the prepared cream.
16. Lay out the second layer.
17. Lubricate the second cake with cream.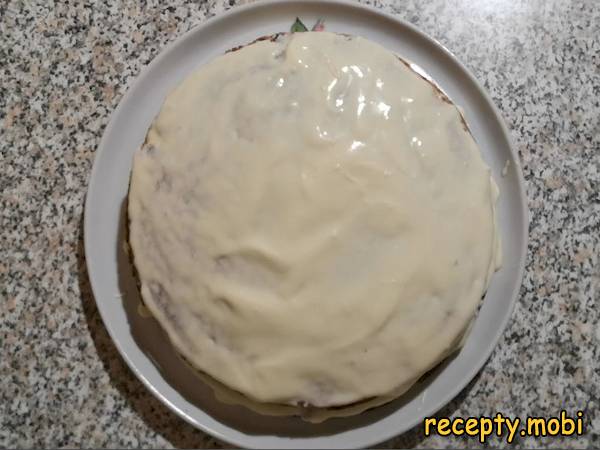 18. Lay out the third layer.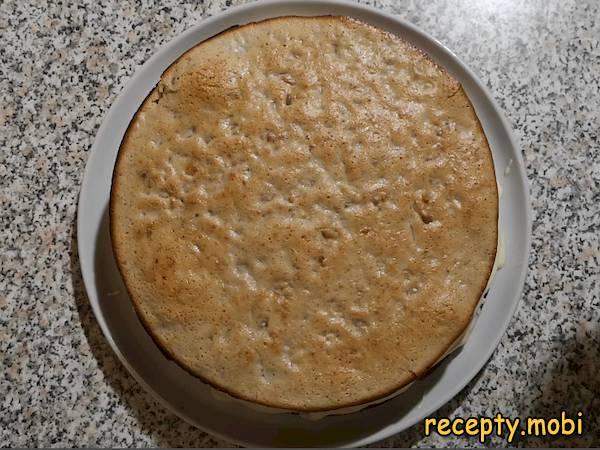 19. Lubricate the last cake with cream.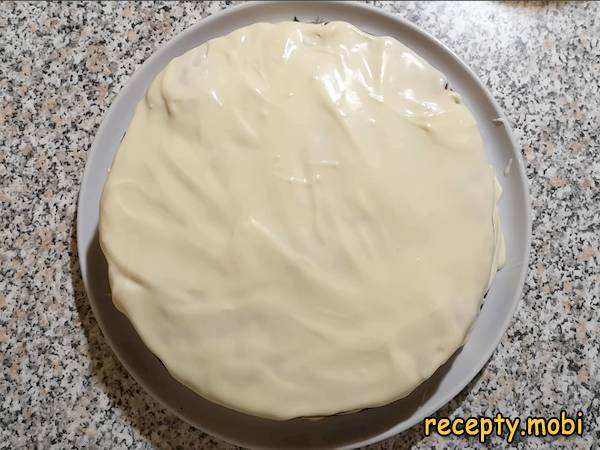 20. Sprinkle the finished Natalya cake with colored sprinkles or any other confectionery decoration. In order for the cake to be better soaked, we put it in a cold place for several hours, and preferably from evening to morning.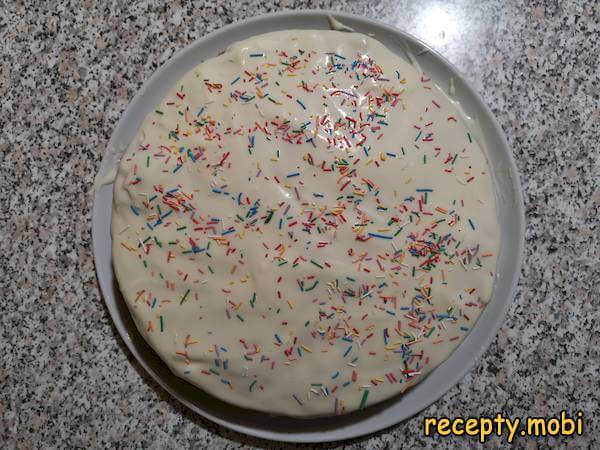 21. Cut the cake into pieces and serve.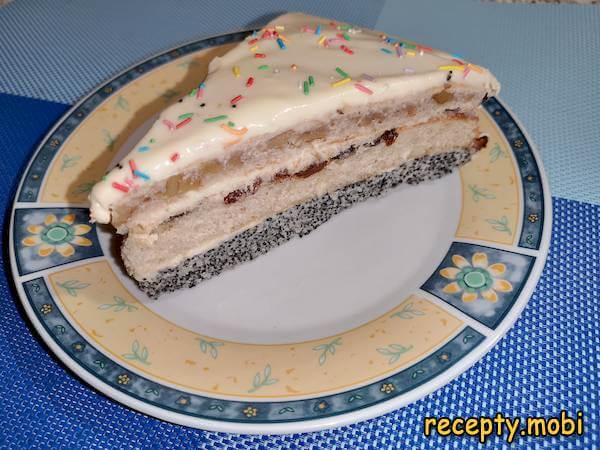 Prepare the cake «Natasha» according to this classic recipe. Bon Appetit.
Cooking video