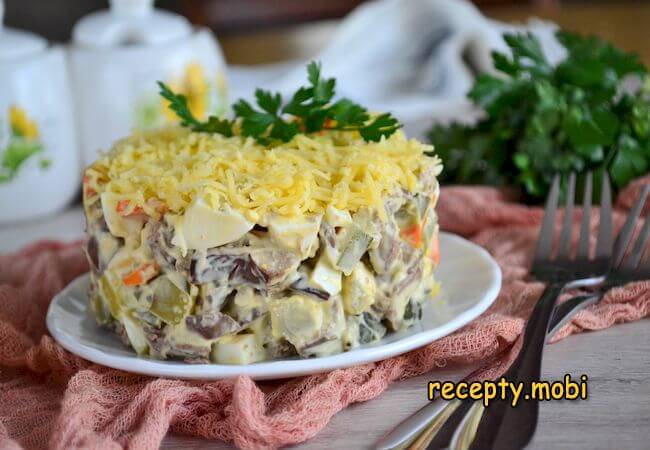 Salad with chicken liver and pickles
Salads with chicken liver are always tasty, hearty and original. Chicken liver can be added boiled or fried, it goes well with eggs and potatoes, carrots and onions. Already a classic combination has become a duet of chicken liver with pickled or pickled cucumbers. Cucumbers dilute the taste of the liver well, make the salad lighter and more tasty. Also, sometimes, instead of cucumbers, canned peas are added, or both of these products together. Today I will share an interesting recipe on how to make a salad with chicken liver and pickles. Such a salad is very satisfying due to the fact that the composition includes, in addition to the liver itself, eggs, so this salad can replace a full meal.
Cooking time: 40 minutes.
Servings: 5.
Calories: 147.
Ingredients
chicken liver - 400 g;
eggs - 4 pcs;
carrots - 1 pc;
pickled cucumbers - 2-3 pcs;
hard cheese - 100 g;
mayonnaise - 2-3 tbsp;
salt - to taste;
vegetable oil - 1 tbsp.
Cooking
1. Pre-boil the chicken liver in salted water and cool. Hard boil the eggs.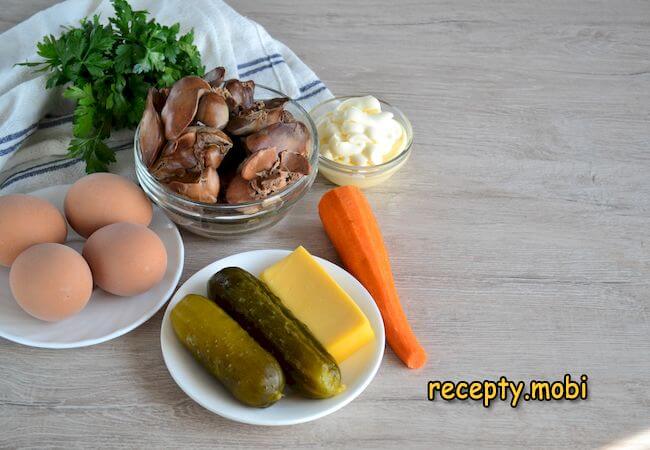 2. Cut the carrots into thin slices. Fry the carrots in a frying pan with a little vegetable oil until soft.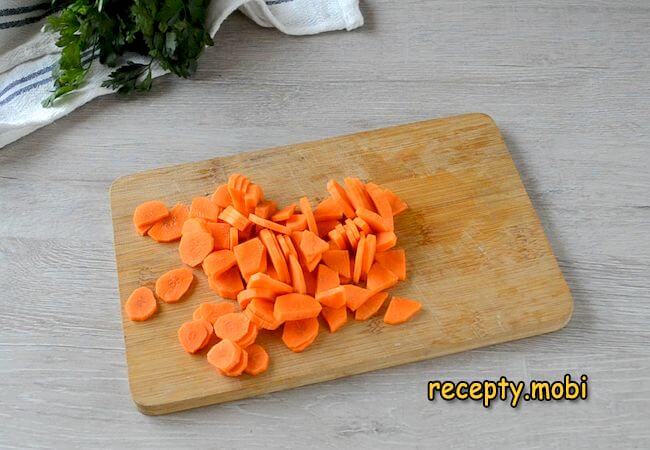 3. Cut the boiled chicken liver with a knife.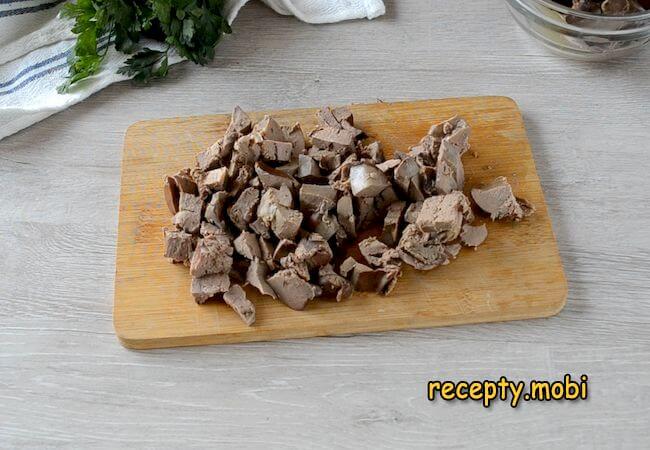 4. Cut the eggs into cubes. I do not chop too finely so that the salad does not turn into mush.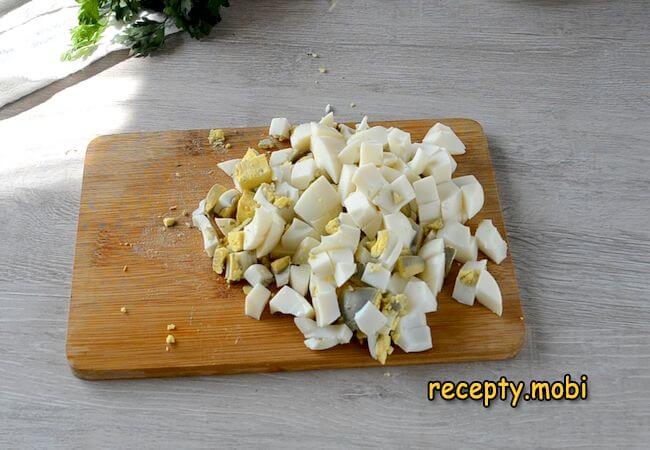 5. Cut pickled cucumbers into cubes.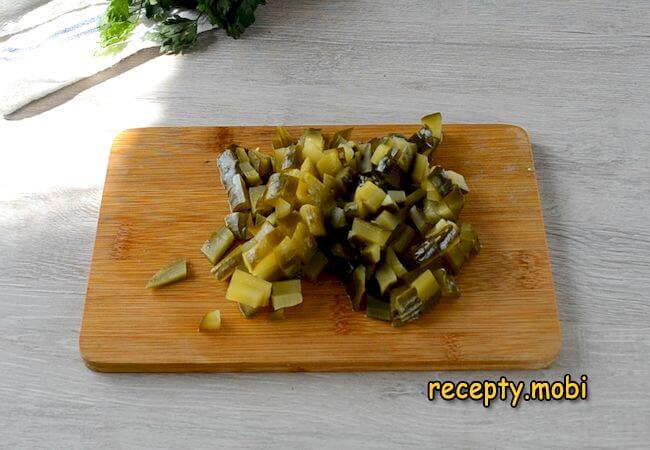 6. Mix chicken liver, eggs, cucumbers and fried carrots.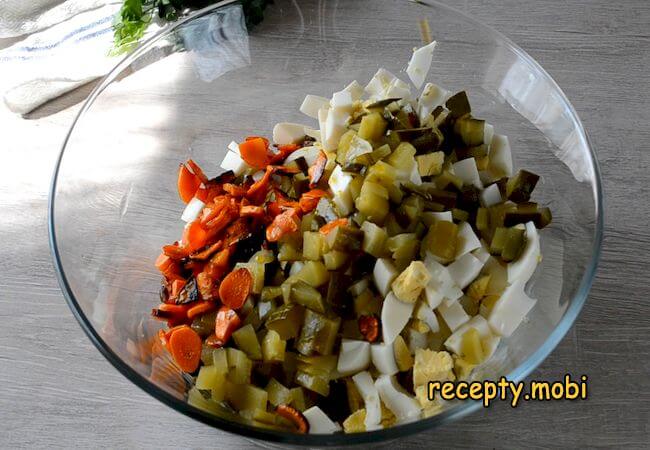 7. Add mayonnaise and mix.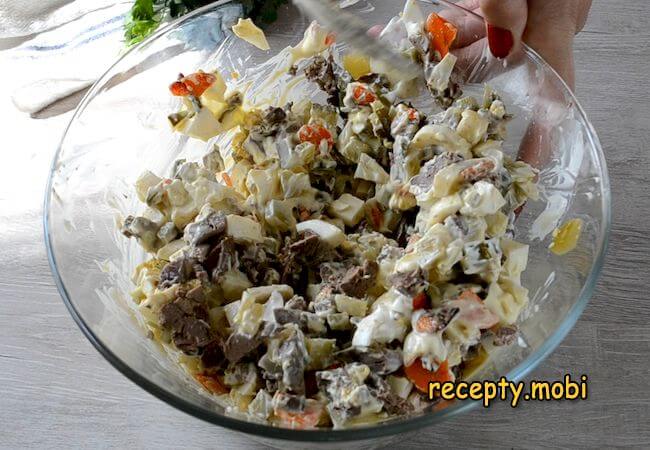 8. I advise serving salad in portions. Place a serving ring on a small plate, lay out the salad. Grate hard cheese on a fine grater and put on top of the salad. Remove the serving ring and garnish the salad with herbs and serve.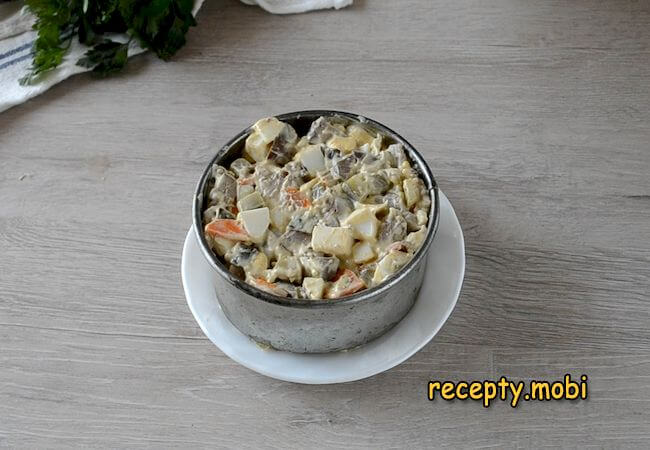 9. Salad with chicken liver and pickles is ready. Enjoy your meal!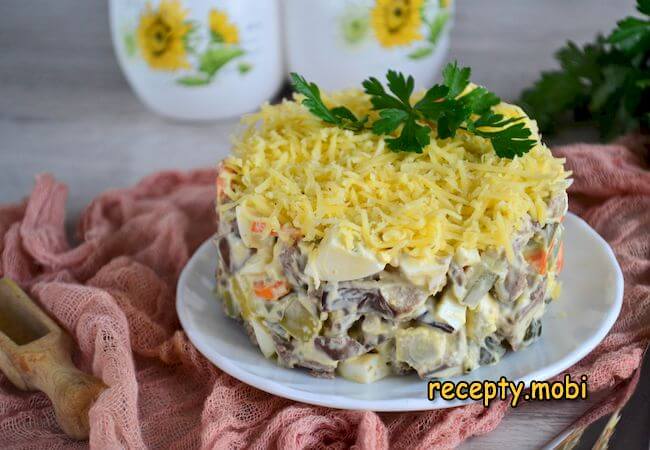 Cooking video