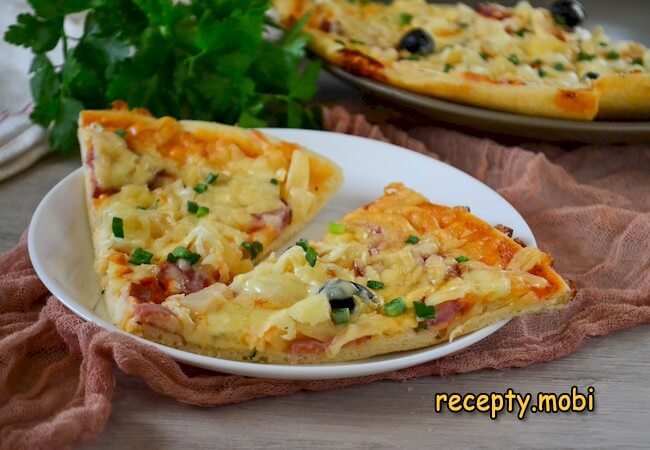 Pizza with pineapple and ham
Making pizza with pineapple and ham at home so that it is thin, tasty, juicy, like in a pizzeria, is very simple. The main thing is to prepare a good dough (or use ready-made purchased). Another important condition is that pizza is cooked at a very high temperature, it is ideal, of course, to bake at a temperature of 300-350 degrees, but not all ovens allow this. Therefore, heat the oven to the maximum and bake for literally 10 minutes, then it will turn out soft, tender, with a slightly crispy crust. Pizza toppings are endless, but pizza with pineapple and ham has already become a classic. This is the pizza I want to make today.
Cooking time: 30 minutes.
Servings: 3.
Calories: 248.
Ingredients
yeast dough - 320 g;
mayonnaise - 1 tbsp;
ketchup - 1-1.5 tbsp;
ham - 150 g;
canned pineapple - 150 g;
onion - 1 piece;
olives - to taste;
mozzarella - 150 g;
provencal herbs - 0.5 tsp.
Cooking
1. Prepare all the necessary ingredients. The dough can be used any way you like. I have pizza dough on dry yeast with the addition of eggs, you can use yeast dough on kefir, milk, or you can use ready-made frozen yeast or even puff pastry.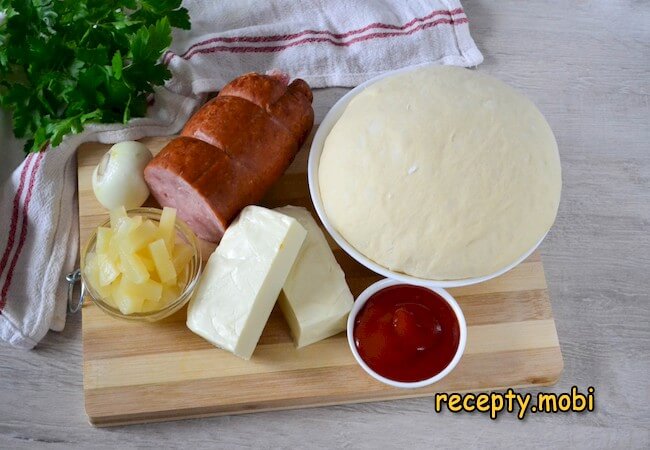 2. First of all, prepare the sauce. Mix mayonnaise and ketchup, add half a teaspoon of Provence herbs. You can also add dried garlic. Stir. The proportions can be changed depending on your taste preferences.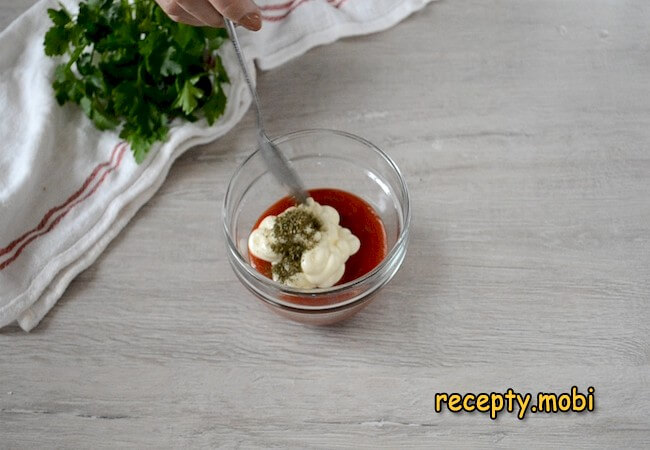 3. Cut the ham into small pieces. I have already chopped canned pineapple, I will not cut it finer.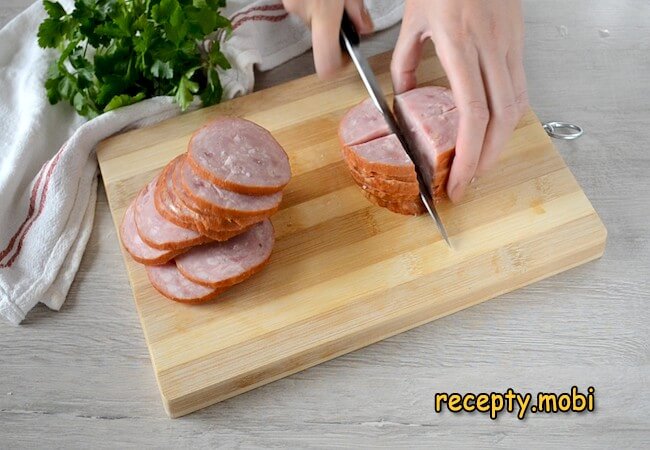 4. Roll out the dough into a large round layer 3-5 mm thick according to the size of your mold. The diameter of my baking sheet is 36 cm.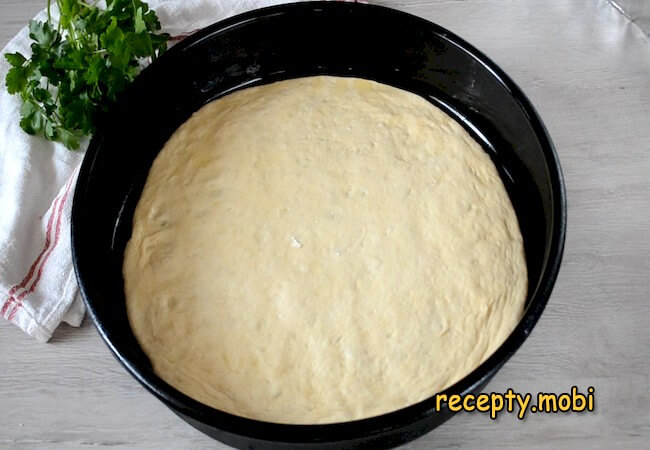 5. Lubricate the entire surface of the dough with the prepared sauce.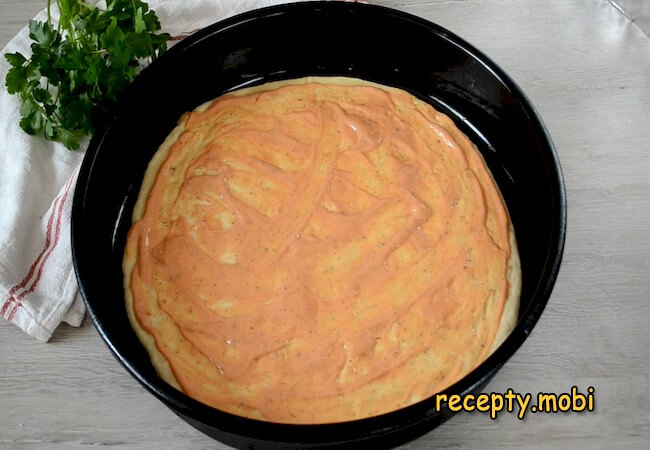 6. Lay out the ham slices.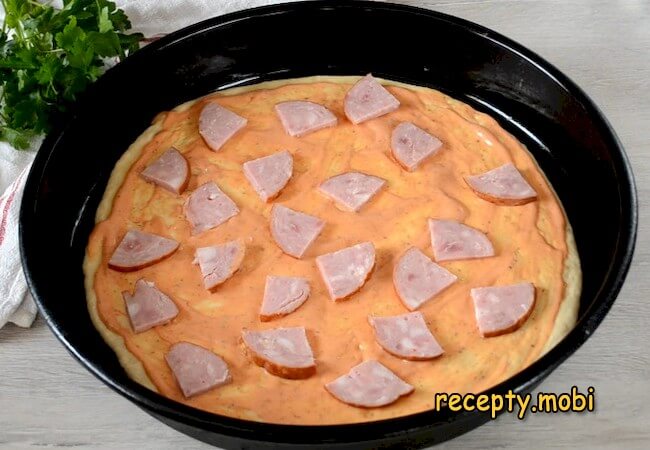 7. Then lay out the pineapple slices.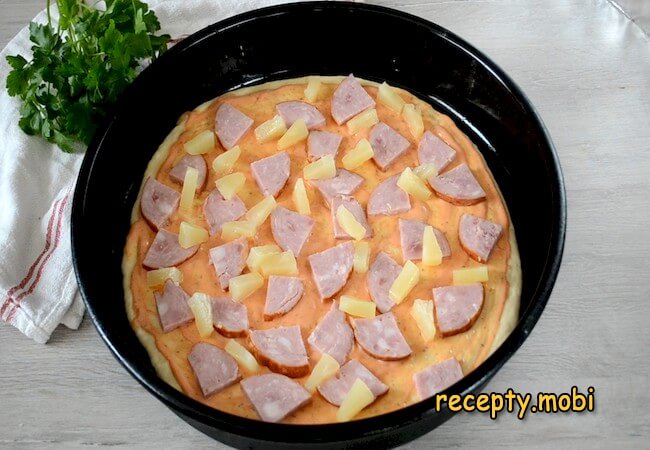 8. You can also add other ingredients, such as onion rings and olives. Pickled mushrooms, corn are also suitable.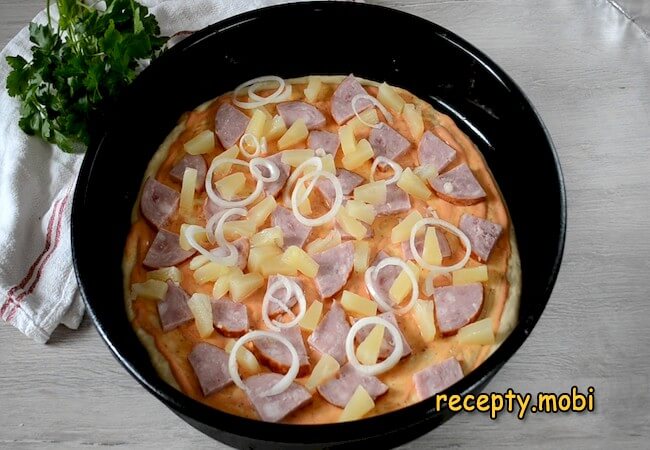 9. Top the pizza generously with grated cheese. Mozzarella is best, but any hard cheese will do.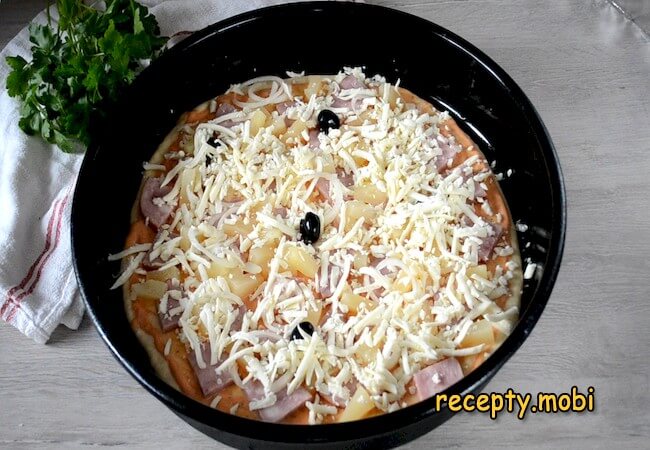 10. By this time, the oven should already be well heated, at least up to 200 degrees, but if it allows, then up to 250-280. Place the pizza in the oven and bake for 10-15 minutes, depending on the temperature.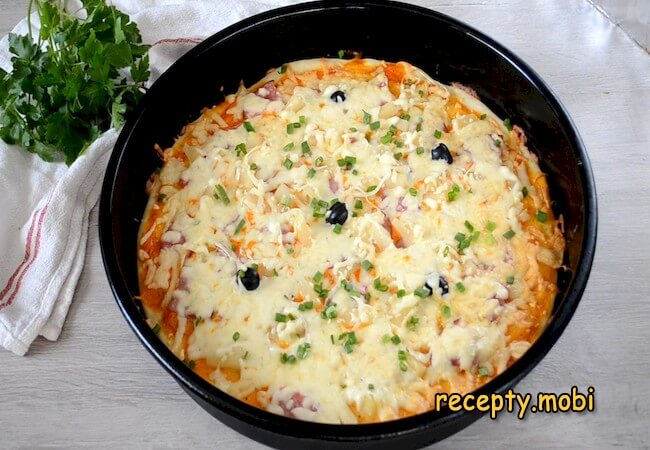 11. Sprinkle the finished pizza with finely chopped basil or green onions, whichever you prefer. Serve hot. Bon appetit!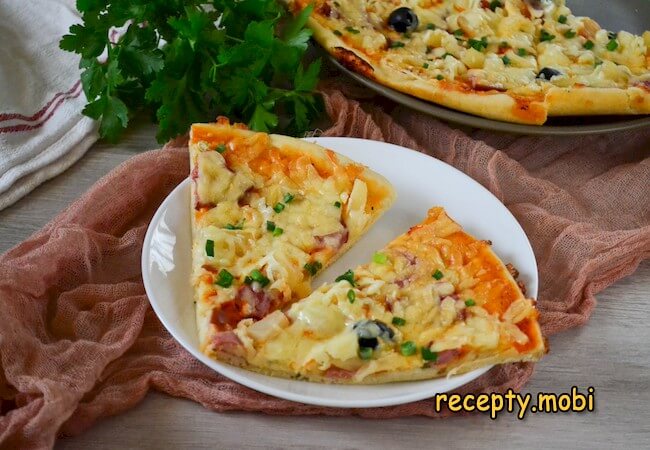 Cooking video