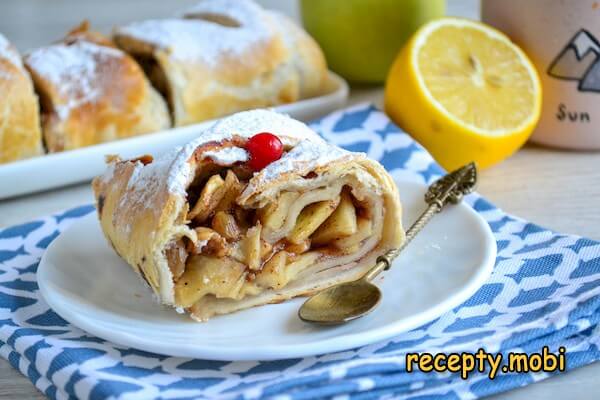 Strudel with apples from puff pastry
Baking from ready-made puff pastry is always fast and very tasty. It can be used to cook both sweet and unsweetened buns, pies, bagels and croissants. You can use anything as a filling, and it will certainly turn out delicious! Such is the property of puff pastry. One of the most delicious options for such baking is strudel with apples from puff pastry. It's just an incredible combination of tender and at the same time crispy puff pastry, sweet and sour apples and fragrant cinnamon. It turns out really very, very tasty! By all means try it!
Cooking time: 40 minutes.
Servings: 4.
Calories: 248.
Ingredients
puff pastry - 500 g;
2 apples;
raisin - 30 g;
lemon juice - 1 tbsp;
sugar - 50 g;
cinnamon - 1 ч. tsp;
potato starch - 1 tbsp;
vanilla sugar - 1 tsp;
1 egg;
powdered sugar.
Cooking
1. Prepare all the necessary ingredients. Defrost the puff pastry so that it is easy to work with. I use puff yeast-free dough, but you can also take puff yeast dough, it will be slightly different in the finished baking, but it will also be delicious. 500 g of dough is two layers. The amount of ingredients is calculated for 2 small strudels.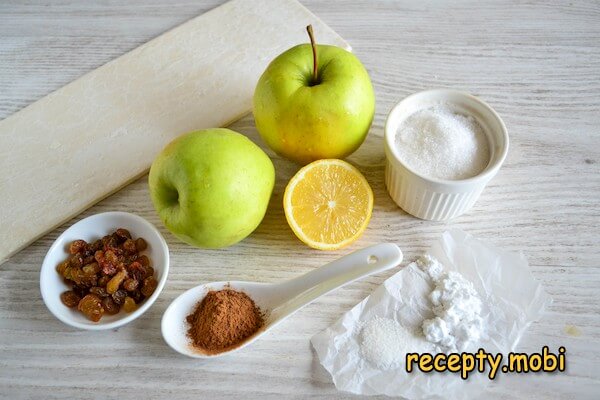 2. Pour boiling water over the raisins and leave for 10 minutes. Then drain the water, and put the raisins on paper towels and dry.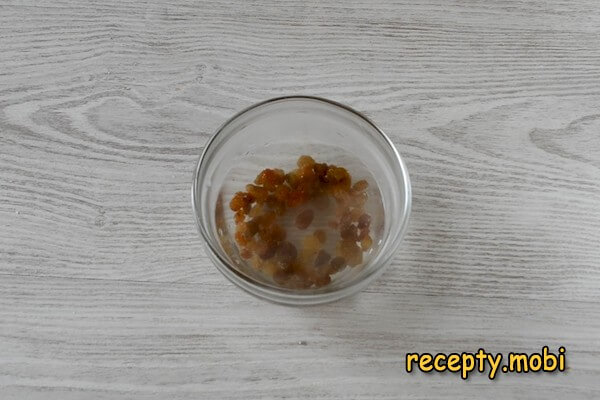 3. Peel the apples and cut them into slices. Cut the slices into thin plates.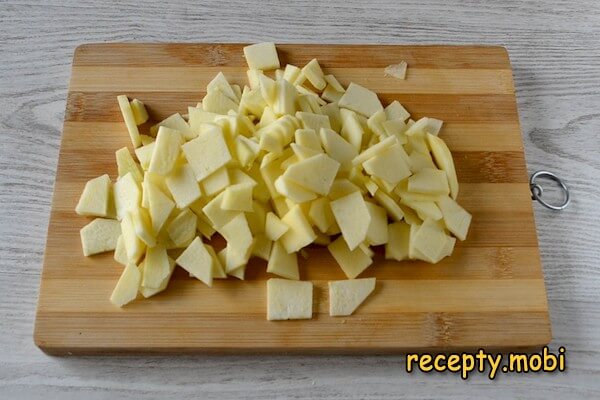 4. Mix apples with raisins, add lemon juice, vanilla sugar, starch, cinnamon and sugar.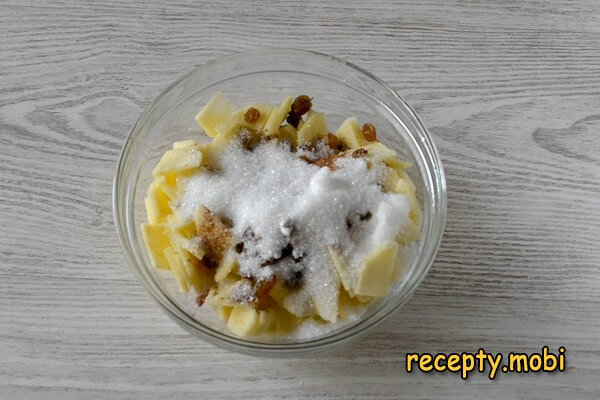 5. Mix the stuffing well.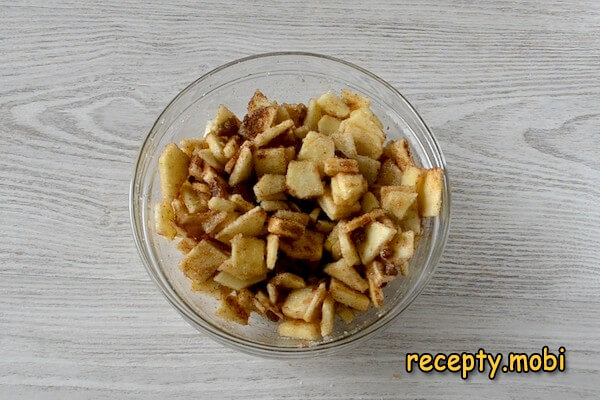 6. Roll out the puff pastry as thinly as possible. Ideally, if it will even shine through the work surface.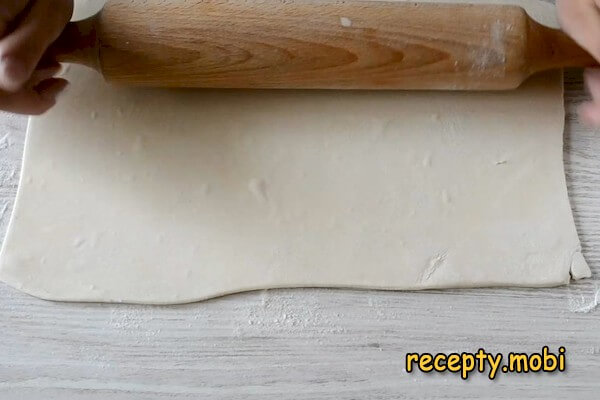 7. Lay out half of the filling and spread along one side, not reaching the edge of about 2 cm.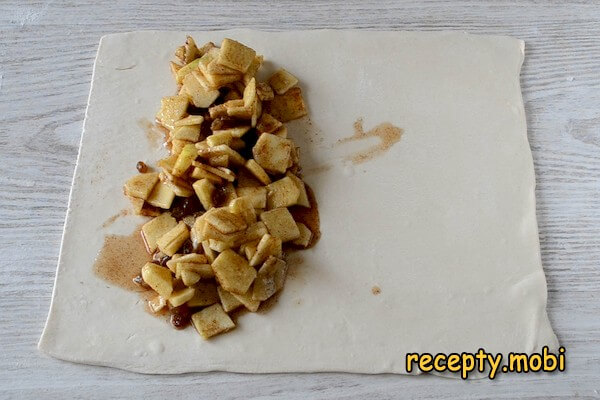 8. Turn up the side edges so that the filling does not leak out during baking, but remains juicy.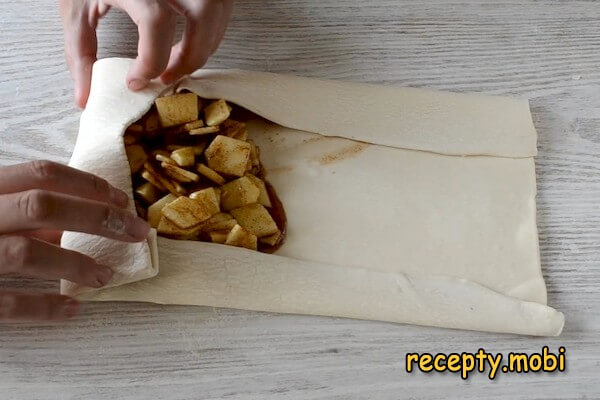 9. Wrap the dough in a roll as tightly as possible. Make incisions on top. Similarly, form the second strudel.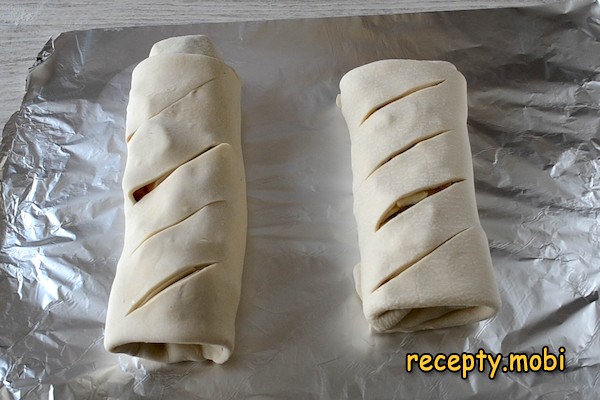 10. Transfer the blanks to foil or parchment, brush with beaten egg and send to the oven, preheated to 180 degrees, for 30 minutes. The cooking time depends on the power of the oven.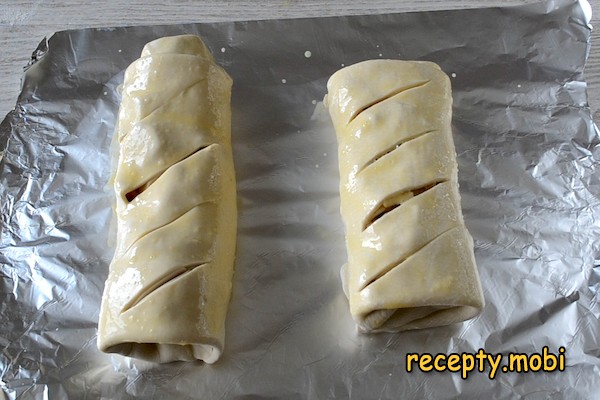 11 Sprinkle the finished strudels with powdered sugar and decorate to your liking.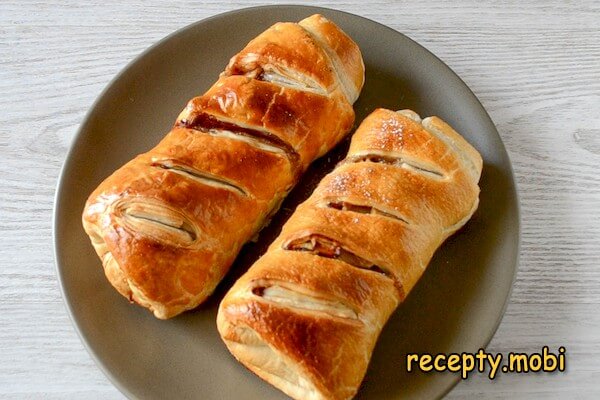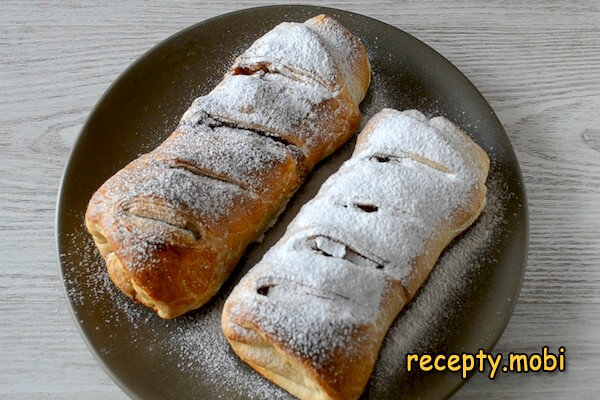 Cook strudel with apples from puff pastry with pleasure. Bon Appetit.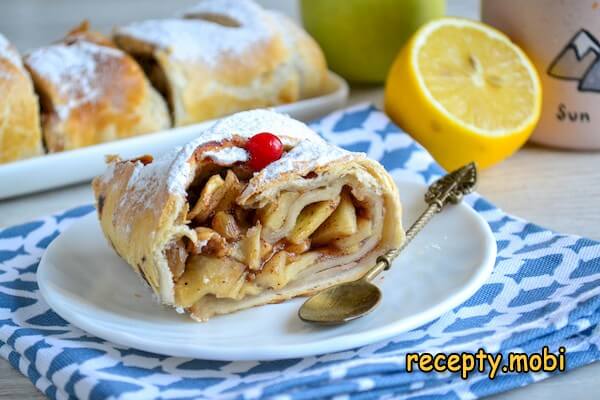 Cooking video