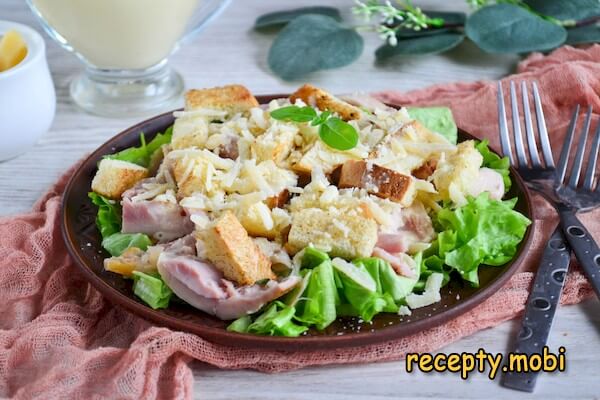 Smoked Chicken Caesar Salad
Caesar salad is a popular salad that has many options for preparation. I want to offer a very quick option with smoked chicken, so the salad will cook very quickly, because you do not need to spend time preparing the chicken, and the taste of the finished salad will be more intense. The only thing is that it is very important to use a delicious sauce, then the whole Caesar salad with smoked chicken will sparkle with new shades of taste.
Cooking time: 20 minutes.
Servings: 3.
Calories: 119.
Ingredients
lettuce leaves – 6-8 pieces;
smoked chicken - 200 g;
parmesan - 50 g;
white bread - 2-3 slices;
Caesar salad dressing - 2-3 tbsp.
Cooking
1. Prepare all the necessary ingredients. The sauce I use is homemade, but store bought is also available.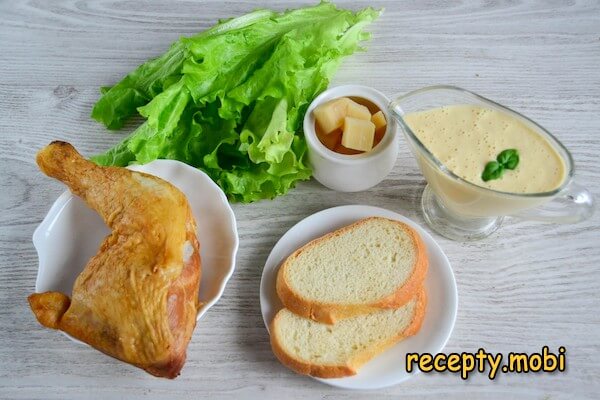 2. First of all, prepare the crackers for the salad. Cut white bread into small pieces.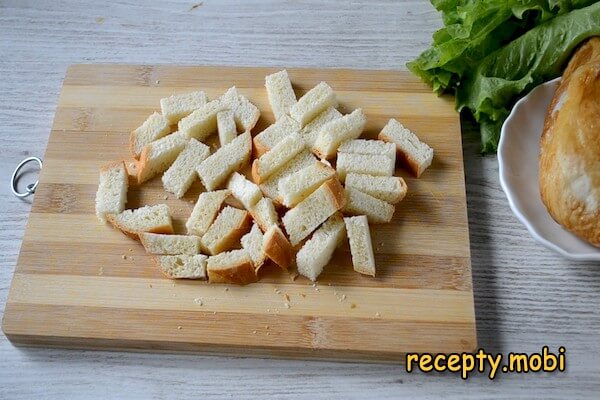 3. Dry the bread in a dry frying pan over high heat, if desired, you can add a little dried garlic and paprika. You need to dry until the crackers are crispy on the top, but still soft on the inside.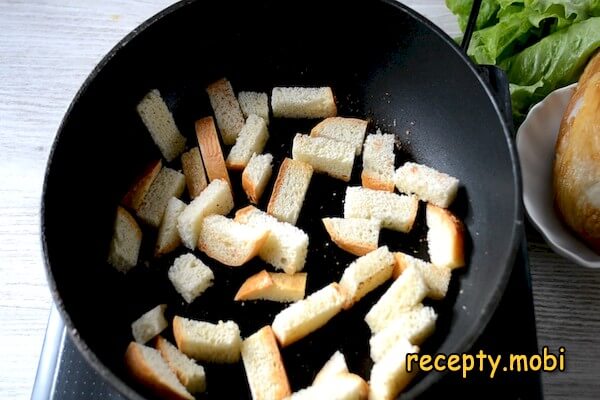 4. For a salad, you can use smoked chicken fillet, but I like the smoked leg more, it is juicier. Remove the skin from it, separate the meat from the bone. Cut the meat into large pieces.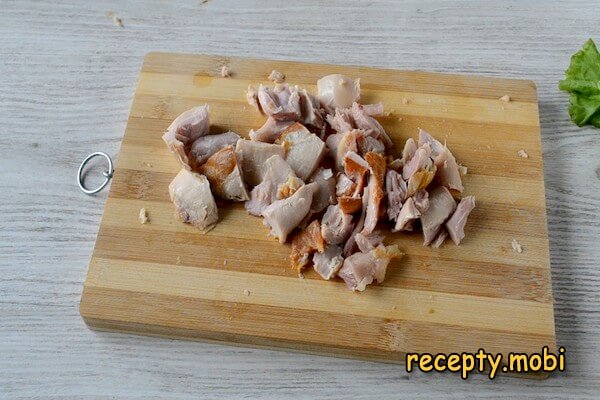 5. Parmesan grate on a coarse grater.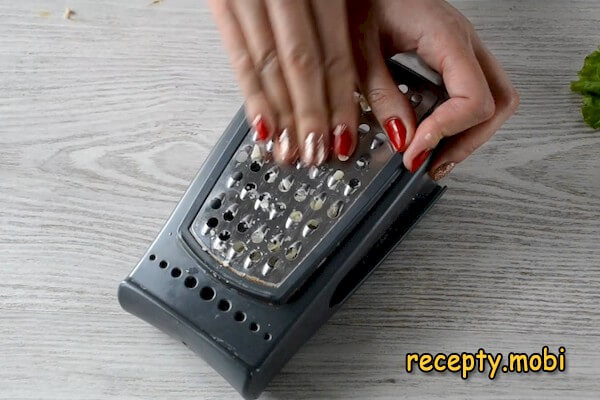 6. We begin to collect the salad. Wash lettuce leaves and pat dry. Cut or tear with your hands into small pieces so that it is convenient to eat later. Lay the salad out on a flat plate.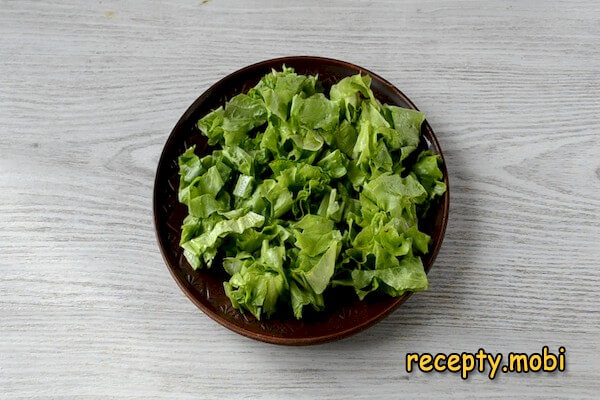 7. Top with a little sauce.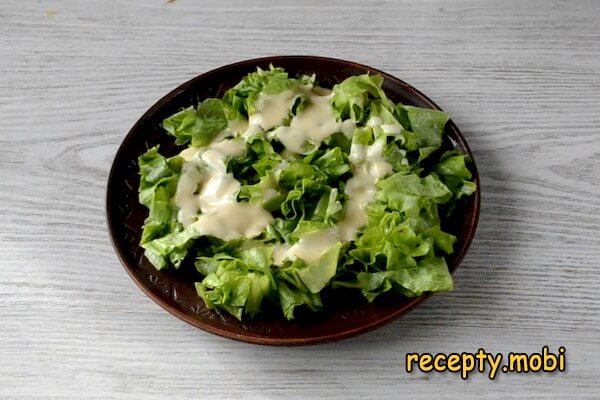 8. Then lay out the chicken pieces and crackers. Pour sauce over again.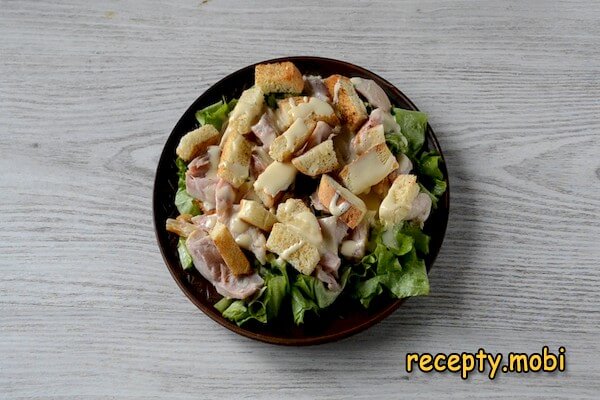 9. Sprinkle grated cheese on top and serve. Also in the Caesar salad with smoked chicken, you can add boiled chicken or quail eggs cut into several pieces, slices of fresh tomato. Any additions make the salad more interesting, unusual and original.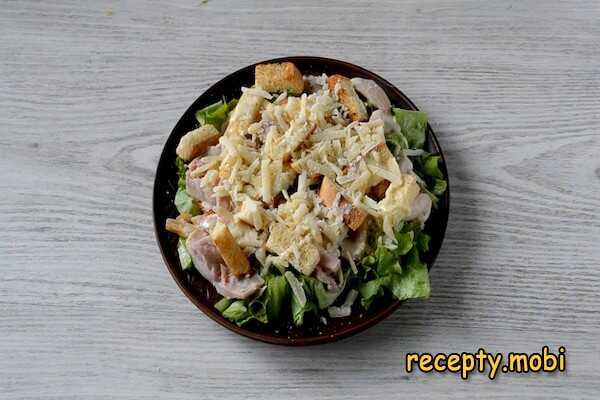 Enjoy your meal!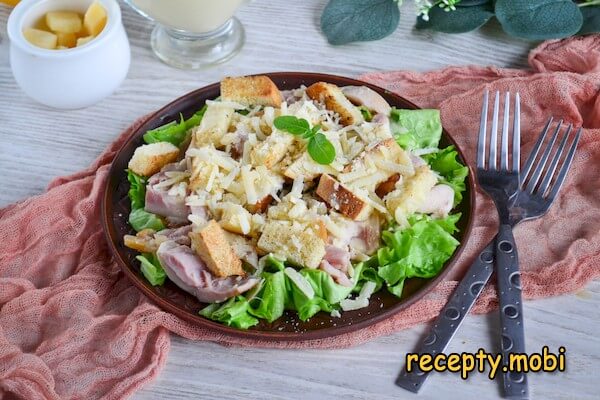 Cooking video