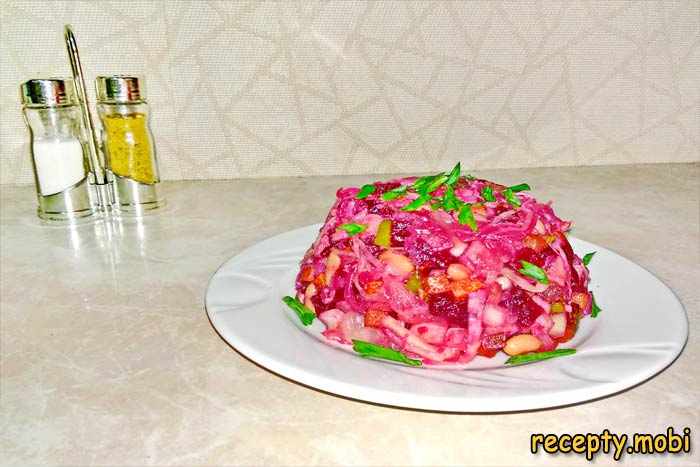 Vinaigrette with sauerkraut and salted cucumbers
Vinaigrette with sauerkraut and salted cucumbers is a favorite vegetable dish of many, great for fasting. This salad is prepared in almost every family and of course, everyone has their own signature recipe. Someone adds salted mushrooms to the main ingredients, and someone canned green peas. Some people prefer to season their salad with vinaigrette dressing, while others like simple peasant sunflower oil.
Introducing the classic vinaigrette recipe with sauerkraut and salted cucumbers. All vegetables contain a large amount of vitamins, so the salad is also very healthy, especially in the autumn-winter period.
Cooking time: 80 minutes.
Servings: 5.
Calories: 55.
Ingredients
carrots - 1-2 pieces;
red beets - 1-2 pcs;
potatoes - 3-4 pcs;
dry beans - about 1 cup;
onions - 1-2 pcs;
vegetable oil - 100-130 g;
salted cucumbers - 3 or 4 pcs;
sauerkraut - 300-400 g;
green onion - optional;
salt, black pepper - optional.
The number of products can be changed according to your taste.
Cooking
1. Let's prepare the necessary ingredients for cooking according to the classic recipe for vinaigrette with sauerkraut and salted cucumbers. Wash vegetables and boil until tender. Or we bake them in the oven, in this version the vegetables will be much tastier and retain more useful vitamins.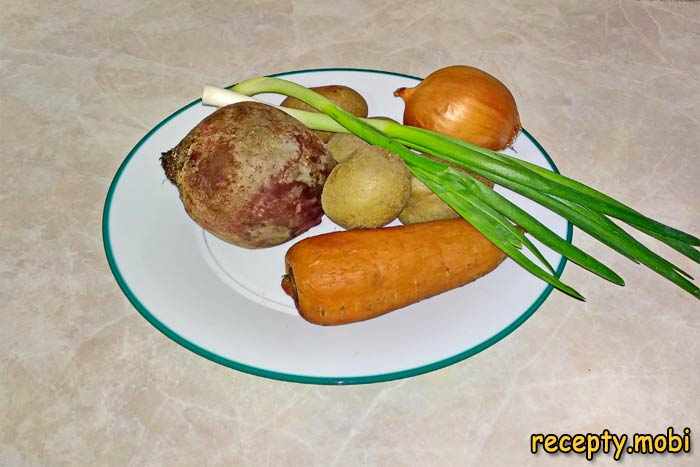 2. Cut the vegetables into a medium cube. Cut the onion into a medium dice as well.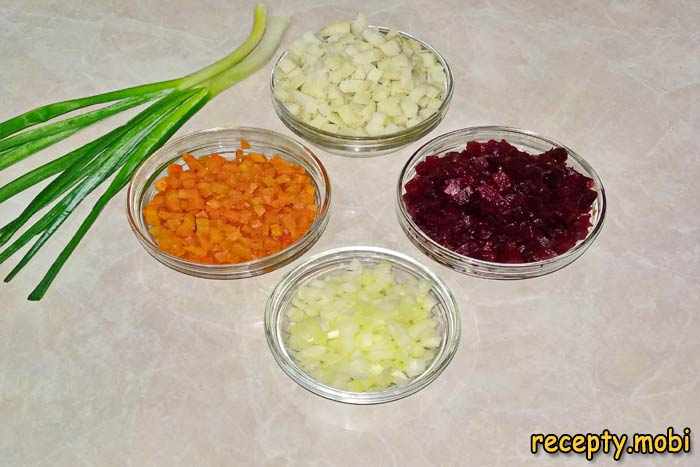 3. Soak the beans for three to four hours in cold water, the next step is to boil the beans until tender. This will take approximately one hour. For a salad, you will need sauerkraut, as well as cucumbers, salted or pickled.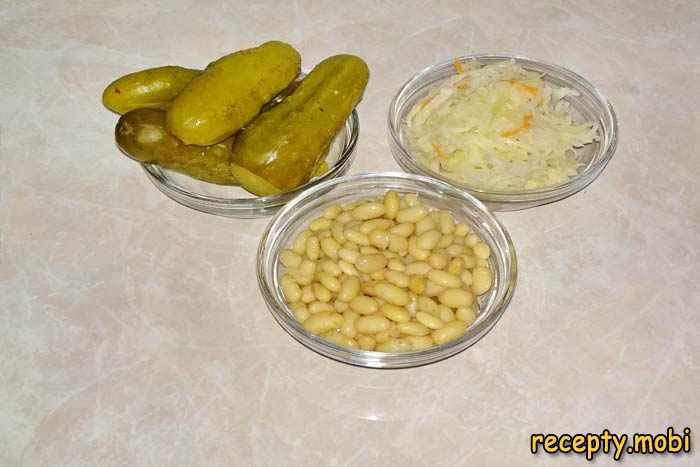 4. Cucumbers cut into cubes. Cabbage can be left long or chopped a little.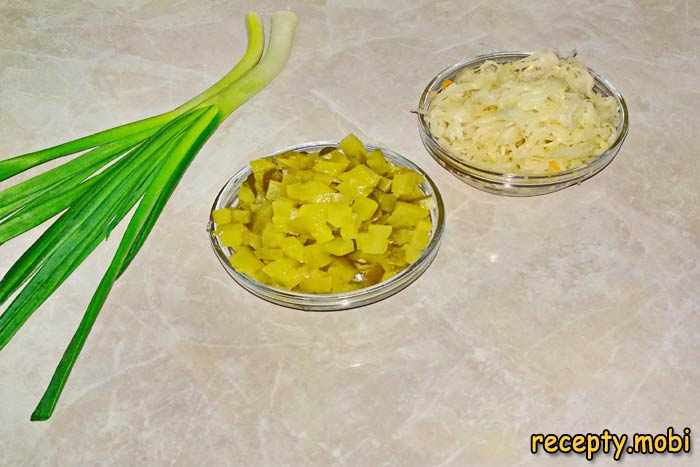 5. Put all prepared vegetables, spices and seasonings in a large bowl.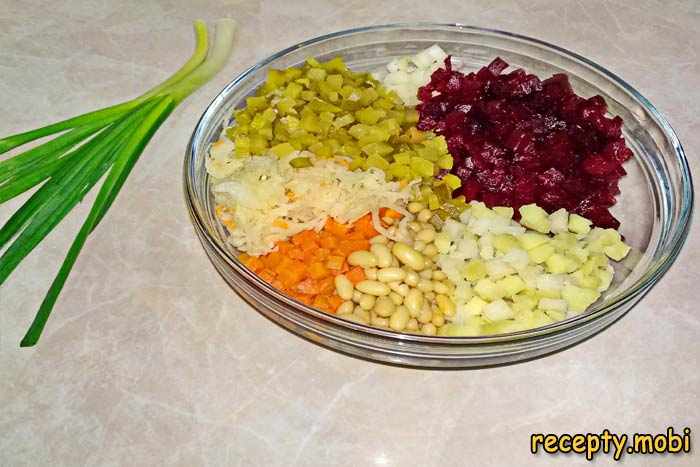 6. Salt, pepper to taste. To dress the vinaigrette, you need sunflower oil. If the salad is low in acid, you can add a little lime or lemon juice.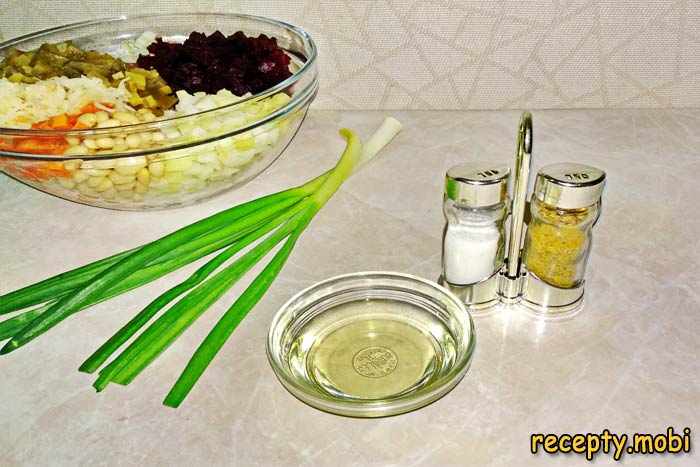 7. Mix all products thoroughly. Let the salad brew for two to three hours in the refrigerator.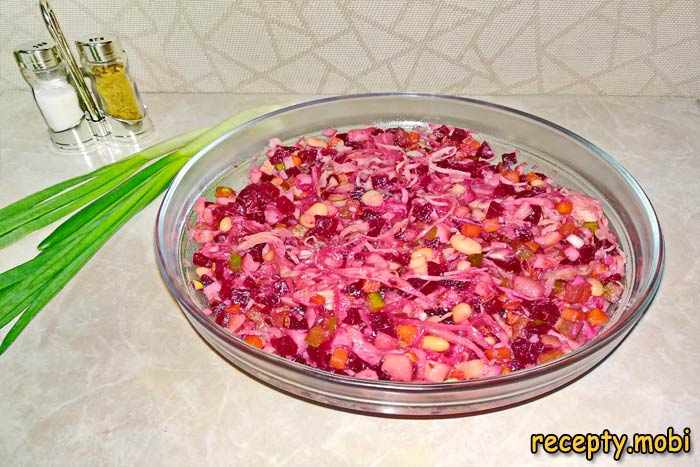 8. According to the classic recipe, vinaigrette with sauerkraut and salted cucumbers is ready. Serve on the table in a large salad bowl or in portions. You can decorate with green onions, sesame seeds or parsley.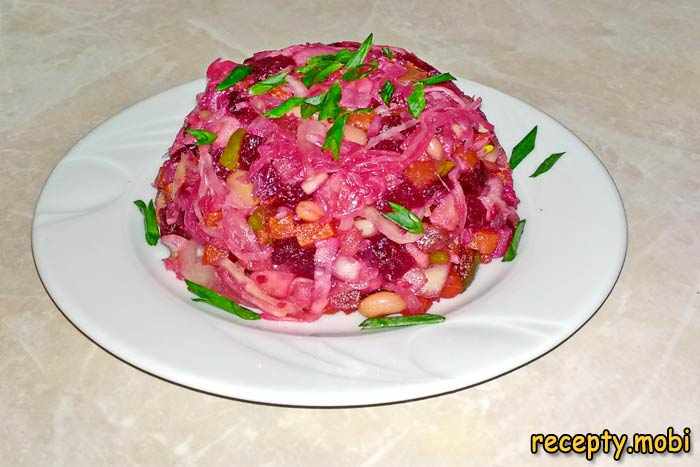 Enjoy your meal!