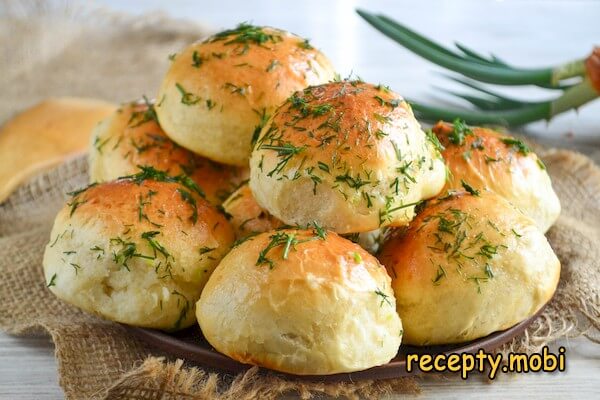 Pampushki with Garlic
Delicious, hearty, rich borscht, complemented by fragrant home-made garlic donuts - this is a classic combination. Garlic donuts, just incredibly tender, soft, fluffy. They are prepared from almost the same dough as bread,
but they taste better! And with the addition of a bright garlic sauce - it's just an indescribable pleasure! It will take about 2.5-3 hours to prepare the buns, but most of the time will be spent on proofing and baking, and your time and effort will take quite a bit.
Cooking time: 180 minutes.
Servings: 10.
Calories: 250.
Cuisine: Ukrainian.
Ingredients
For dough:
flour - 500 g;
milk - 220 ml;
water - 30 ml;
dry yeast - 10 g;
vegetable oil - 2 tbsp;
sugar - 1 tbsp;
salt - 1 tsp;
1 egg.
For garlic sauce:
5-6 garlic cloves;
salt - 0,5 tsp;
vegetable oil - 1 tbsp;
water - 2 tbsp;
dill.
Cooking
1. Prepare all the necessary ingredients. Heat milk and water to a temperature of about 35 degrees. Sift the flour several times to thoroughly saturate it with air.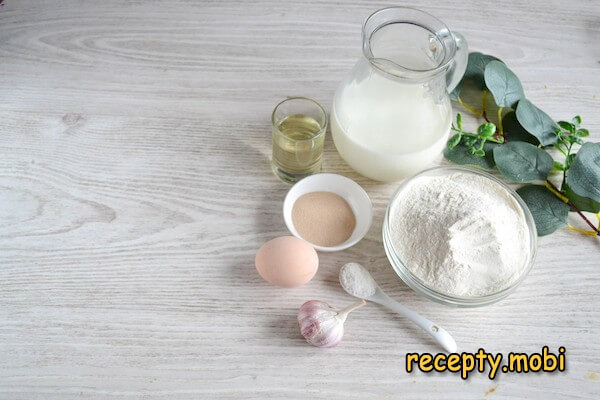 2. Dilute the yeast in a small amount of water, add sugar and salt and leave for 10 minutes for the yeast to start working.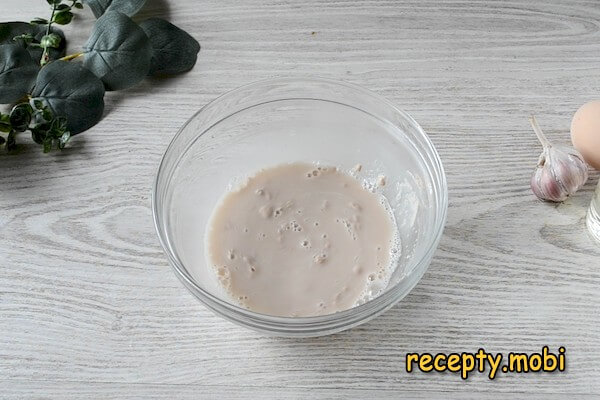 3. Then pour in milk and vegetable oil. Stir.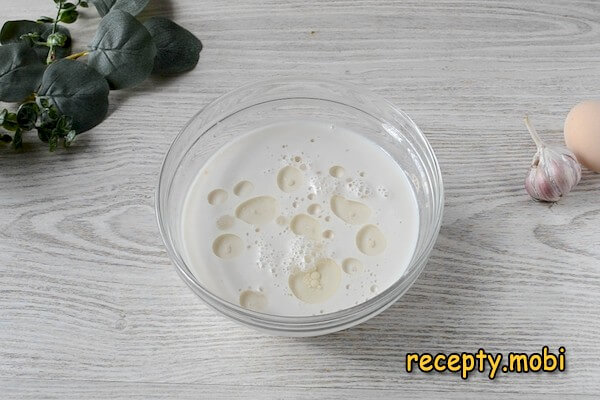 4. Gradually add flour and knead the dough first in a bowl, then transfer to a work surface and knead with your hands. You need to knead for at least 5 minutes. Try not to add too much flour, the dough should be soft, if it still sticks a little to your hands when kneading, then grease your hands with vegetable oil.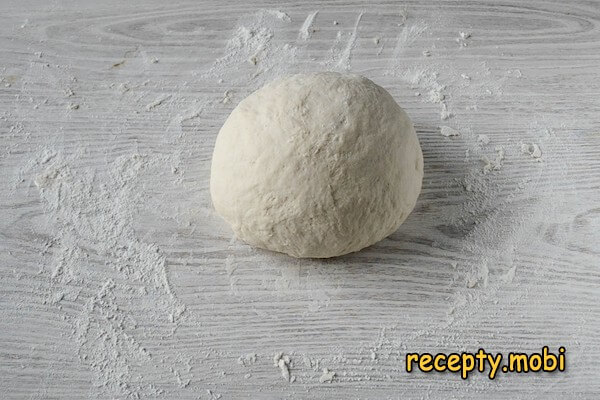 5. Put the finished dough in a bowl and put it in a warm place for 1 hour. Then knead the dough and leave for another 30 minutes. During this time, the dough will significantly increase in size and become even softer and more tender.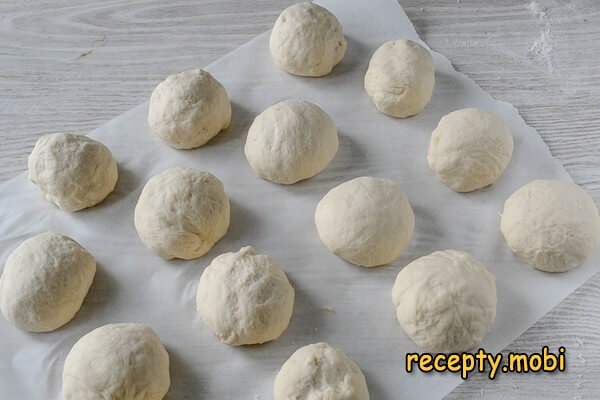 6. Form small buns from the dough (after all, they will increase during proofing and baking) and lay them on parchment. Leave for 10 minutes for them to rise slightly.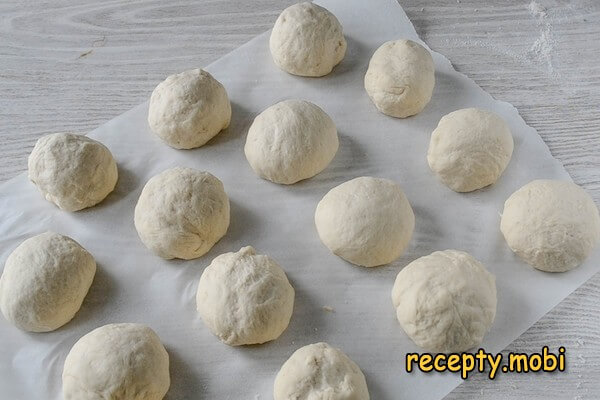 7. Break 1 egg, add about 1 tablespoon of water and whisk with a fork.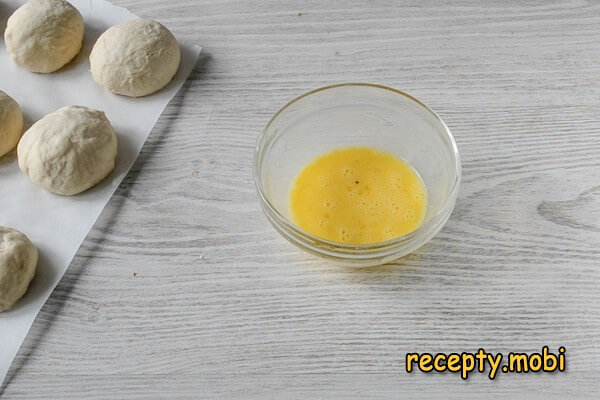 8. Brush the buns with a beaten egg. We bake buns in the oven at a temperature of 180 degrees for 20-30 minutes. Baking time depends on the power of the oven and the size of the buns.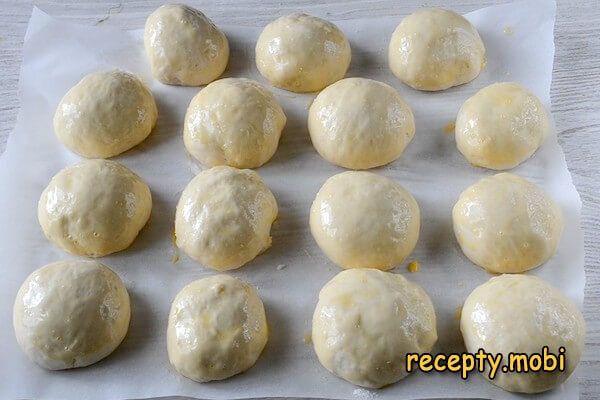 9. While the buns are baking, prepare the garlic sauce. To do this, squeeze out 5-6 cloves of garlic, add a little salt, vegetable oil and water. Mix well.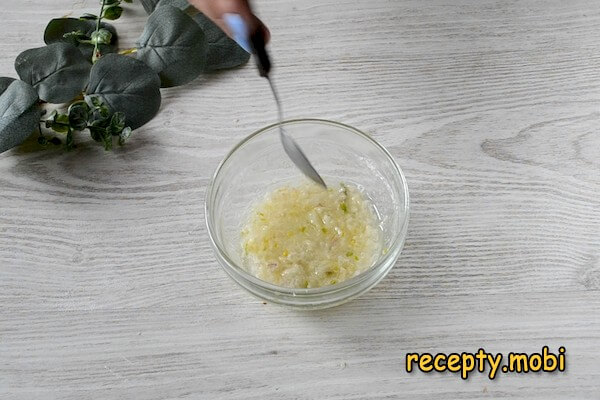 10. Dip the finished buns in garlic sauce. Sprinkle finely chopped dill on top.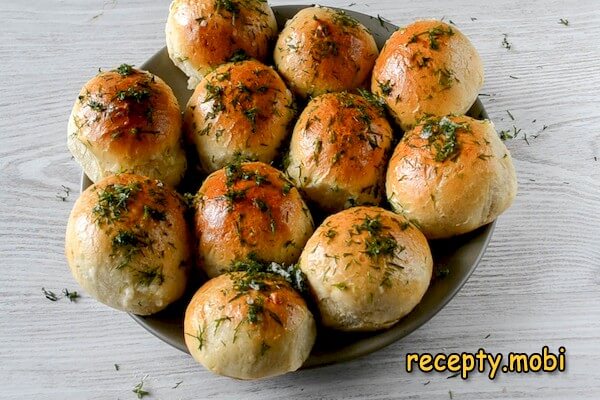 11. Pampushki with Garlic are ready. Their fragrance is simply magical. Bon Appetit!