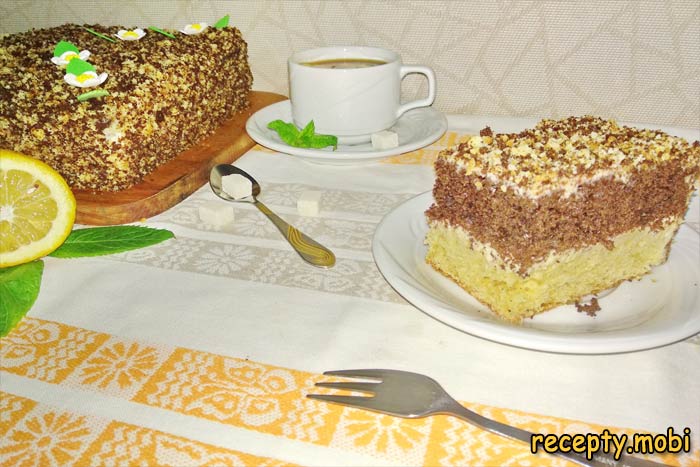 Smetannik classic recipe
Smetannik is a cake popular in Soviet times. For many, this is the most expensive cake, as memories of childhood and school are associated with it.
Cooking according to the classic recipe Smetannik in the oven at home is very simple, you will need the most affordable products.
Cooking time: 360 minutes.
Servings: 10.
Calories: 280.
Cuisine: Russian.
Ingredients
For light-colored biscuit:
eggs - 2 pcs;
sugar - 140-160 g;
salt - ¼ tsp;
butter (soft) - 100 g;
sour cream (25%) - 150 g;
vanillin - ¼ tsp (or to taste);
flour - 220 g;
baking powder - 10 g.
For the dark biscuit:
eggs - 2 pcs;
sugar - 140-160 g;
salt - ¼ tsp;
butter (soft) - 100 g;
sour cream (25%) - 150 g;
vanillin - ¼ tsp (or to taste);
flour - 160 g;
cocoa powder - 60 g.
For cream:
sour cream (25%) - 550 g;
powdered sugar - 120-130 g;
vanillin - to taste.
Cooking
1. First you need to bake two cakes - one light, the second chocolate, with the addition of cocoa. And also a simple cream of sour cream. Let's start making a light-colored biscuit. We prepare all products according to the list. The flour should be sifted, and the butter should also be removed from the refrigerator in advance.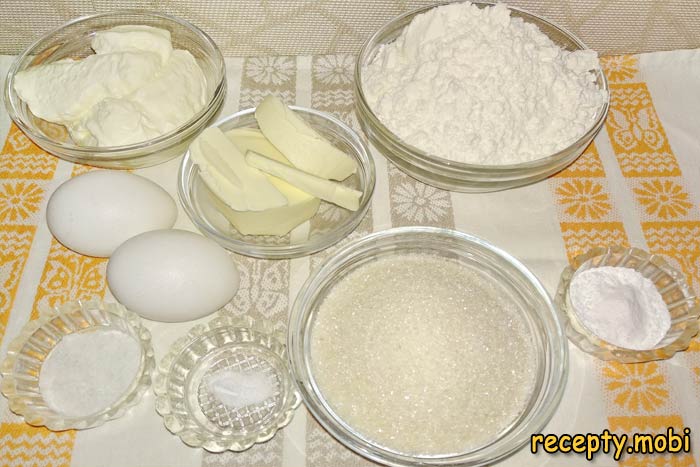 2. Drive two eggs into a deep bowl, send a pinch of salt and sugar to them.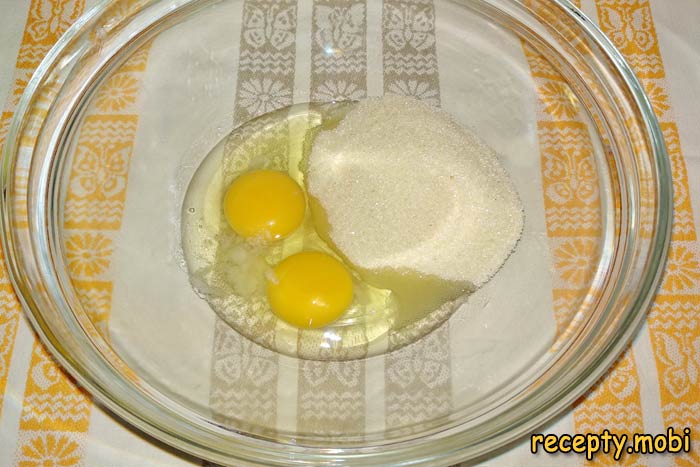 3. With a mixer or blender, beat the eggs into a fluffy foam.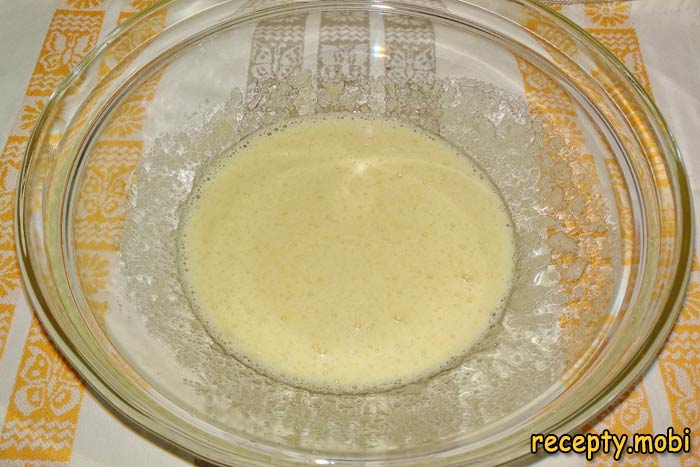 4. Next I add vanillin and butter at room temperature, which should already be soft.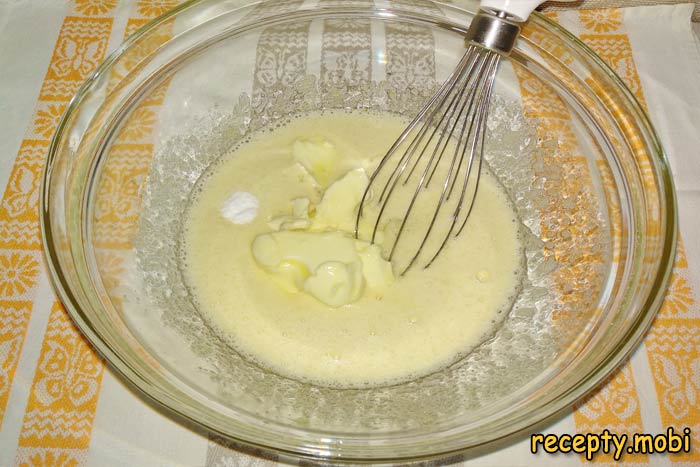 5. We continue to beat the mass until fluffy.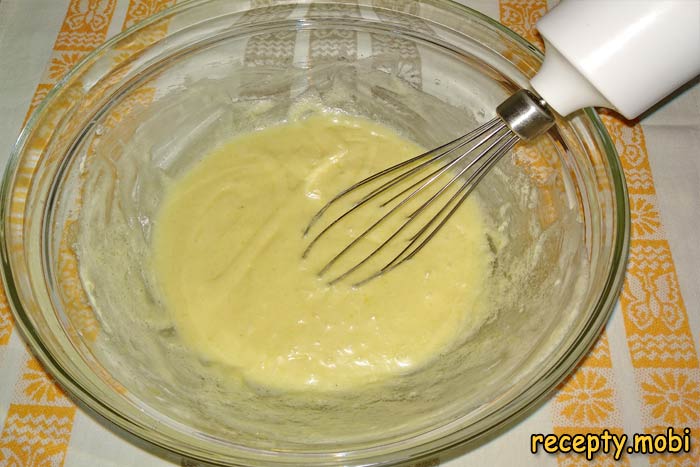 6. Now add sour cream. It is better to take sour cream for this baking with a high percentage of fat content, then both the cakes and the cream will turn out to be much tastier.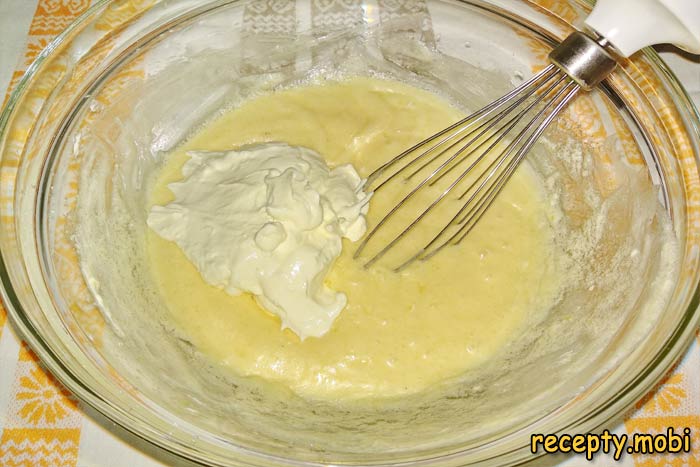 7. Add the baking powder to the flour.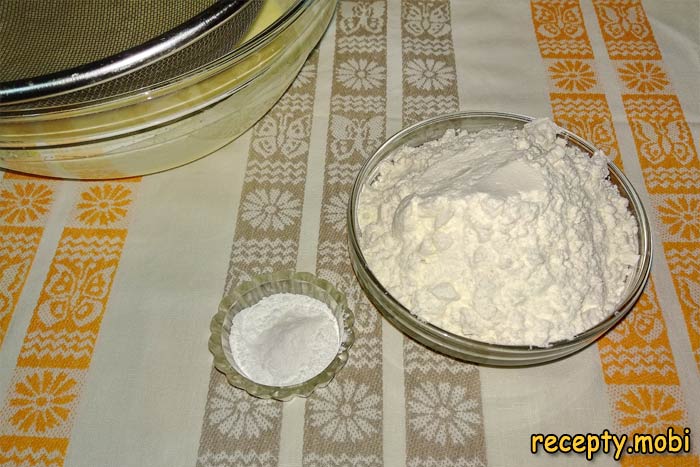 8. Sift the flour into the egg mass, so it will be even better filled with oxygen. Subsequently, the cake will rise perfectly during baking, it will turn out airy and light.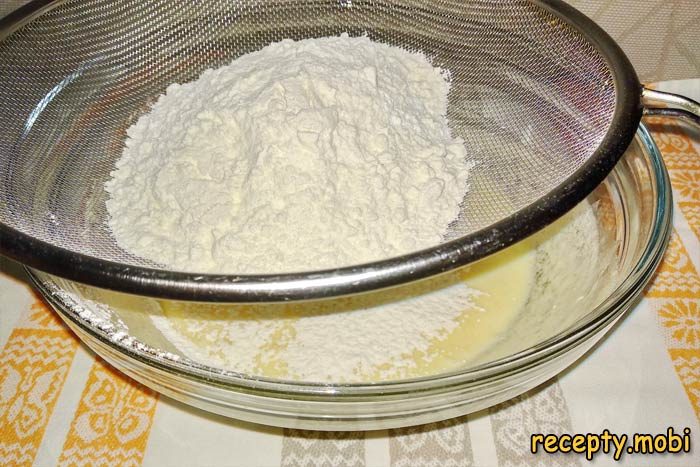 9. Mix the flour into the egg mass. It is necessary to connect the products quickly so that the dough does not clog with flour and does not become tight.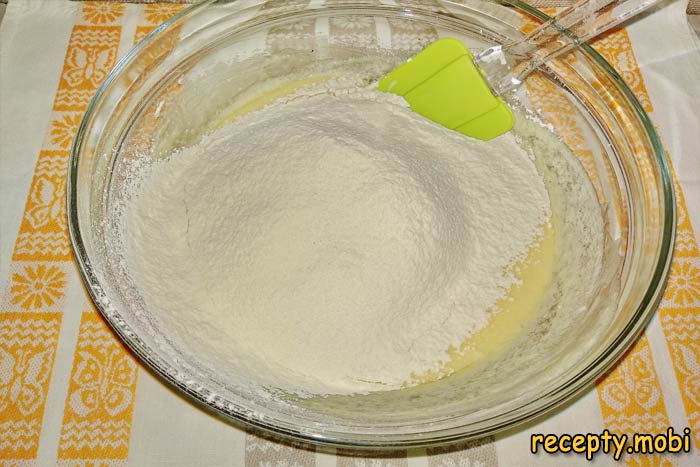 10. The dough turned out tender and elastic.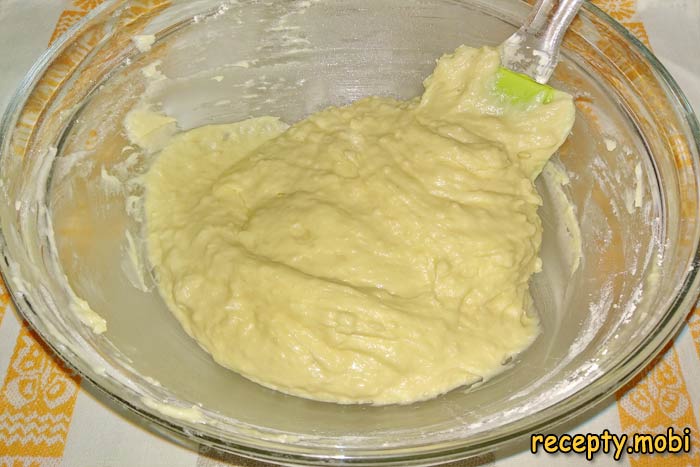 11. We cover the form with parchment paper, lightly coat it with vegetable oil. We spread the dough and level it with a spatula, or just with a damp hand.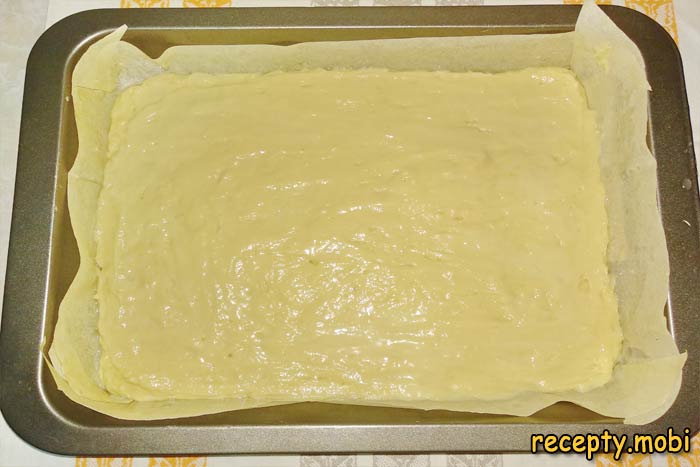 12. Bake the cake at t-180⁰ C, twenty to twenty-five minutes. Readiness must be checked with a toothpick or skewer. Take out the crust and transfer to a wire rack to cool.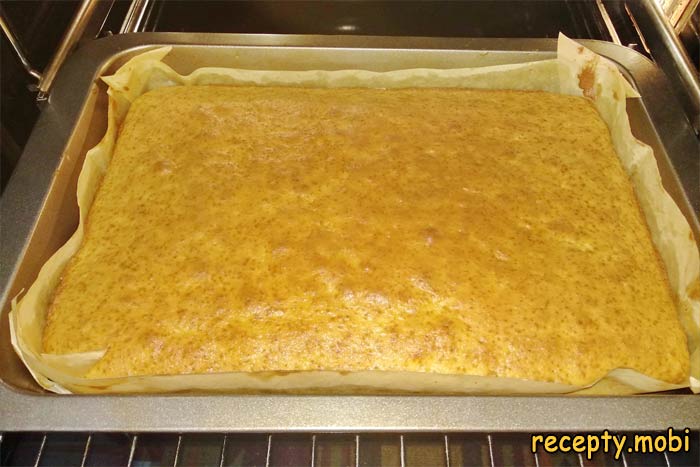 13. Let's start cooking chocolate cake. It is necessary to prepare the same products as in the first option, with one difference. Flour should be taken less by weight, and cocoa powder should be added to this weight. All products must be prepared according to the list.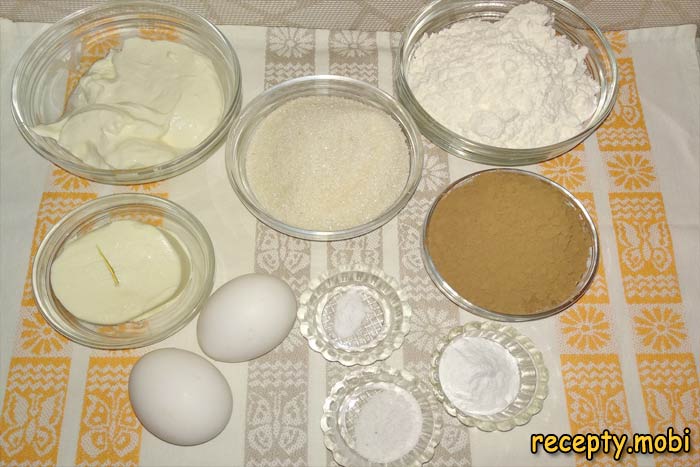 14. Repeat the same sequence. In a bowl, drive two eggs, add salt and sugar, beat until fluffy.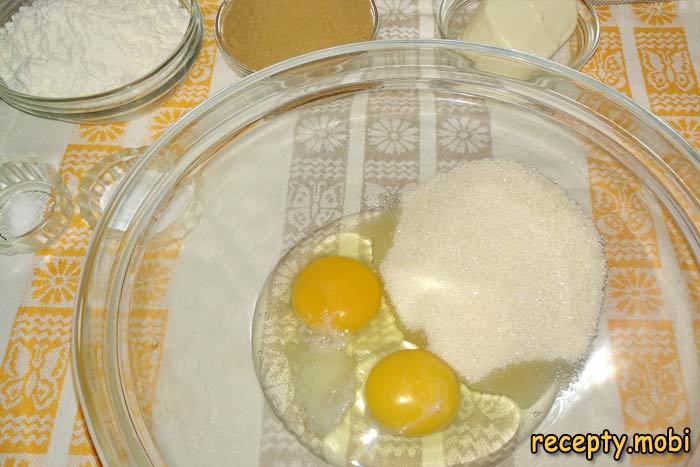 15. Next, put the butter and vanillin, beat. Lastly, we send sour cream to the mass, and also beat well.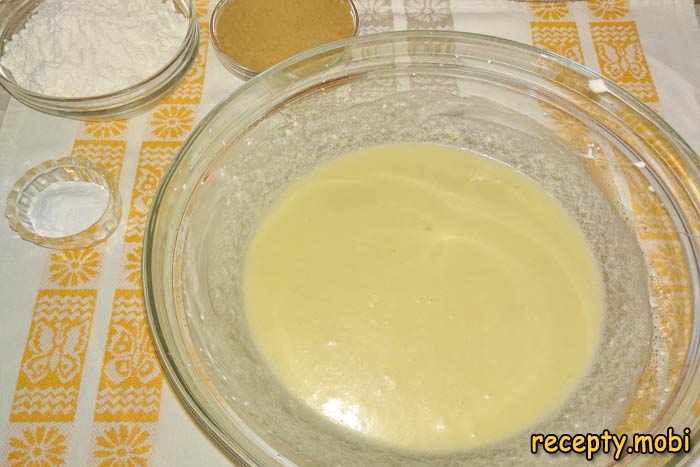 16. Set the sieve over the bowl. To mix flour and cocoa well, pour them into a sieve, add baking powder. We sift.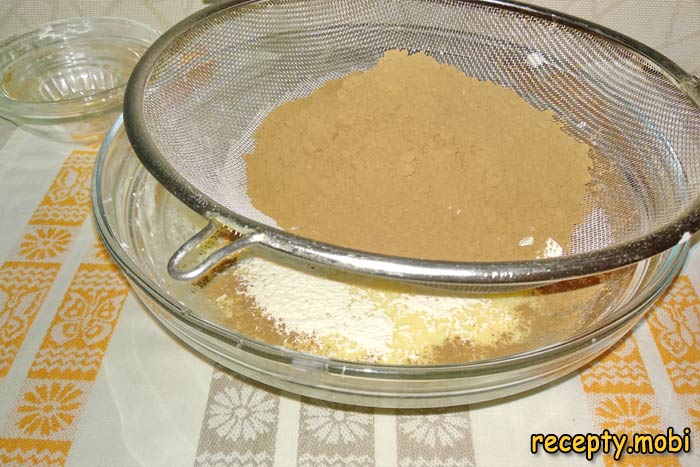 17. Quickly but gently mix dry products into the egg mass, try not to clog the dough.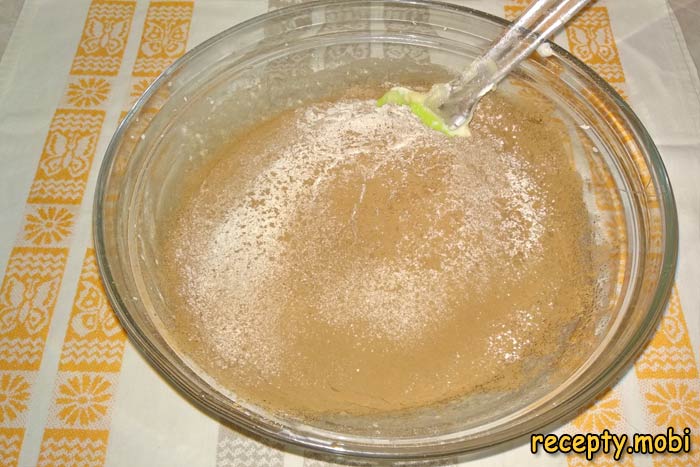 18. Here we have such a chocolate and elastic dough. Cocoa powder must be taken from a high-quality, trusted manufacturer, then the pastries will turn out beautiful and tasty.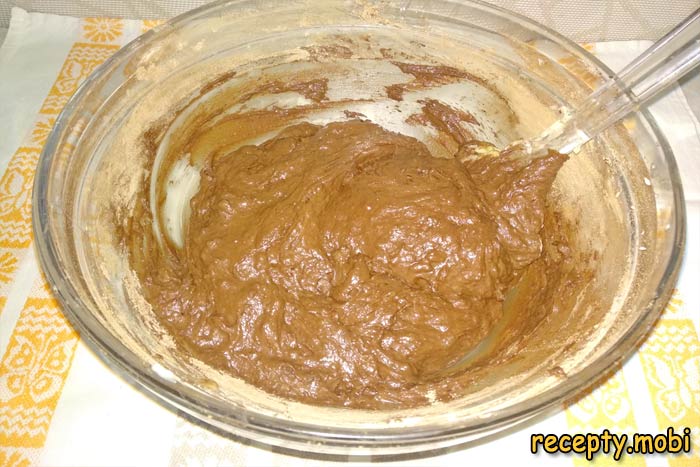 19. Cut out another sheet of parchment, cover it with vegetable oil and spread the chocolate dough. Smooth out in an even layer.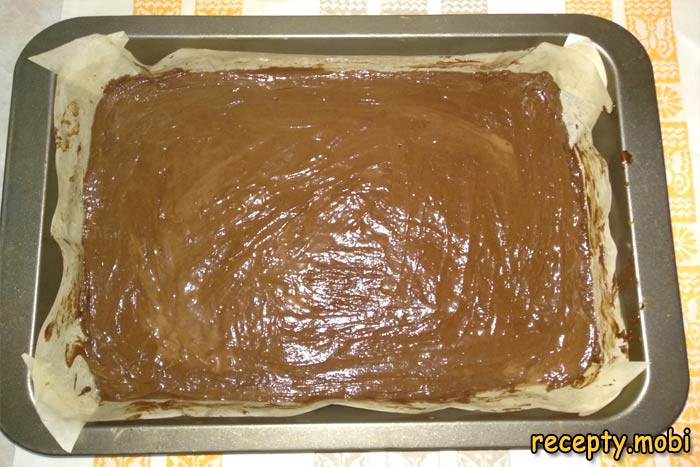 20. Bake in the oven for twenty to twenty-five minutes, at t-180 ° C. Check the readiness with a wooden skewer.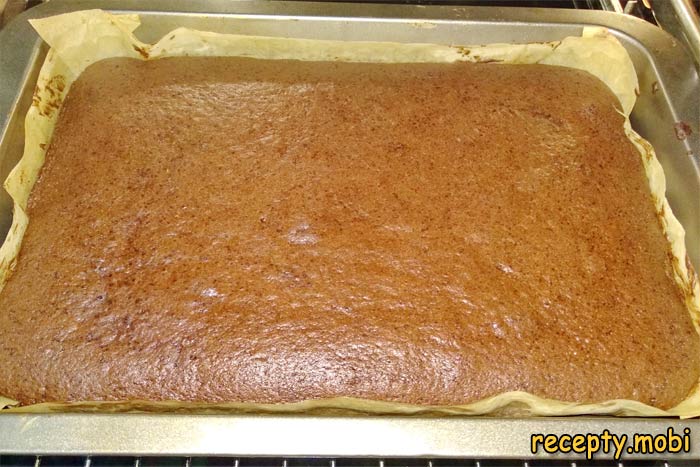 21. We baked two cakes, put them on a wire rack and let them cool down. (It is more convenient to cook cakes in the morning, and in the evening collect the whole cake and leave it to soak overnight).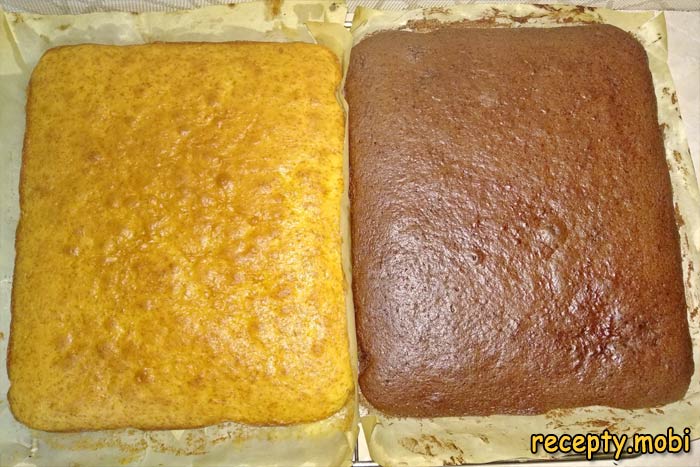 22. When the cakes have cooled down, it is necessary to cut off a thin top layer from them. Thus, we will make a flat surface and the cakes will be better saturated. Cut off the top layer of the dark biscuit.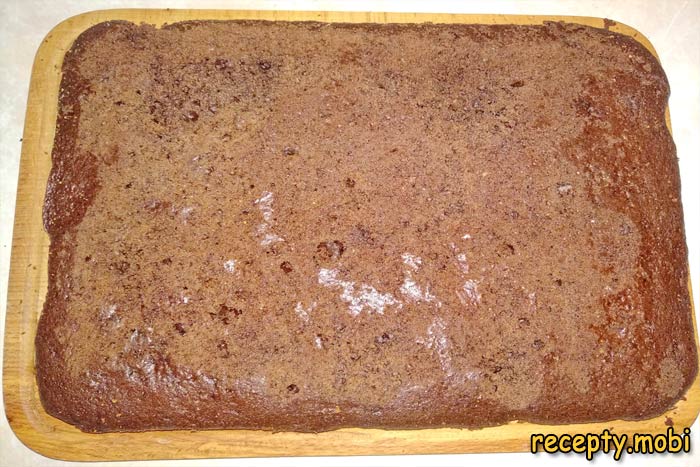 23. Cut off the top layer of a light biscuit. Now you can clearly see what a porous crumb the baking turned out to be.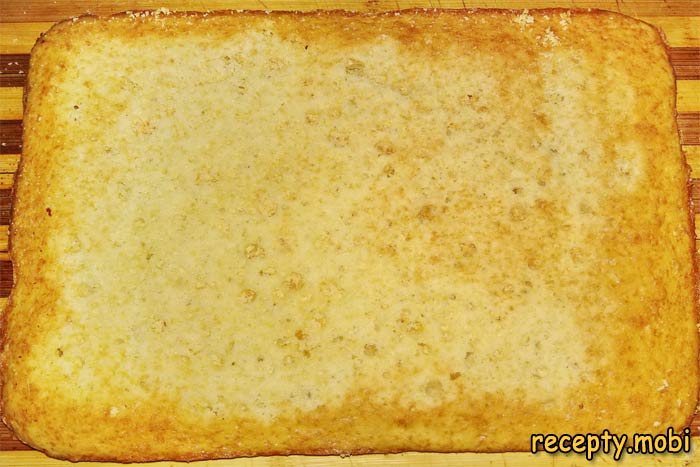 24. The next step is to align both cakes in the same size. To do this, put the dark cake on the light one. With a sharp knife, immediately cut off the edges from two cakes. We do not throw away the trimmings from the top and sides, they will still be useful to us.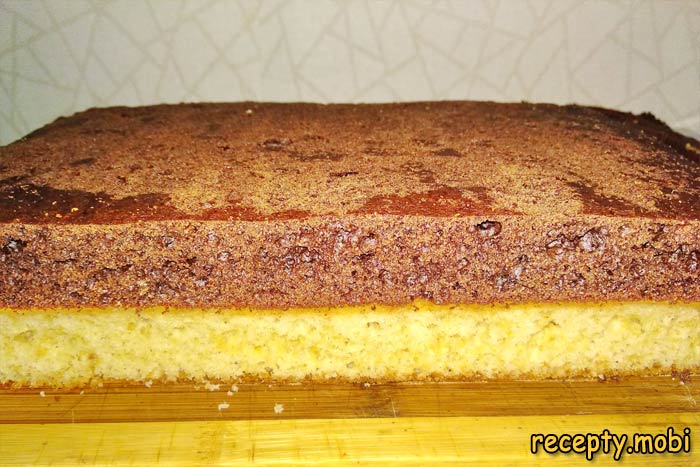 25. We shift all the scraps into the chopper. You can also make a crumb by rubbing it simply with your hands.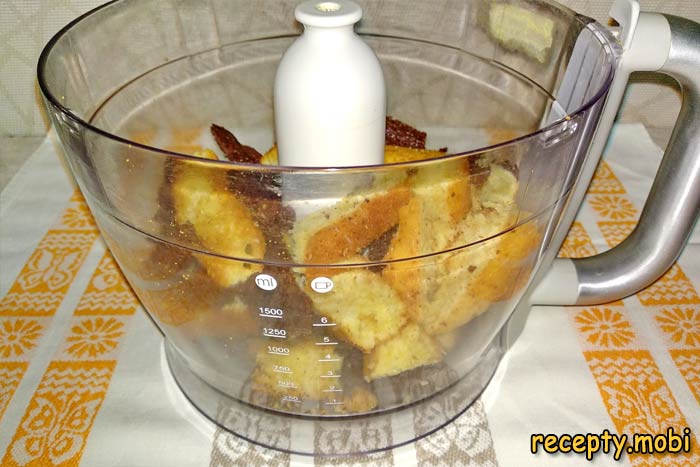 26. We prepare small crumbs for sprinkling.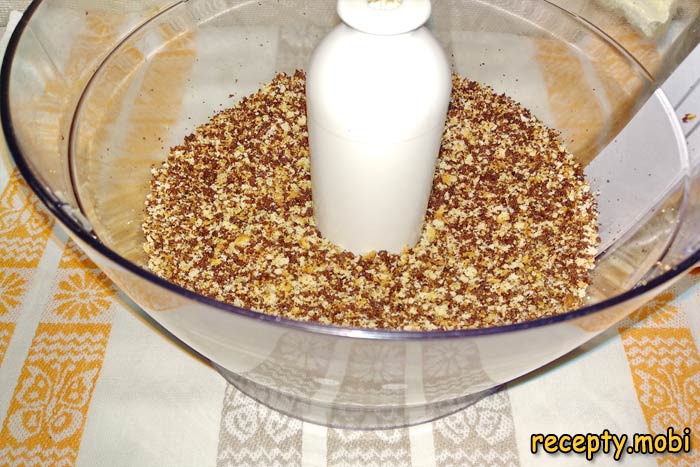 27. For the cream, we need sour cream, vanillin and powdered sugar. If you do not have powdered sugar, it is very simple and quick to prepare. To do this, granulated sugar must be beaten in a coffee grinder to a powder state. It will take one minute in time.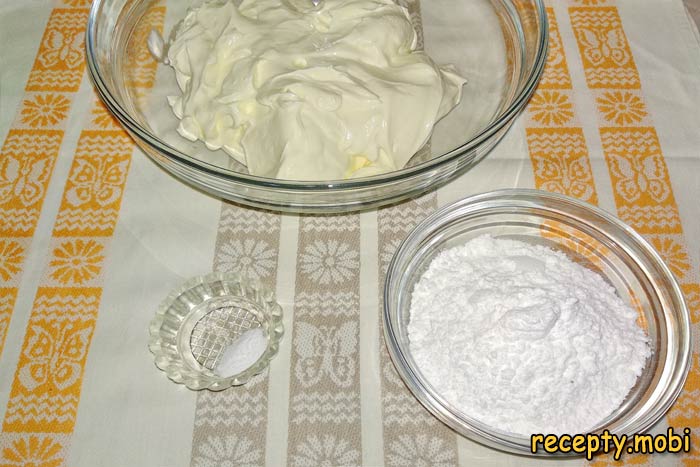 28. Put the products in one bowl and mix with a silicone spatula. This is also one minute, and the cream is ready.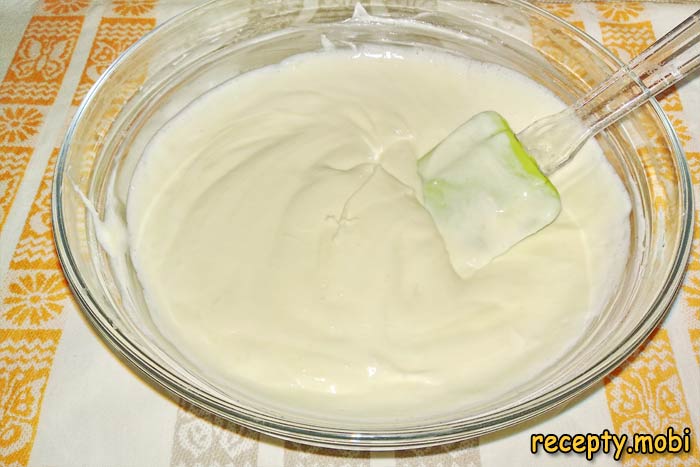 29. We form a cake. In Smetannik, the bottom layer is always light. Put the light cake on a dish or board. A little less than half of the creams are distributed over the surface of the light cake. Cover with chocolate biscuit on top, do not press hard. We cover the top cake and sides of the cake with sour cream.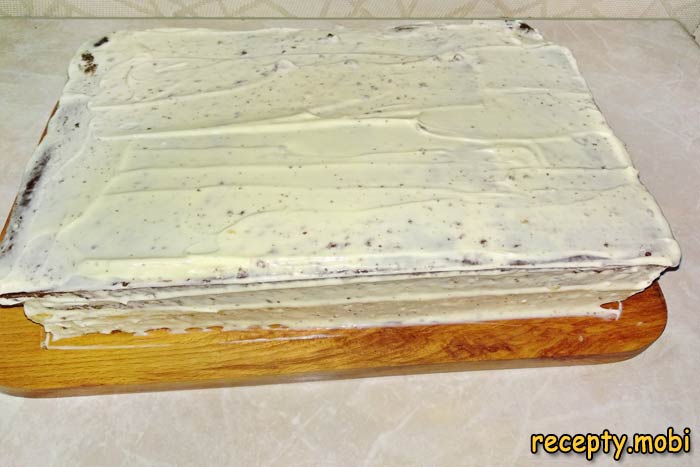 30. From all sides, generously sprinkle Smetannik with chopped crumbs. Our cake is ready, put it in the refrigerator for at least four hours, and preferably at night, soak. Take the cake out at least half an hour before serving.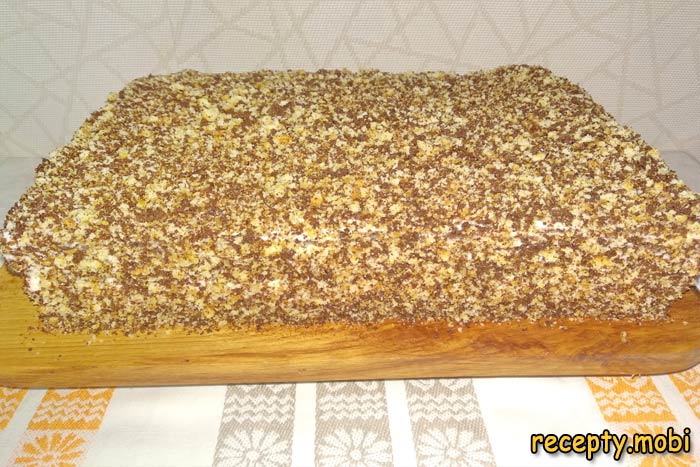 31. Smetannik can be decorated to your liking and served whole. Or cut it into portions.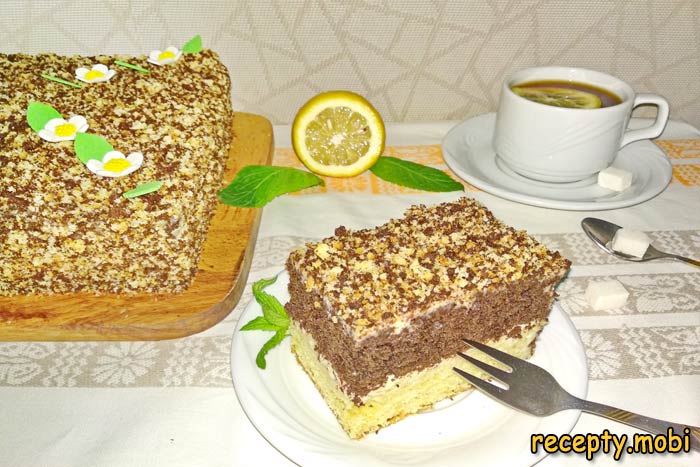 I recommend cooking according to the classic recipe Smetannik in the oven, airy cakes go well with delicate sour cream. The favorite dessert of many generations can be served with cocoa, tea or coffee.