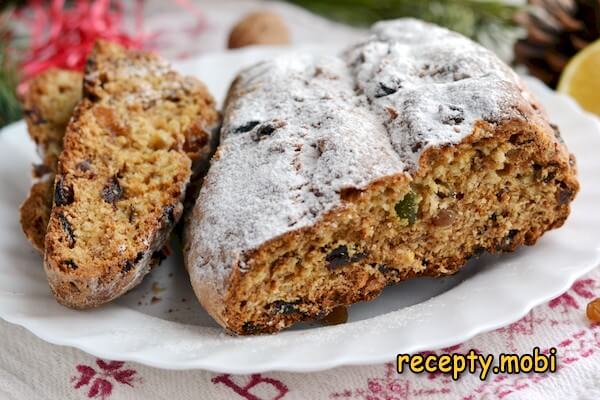 Christmas curd stollen
Gathered for Christmas on a visit and think what to give? Prepare a curd Christmas stollen for a gift. This is a traditional German pastry for Christmas. They usually bake from yeast dough, but try yeast-free stollen, from cottage cheese dough. You will definitely like it. The cake is easy to make and very tasty. Prepare it in advance and sealed, stored in a cool place for 3-4 weeks. Although after a day the baking will infuse a little and you can try it. We unpack the package, sprinkle the Christmas curd stollen with a fresh portion of powdered sugar. Cut and enjoy a delicious dessert.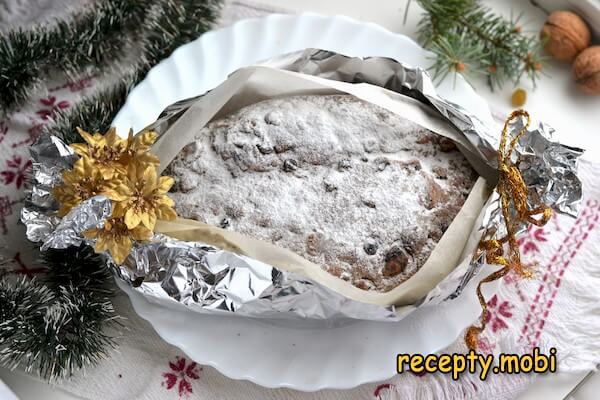 Cooking time: 90 minutes.
Servings: 6.
Calories: 366.
Cuisine: German.
Ingredients
cottage cheese - 250 g;
butter - 200 g;
sugar - 150 g;
egg - 2 pcs;
nuts - 100 g;
dried fruits - 300 g;
cognac / brandy / rum - 100 g;
lemon - 1 pc.;
flour - 500 g;
baking powder - 18 g;
salt - a pinch.
You will also need:
butter - 50 g;
powdered sugar - 100 g.
Cooking
1. We put the products on the table in advance so that they have time to warm up to room temperature. Curd should be smooth, not grainy.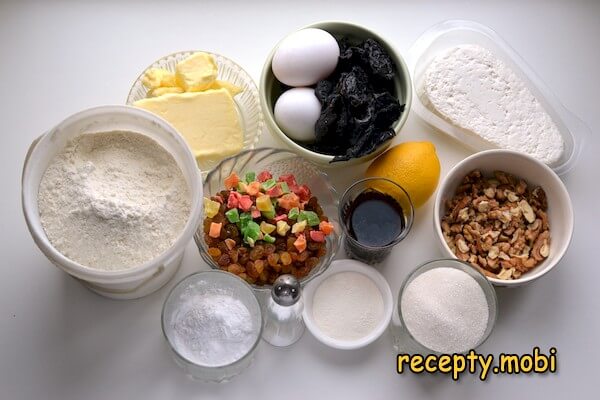 2. For stollen, you will need 300 grams of any dried fruit. In my case, this is 100 grams of prunes, 100 grams of raisins, 100 grams of candied fruits.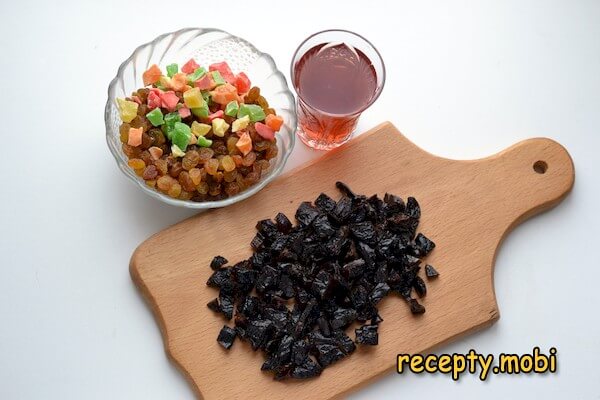 3. Place dried fruits in a bowl and pour 100 grams of alcohol. We send a bowl with soaked dried fruits in the microwave for 2-3 minutes, bring to a boil. We take out and let the mixture cool, stirring a couple of times during this time.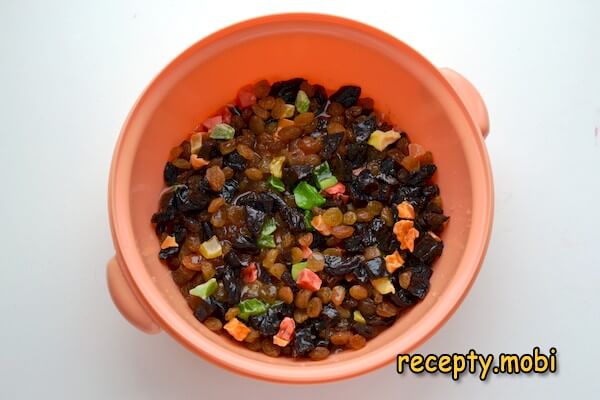 4. Mix flour with salt, baking powder and pass all this through a sieve.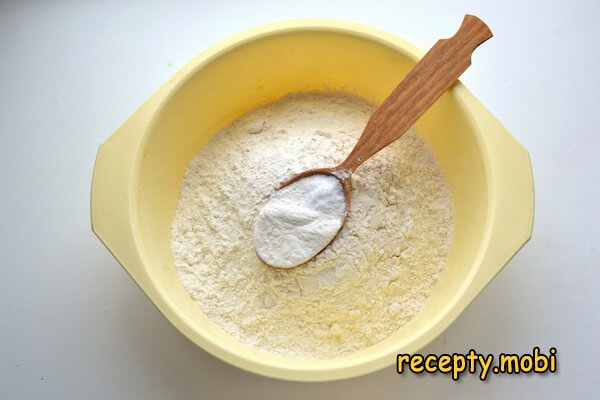 5. Lightly fry the nut kernels and chop with a knife, but not too finely so that noticeable pieces remain. Pour the nuts into the flour and mix.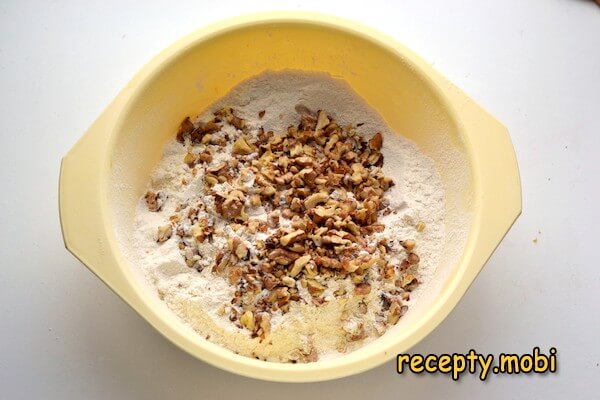 6. Remove the zest from the lemon using a grater with small cells. Then squeeze the juice from the lemon and mix with the zest.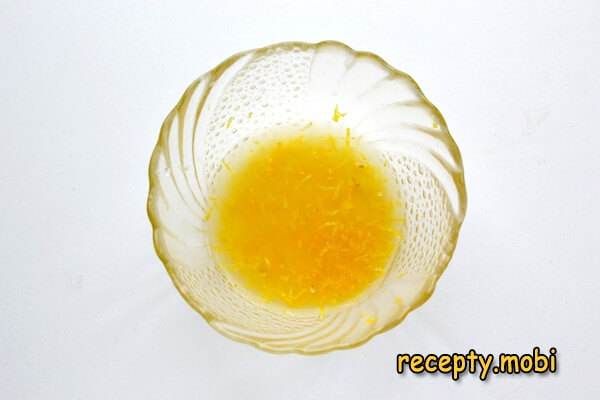 7. Mix the softened butter with sugar, and then beat this mass with a mixer until a soft fluffy cream.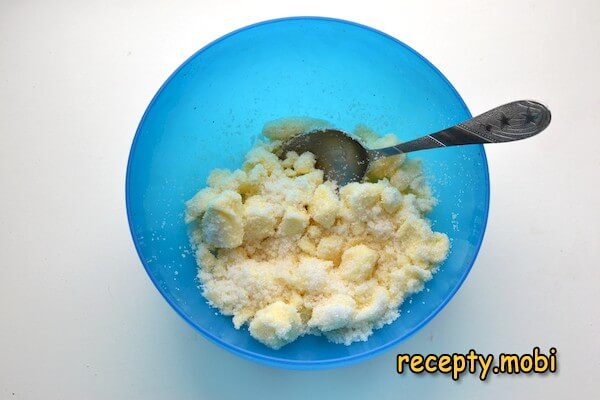 8. We beat in the eggs (not cold!) And beat.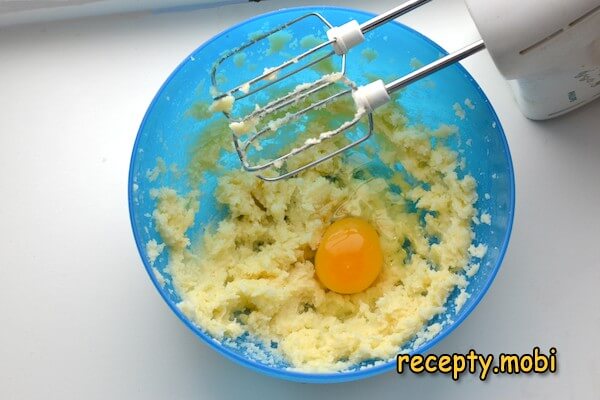 9. Add cottage cheese and continue to whisk so that the cottage cheese is distributed throughout the mass.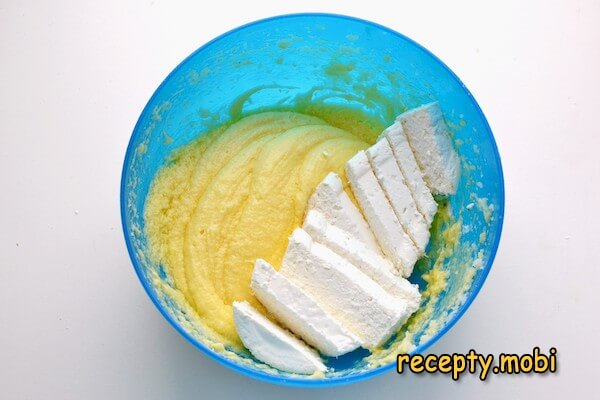 10. Add the lemon mixture, beat the curd mass until smooth.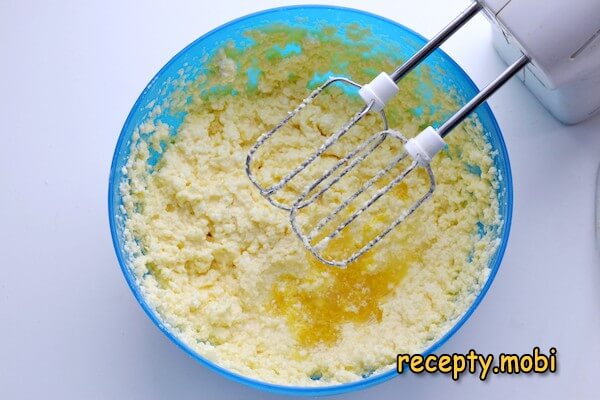 11. Now pour the flour mixture into the curd mass and mix.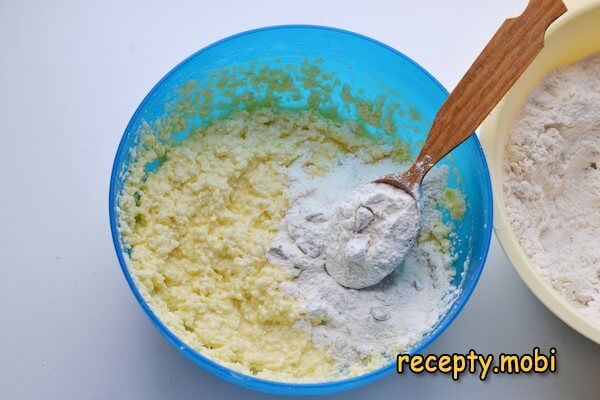 12. Do not mix with your hands so that the butter does not begin to melt in the mixture. We do it with a spoon.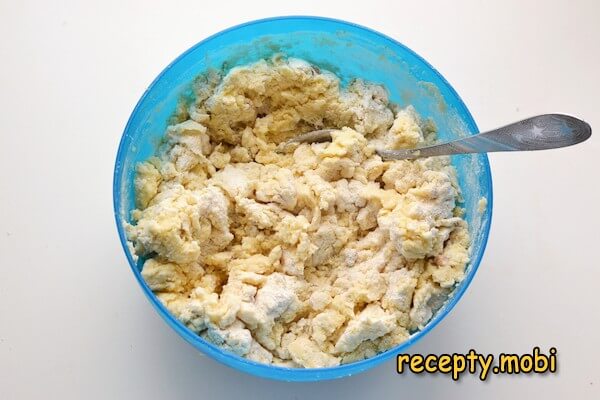 13. Transfer the dough from the bowl to the table, dusted with flour. Having flattened the dough, put the soaked dried fruits together with the liquid in the middle of the layer.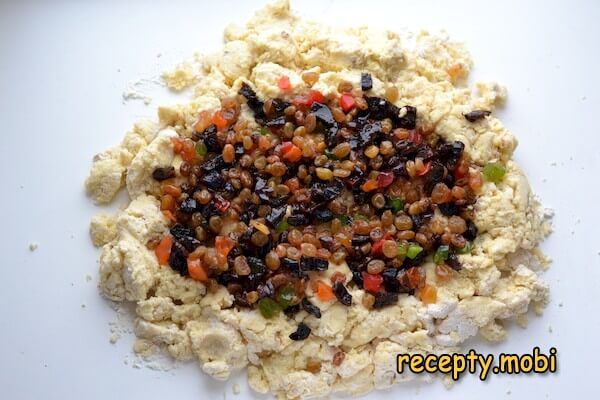 14. Quickly mix, pull the whole dough into a bun. The dough is slightly sticky, so sprinkle the dough on all sides with flour to make it easy to work with. Divide the dough into 2 equal parts.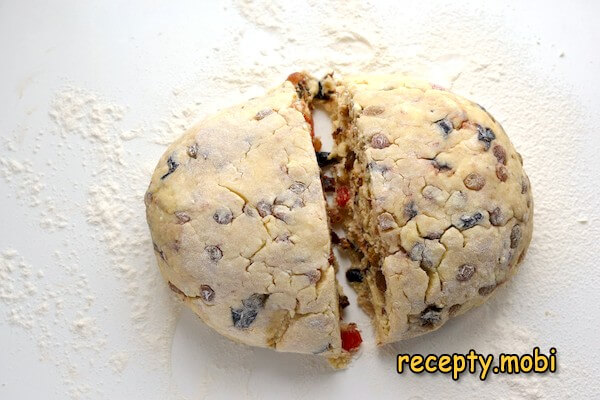 15. Flatten the pieces into oblong layers 3 cm thick. Now on each layer along the dough we retreat by about 1/3 and make a groove with the edge of the palm. We form stollens: we impose a smaller part on a large one. We round the blanks, slightly lift them up. Since the stollen are distributed in breadth during baking, we form them high.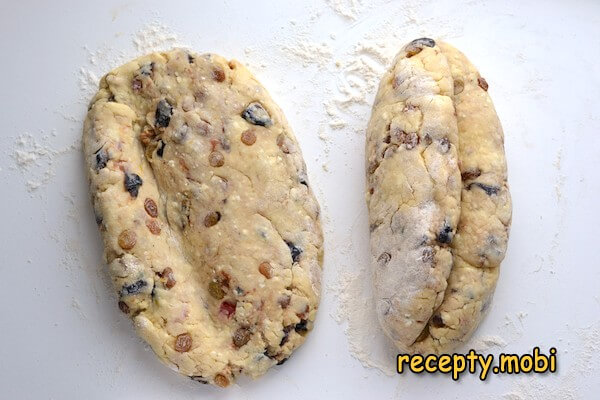 16. We cover the baking sheet with parchment paper and carefully transfer the blanks onto it, keeping some distance between them.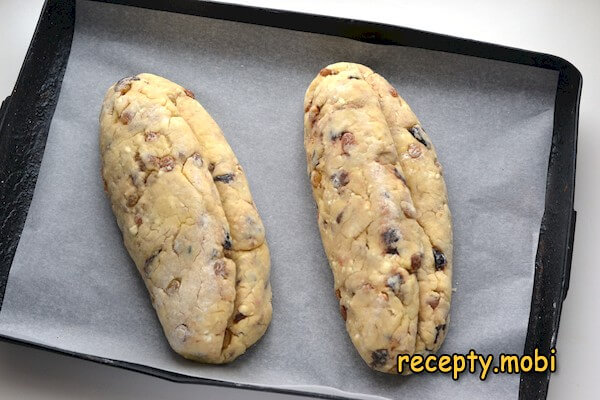 17. We send the baking sheet to the oven preheated to + 160-170 ⁰С for 60-70 minutes. If the top browns too quickly, cover with parchment. We determine the readiness of baking with a wooden skewer.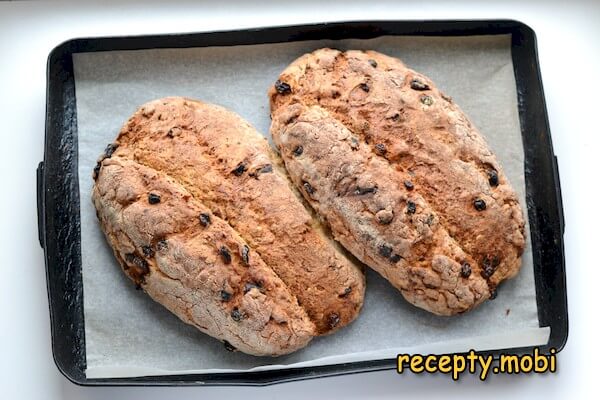 18. After being ready, we take it out of the oven, immediately grease each product on all sides with melted butter.
19. Sprinkle generously with powdered sugar on top until the butter stops showing through the layer of powder. Baking should be well sealed with powdered sugar. If you plan to store it for a long time, then sprinkle with powdered sugar not only on top, but also on the sides and bottom. Let it cool like this.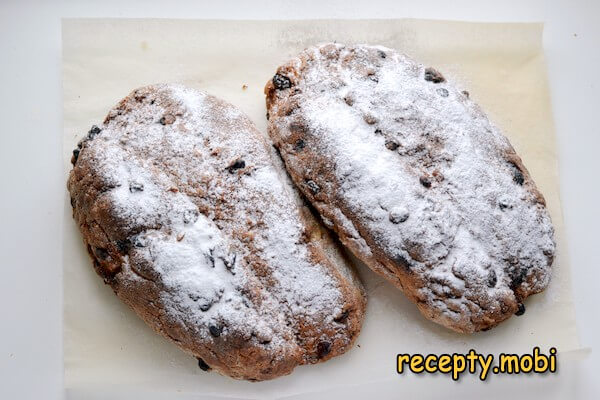 20. Then we wrap it in parchment, then in foil and a bag. In this form, we keep for 3-4 weeks in a cool place.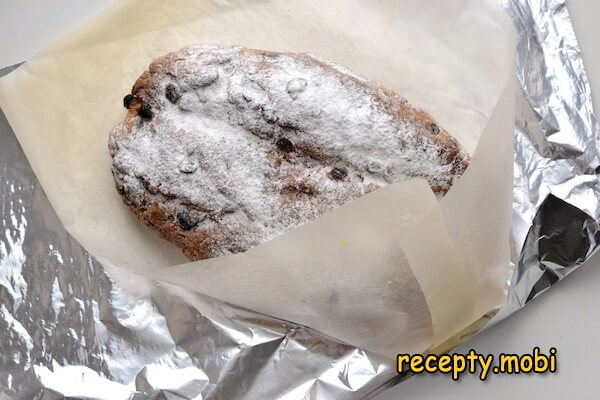 21. After standing, stollen will only taste better. But you can try it right away. It's amazingly delicious!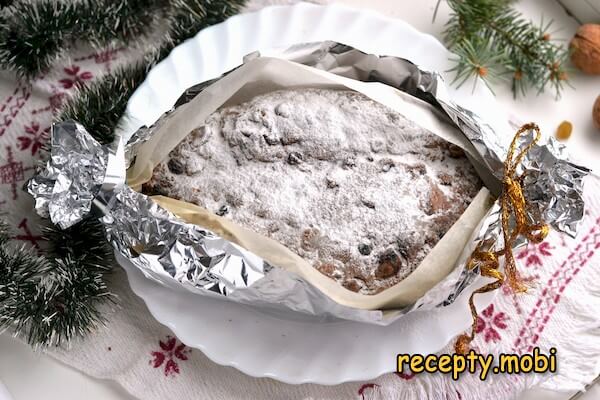 If you like to give sweet gifts, then the cottage cheese Christmas stollen is a great gift for the holidays!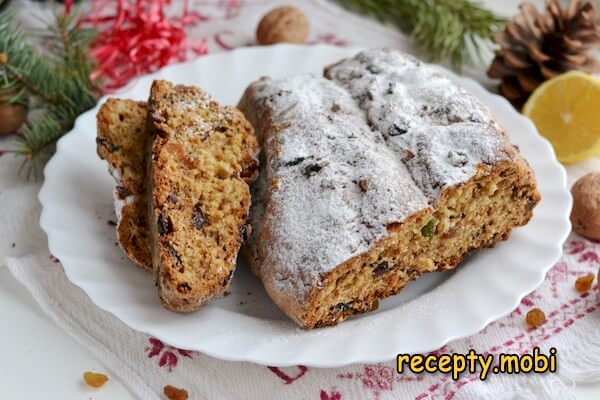 Cooking video