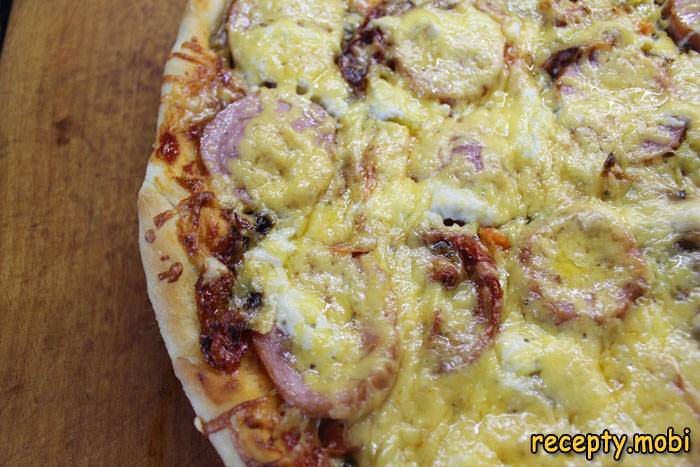 Pizza with cheese, ham, mushrooms and cherry tomatoes
Juicy pizza with cheese and ham can easily help out in moments when you need to cook a simple and quick meal for the whole family. For such cases, it would be good to prepare yeast dough - purchased or homemade. The dough is easy to freeze. With a ready-made base, creating pizza does not take much time - just 25 minutes and a delicious snack is ready!
Cooking time: 25 minutes.
Servings: 5.
Calories: 232.
Ingredients
champignons - 100 g;
yeast dough - 500 g;
ham - 200 g;
onion - 1 piece;
hard cheese - optional;
garlic - 2 cloves;
pineapples - optional;
tomato sauce - optional;
bell pepper - 1/4 piece;
fried chicken fillet - 100 g;
cherry tomatoes - 100 g;
sun-dried tomatoes - optional;
cream sauce - optional.
Cooking
1. Prepare yeast dough. Normal unleavened yeast dough will do.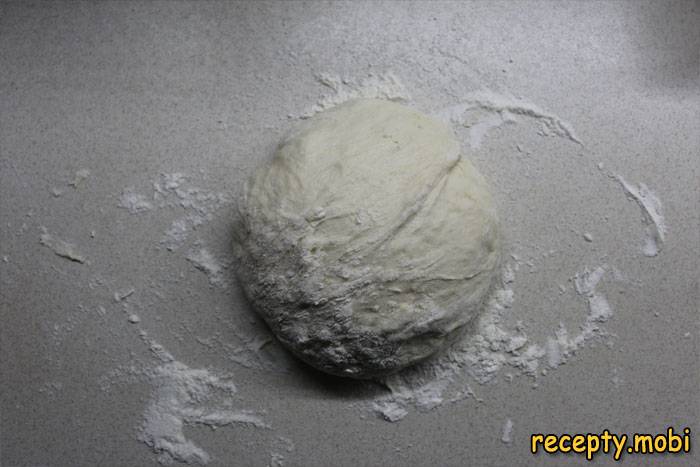 2. Roll out a round layer from the prepared dough. Put the dough on a pizza tray, greased with oil. Cover the dough with tomato sauce or ketchup. Sprinkle the workpiece with chopped garlic, onion and mushroom slices.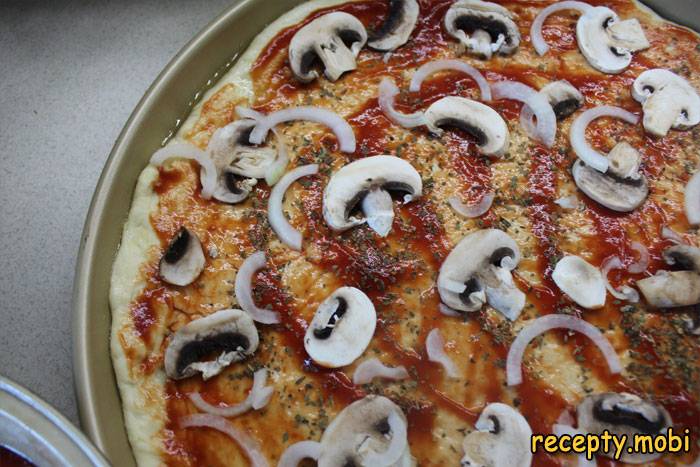 3. Add cherry tomato halves and pineapples.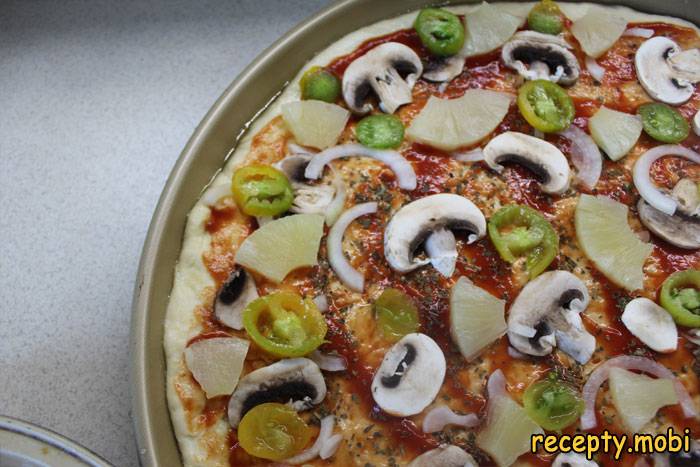 4. Lay out the ham slices. Optionally, add chicken fillet, fried in a pan for five minutes, or chopped fresh tomato. Add bell peppers to the meat filling.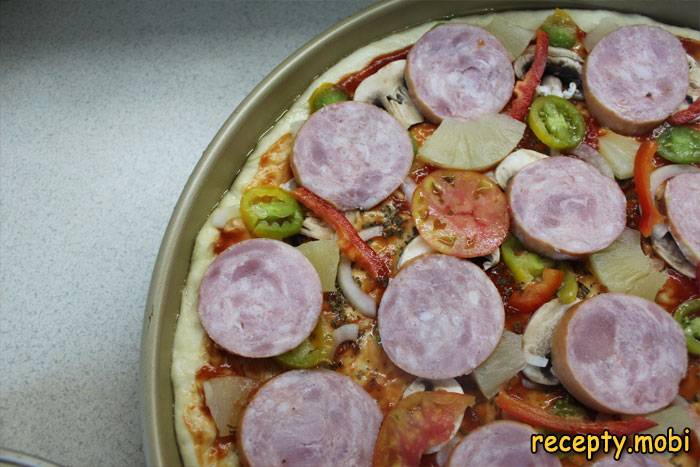 5. Spread sun-dried tomatoes to taste or add olives, depending on what you like more.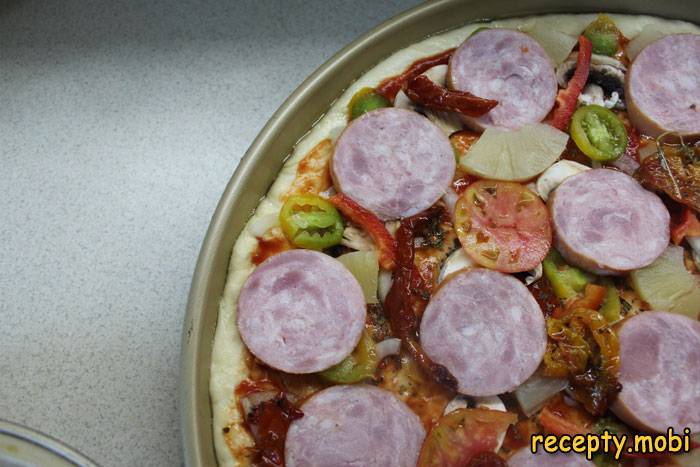 6. Pour cream sauce over pizza and cover with a mixture of various grated cheeses. Send the workpiece to bake until golden and golden brown at 180 degrees. For beautiful crusts, you can set the "Grill + fan" mode.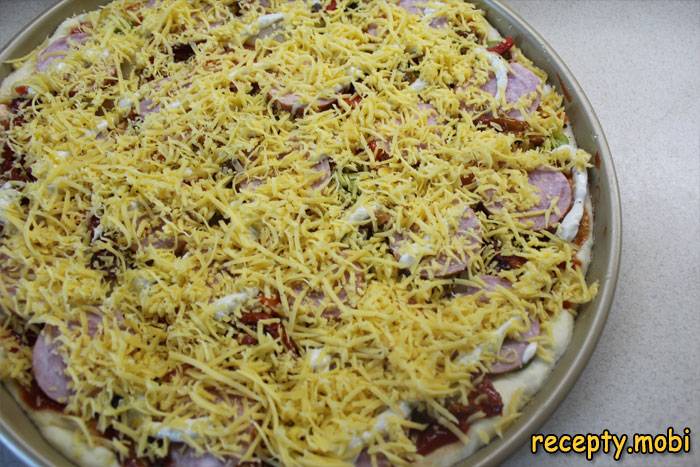 7. Fragrant, satisfying and very tasty meat pizza with mushrooms and cheese is ready! Bon appetit!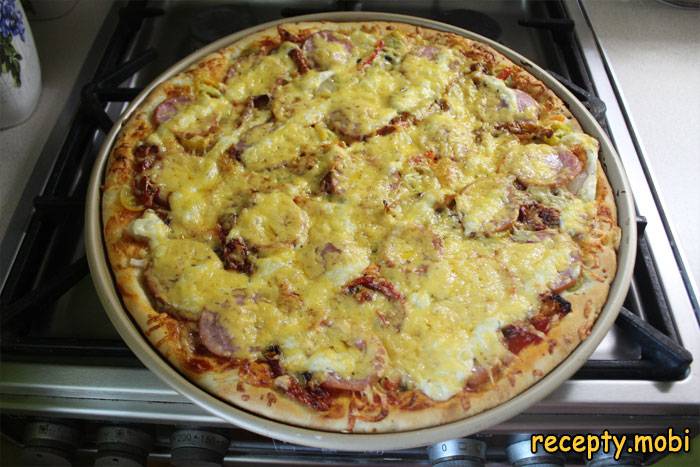 Pizza with ham and mushrooms is a great option for a homemade snack. The dish is very easy to prepare, especially if you have ready-made yeast dough in stock. Try to cook such a delicious pizza at home and you will definitely not be disappointed! And if you undertake to cook yeast dough yourself - use olive oil to prepare the preparation. It gives the finished baking a special flavor.