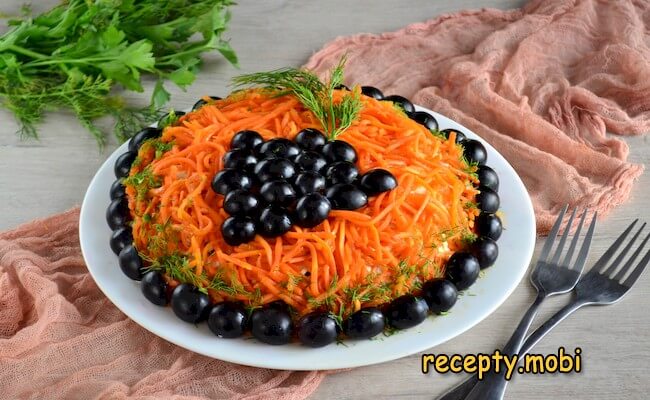 Salad «Isabella» with Korean carrots
Isabella salad with Korean carrots is a delicious and hearty salad that is suitable for both a festive table and an ordinary family dinner. The composition of the salad is simple, here is smoked chicken, champignons, eggs and carrots in Korean, but at the same time the salad is very tasty, satisfying, and looks impressive on the table. And all thanks to the original decoration in the form of a bunch of grapes, thanks to which the salad got its name. Be sure to try this salad!
Cooking time: 40 minutes.
Servings: 5.
Calories: 124.
Ingredients
smoked chicken - 300 g;
champignons - 300 g;
cucumbers in vinegar - 1-2 pcs;
eggs - 4 pcs;
carrots in Korean - 150 g;
grapes - 150 g;
mayonnaise - 2 tbsp;
vegetable oil;
greens.
Cooking
1. Prepare all the necessary ingredients. Hard boil the eggs and refrigerate. For a salad, you can use smoked chicken breast, or you can take smoked chicken ham and separate the meat from the bone. Korean-style carrots I use ready-made purchased, but you can cook it yourself.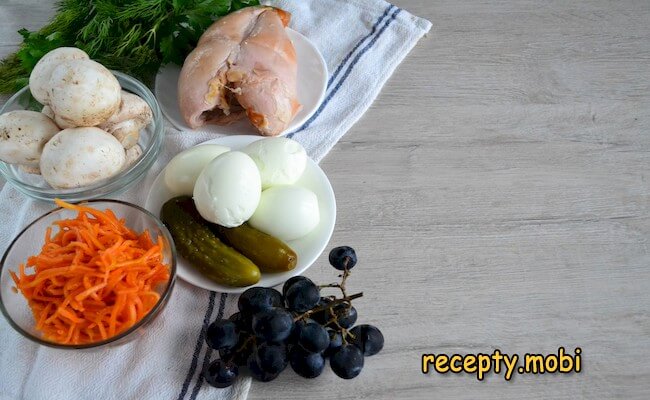 2. Peel the mushrooms and cut into small pieces. Do not cut too finely, they will shrink significantly when frying.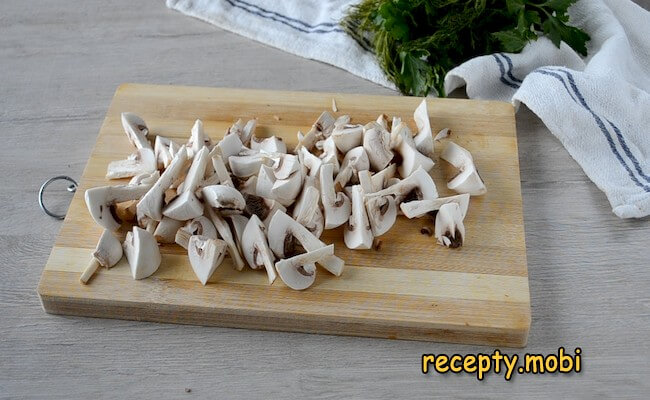 3. Heat vegetable oil in a frying pan. Add mushrooms and fry over medium heat until golden brown.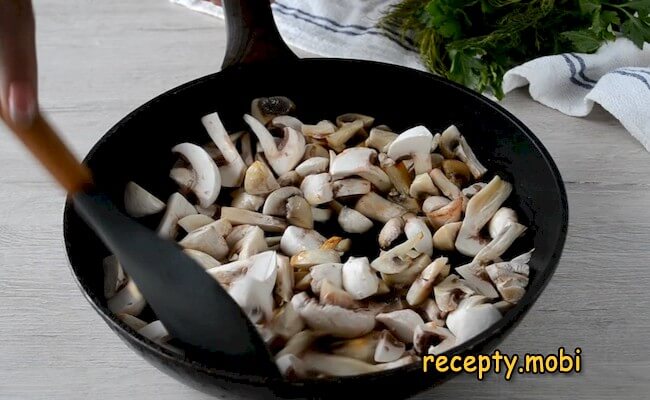 4. Cut hard-boiled eggs into cubes.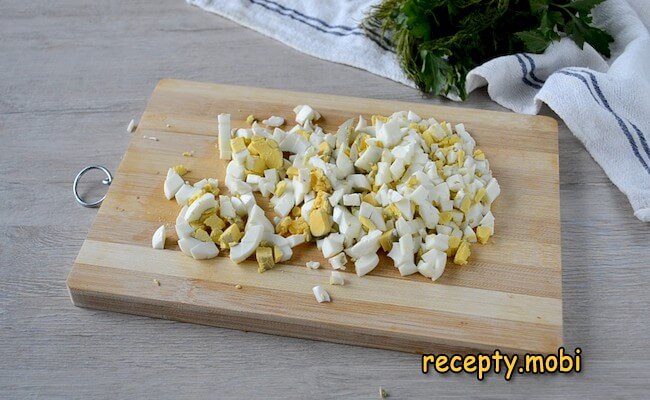 5. Cut cucumbers in vinegar into small cubes. You can use pickled cucumbers, it's not for everyone. I prefer to cut the cucumber finely so that it is only slightly felt in the salad.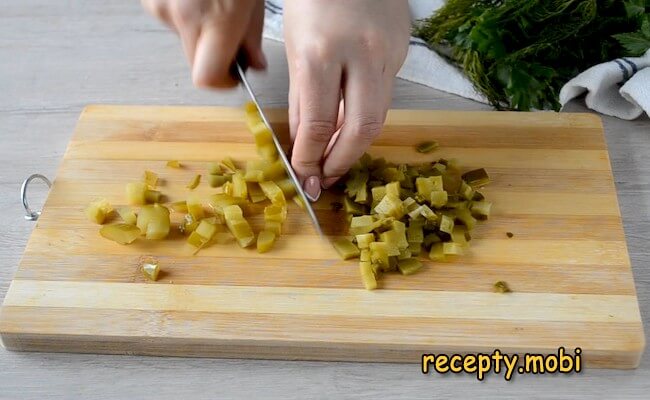 6. Cut the chicken meat into small pieces.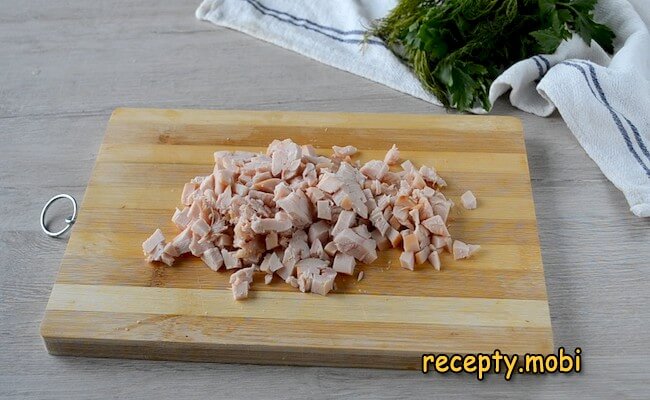 7. Put the chopped chicken meat on a flat plate.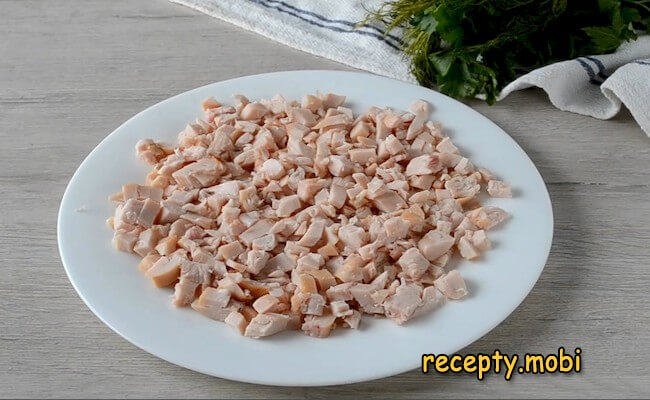 8. Apply a mesh of mayonnaise on top.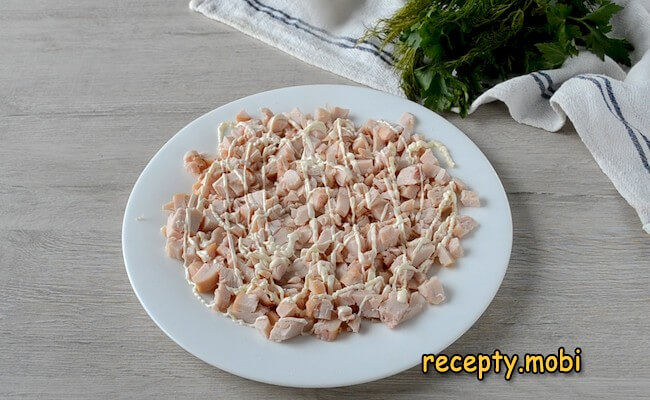 9. Then lay out the cucumbers in vinegar and then the fried champignons. Top with mayonnaise.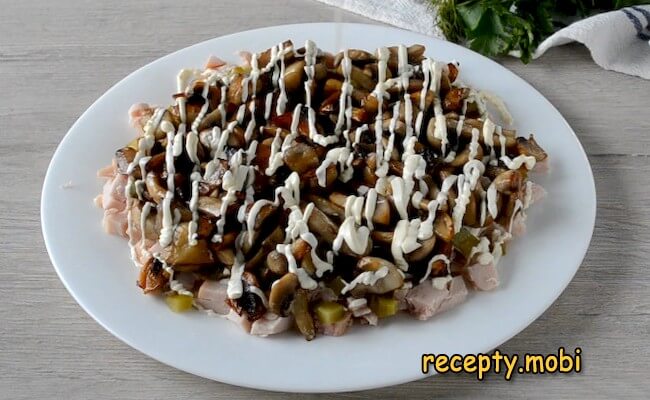 10. The next layer is eggs. Top the eggs with a little more mayonnaise, so that it is convenient to align the salad well.
11. The last and at the same time decorative layer is Korean carrots. Spread it in an even layer on top and sides of the salad. My length of carrot straws is not too large, it is convenient for me to cover a salad with such carrots. But if the straw is long, then it is better to cut it into shorter pieces - it will be easier to decorate, and it is more convenient to eat such a salad.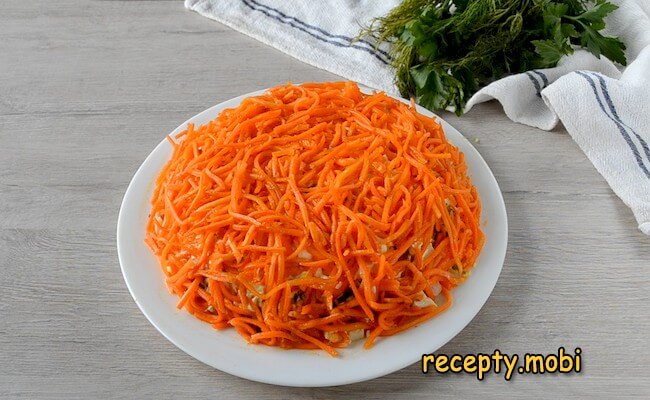 12. Grapes are best used in dark blue. Cut the grapes in half and place them on top of the salad in the form of a grape sprig. If desired, you can also decorate the edge of the salad with grapes.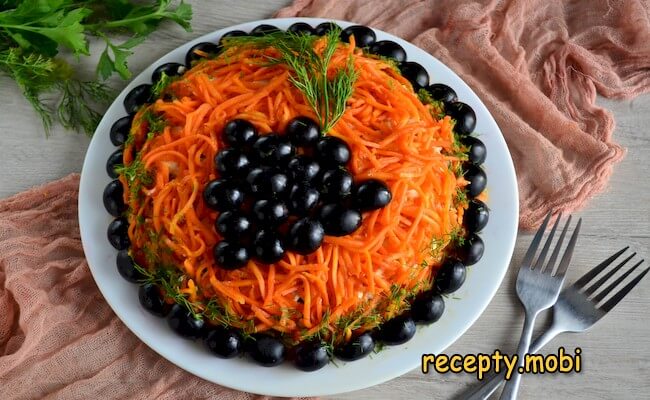 13. Isabella salad with Korean carrots is ready. It turned out very tasty and satisfying. You can serve immediately after preparation. Enjoy your meal!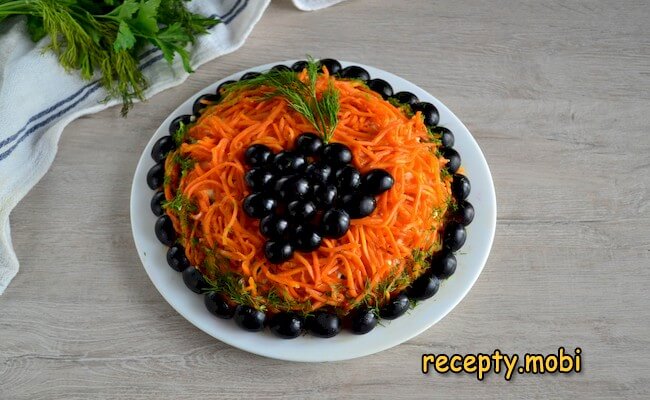 Cooking video