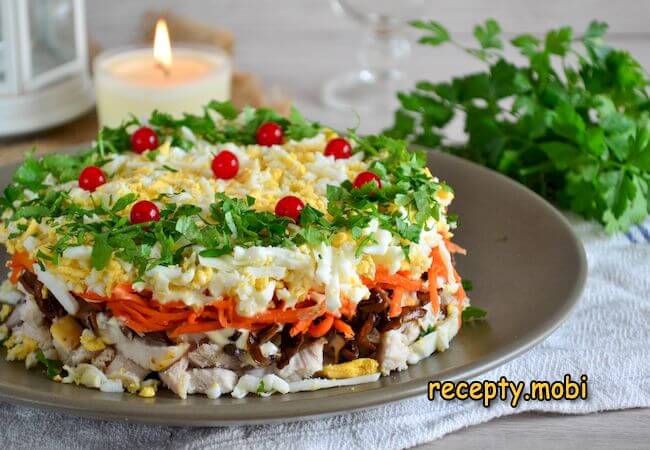 Salad «Men's tears» with chicken
They say that the salad "Men's Tears" with chicken got its name due to the fact that men cry with happiness when they try this salad. We will not argue, the salad is really incredibly tasty and satisfying. And this is not surprising, one has only to look at the products that make up the salad - here are chicken, mushrooms, and Korean-style carrots, and fragrant pickled onions, and, of course, eggs. Preparing the salad is quite simple, it can be laid out in layers on a flat plate or in a deep salad bowl, or you can use a serving ring and make the Men's Tears salad with chicken very festive and original.
Ingredients
chicken fillet - 1 pc;
champignons - 300 g;
onion - 1 pc;
carrots in Korean - 100 g;
boiled eggs - 3 pcs;
mayonnaise - 3-4 tbsp. spoons;
greens - to taste;
sugar - 1 tbsp;
vinegar 9% - 1 tbsp;
salt - 1 teaspoon;
spices for chicken - 1 pinch;
vegetable oil for frying.
Cooking
1. Prepare all the necessary ingredients. Boil the eggs first.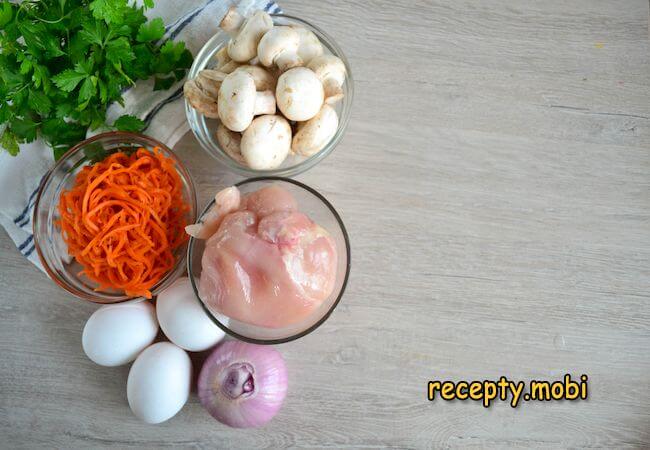 2. Transfer the chicken breast to a foil folded in two layers, rub with salt and chicken spices (or any other spices that you like), wrap the fillet tightly in foil and put in the oven, preheated to 190 degrees, for 30 minutes. Such a fillet will turn out to be very tasty and fragrant, giving the salad special original notes. But if you wish, you can simply boil the fillet in salted water.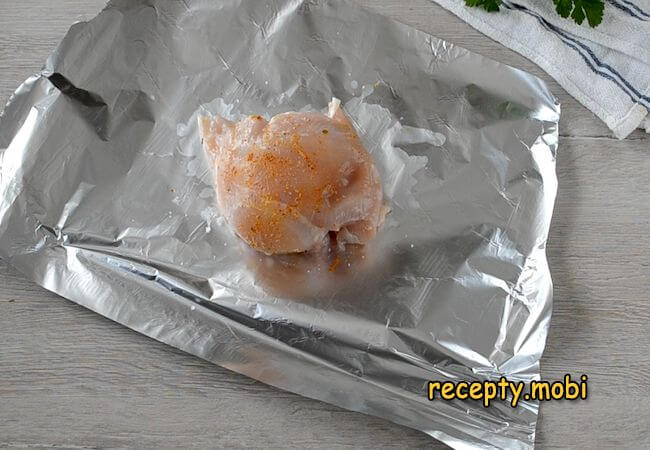 3. Finely chop the onion. Send the cubes to a small bowl, add 1 tbsp. a spoonful of sugar and 1 tbsp. a spoonful of table vinegar 9%. Pour boiling water over everything and leave to cool completely. Then drain the liquid.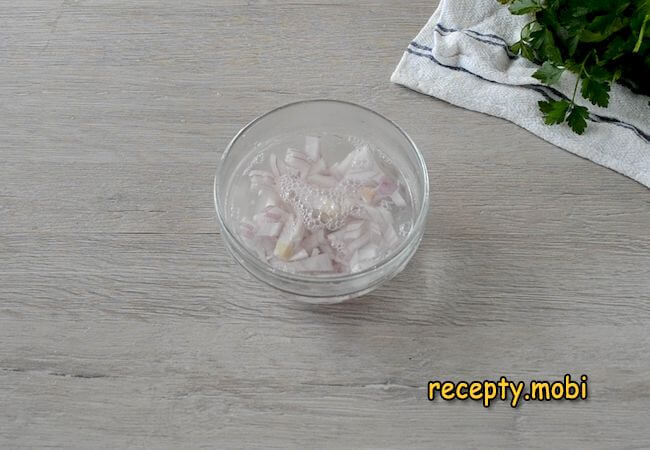 4. Clean the champignons and cut into thin slices.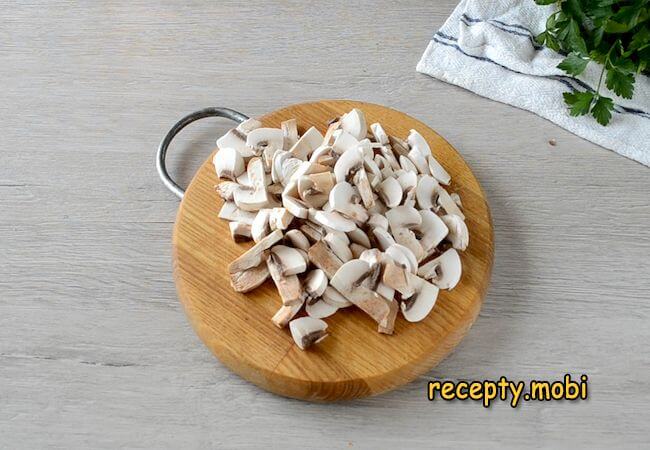 5. Put the champignons in a pan and cook over medium heat so that the released liquid evaporates. Then pour in about 1 tablespoon of vegetable oil, add a little salt and cook the mushrooms until golden brown.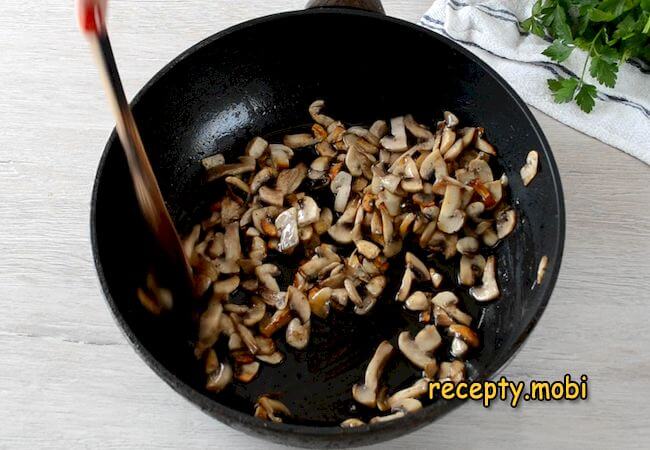 6. Grate hard-boiled eggs on a coarse grater.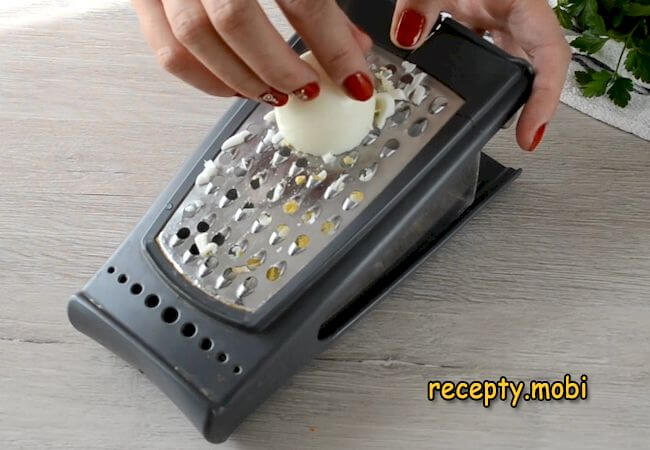 7. During this time, the chicken fillet is already ready, let it cool slightly and cut into cubes.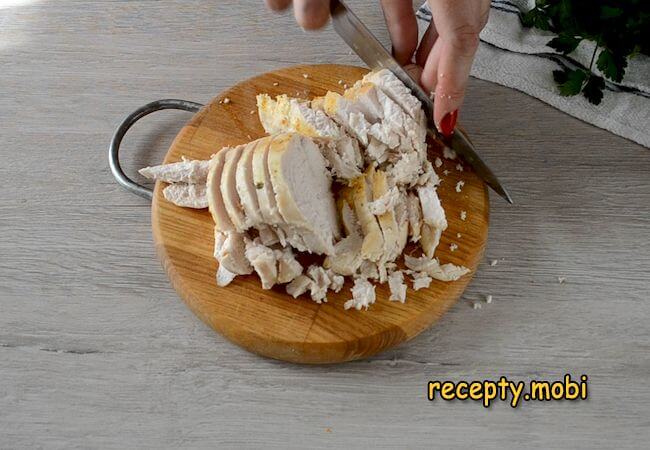 8. To form a salad, I suggest using a serving ring with a diameter of about 18-20 cm. If there is no such ring size, then it can be easily made from foil by folding it in several layers. So, lay out the chicken pieces in the first layer.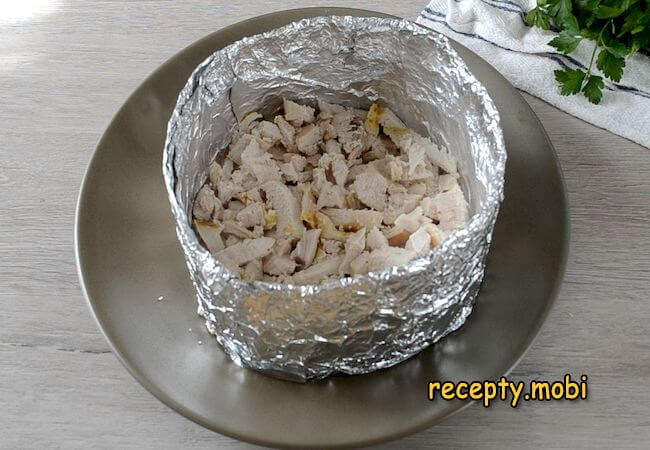 9. The second layer is pickled onions.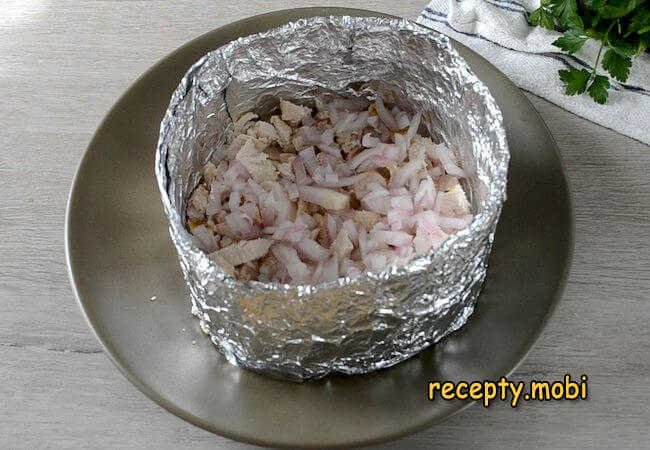 10. Then cover with a mesh of mayonnaise. It is convenient to do this if you put the mayonnaise in a pastry bag.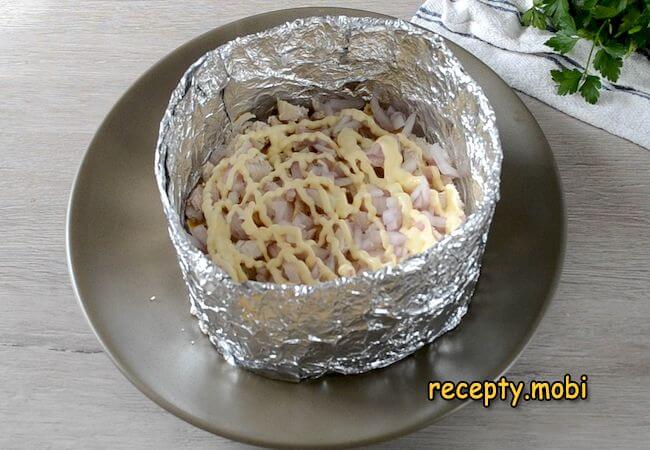 11. The next layer is mushrooms, which we also cover with a mesh of mayonnaise.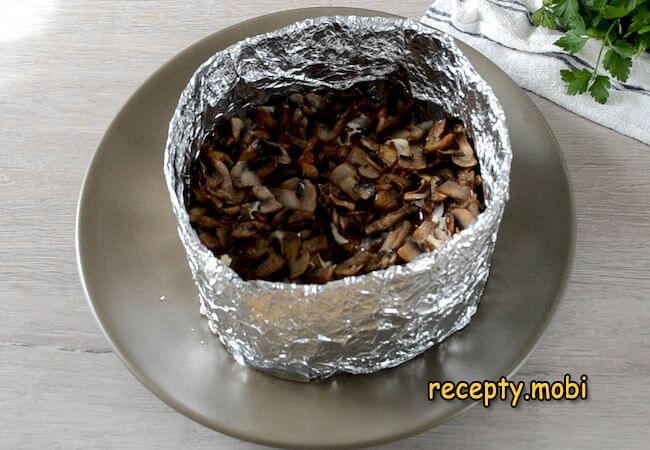 12. Lay out the carrots in Korean, if it is very long, you can cut it into smaller strips. Grease carrots with mayonnaise on top.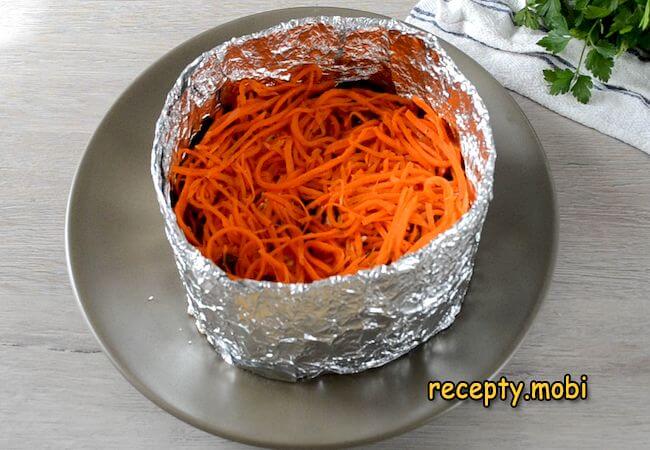 13. And the last layer will be grated eggs. Lay them out in an even layer and lightly tamp down the salad.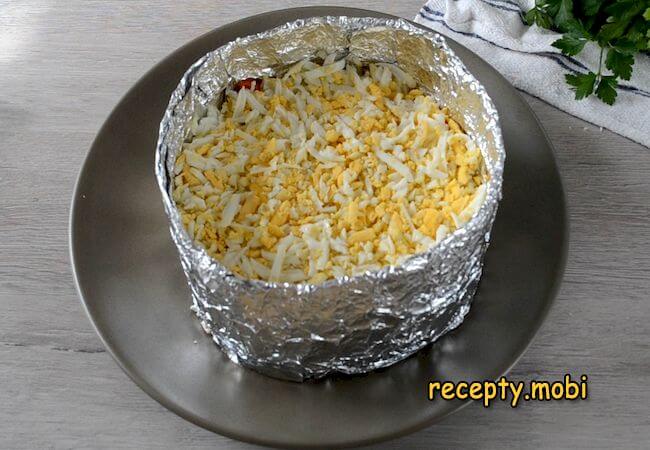 14. It remains only to decorate the salad "Men's Tears". Sprinkle finely chopped greens along the edge of the salad.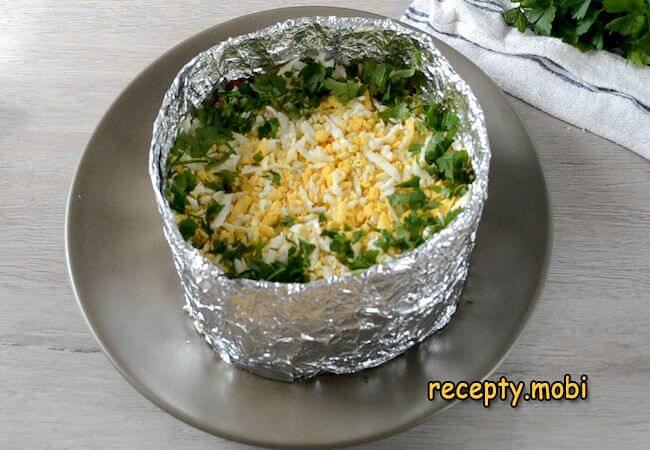 15. Carefully remove the makeshift serving ring.Salad «Men's tears» with chicken is ready. If desired, you can let it brew a little. It turned out very, very tasty. Enjoy your meal!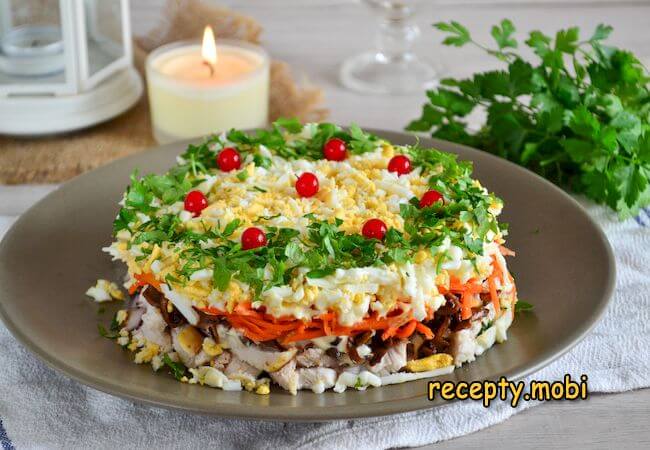 Cooking video